In March 2023, Lucy Koch was flying back to New York City from Austin, Texas, when the gate agent called her to the podium before boarding.
"I was asked to give up my window seat to accommodate a mother and daughter who'd unfortunately been split up during the booking process," Koch tells TODAY.com.
The 28-year-old said no and says several factors led to her decision.
"His question gave me pause — on one hand, I didn't want to be the reason that this mother daughter duo remain separated on the five-hour flight, but on the other I didn't want to have to sit in a middle seat for that length of time either," she says, adding that she had been in a middle seat on her trip to Austin. "I planned to work during the flight and felt like pulling out my 16-inch work-computer while in a middle seat might be uncomfortable for everyone."
Koch says in other circumstances she might have helped the mom and daughter. "But on this day, it wasn't happening."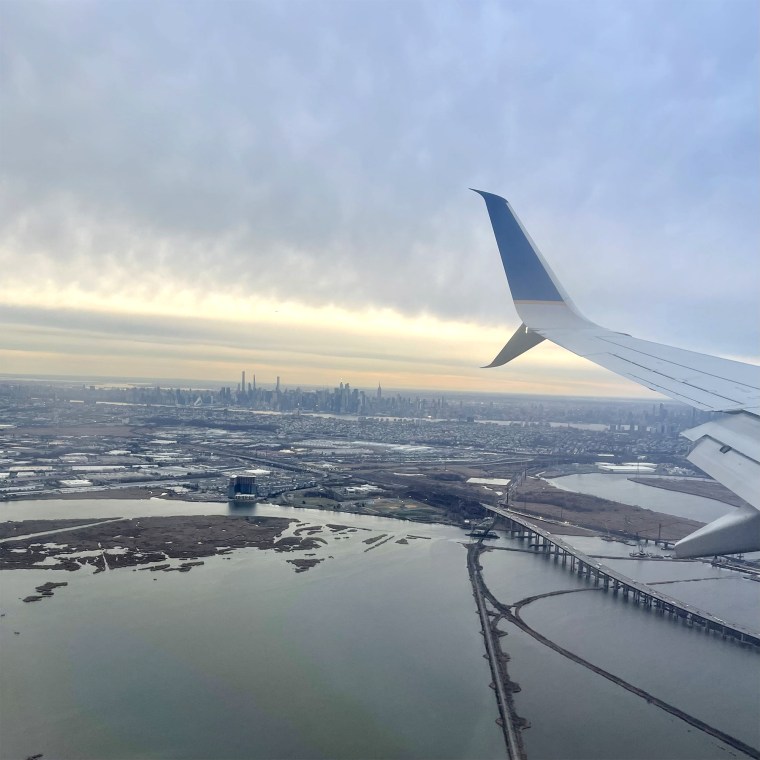 Since her experience, Koch says she has explained the scenario to friends and received "mixed responses."
"One responded with, 'You're absolutely in your right to not have given up your seat… it's yours,'" Koch tells TODAY.com "While another said, 'You absolutely gave up your seat... right?' and when I told them I didn't, the look on her face was judgement enough."
As more airlines charge fees to pick seats, or have last minute flight adjustments that cause seating shifts, passengers are left with the dilemma: Do you give up your seat when asked?
In January, TikTok user Surya Garg went viral after refusing to give up her plane seat so that a mother and teenager could sit together, sparking debate on the etiquette surrounding asking fellow passengers to swap seats.
"If you're sitting in a seat and someone with a family comes up to you and says, 'hey, will you switch?' — do you switch or not?" Garg says in the clip.
Garg then details the experience of being asked by the mom of a "6-foot-5 man" to move to a middle seat from her window seat. Garg declined stating she had paid extra money for her seat choice.
Garg says the woman proceeded to "mutter profanities" at her for the duration of the flight. In her video, she asks: "Was I in the wrong here? I need someone to tell me."
Users flooded the video's comment section applauding Garg's actions.
"So happy you didn't give up your seat," one user wrote.
Another added, "Hell no. I paid and planned for my seat. I'm not switching unless you give me something better."
Even travel brand Expedia weighed in, commenting "Not in the wrong."
In a July 8, 2022 notice, the Transportation Department told U.S. airlines to "do everything that they can" to make sure travelers under age 13 are seated next to an accompanying adult without additional charges.
During his State of the Union address, President Biden doubled down.
"We'll prohibit airlines from charging up to $50 roundtrip for families just to sit together," Biden said. "Baggage fees are bad enough — they can't just treat your child like a piece of luggage."
In February 2023, United Airlines announced new technology that offers more seats on flights so children can sit with an adult in their party without having to pay a fee.
But parents remain split on the matter.
"I don't think it's okay to ask another paying customer to move"
Jennifer Bailey, a mom of seven in Arizona, tells TODAY.com she would not ask a fellow passenger to move for the sake of her, or her children.
"I would never book tickets when traveling as a family that I can't book the seats together for," Bailey says. "Paying the extra fee to book my seats is worth it and I don't think it's okay to ask another paying customer to move for me or my family."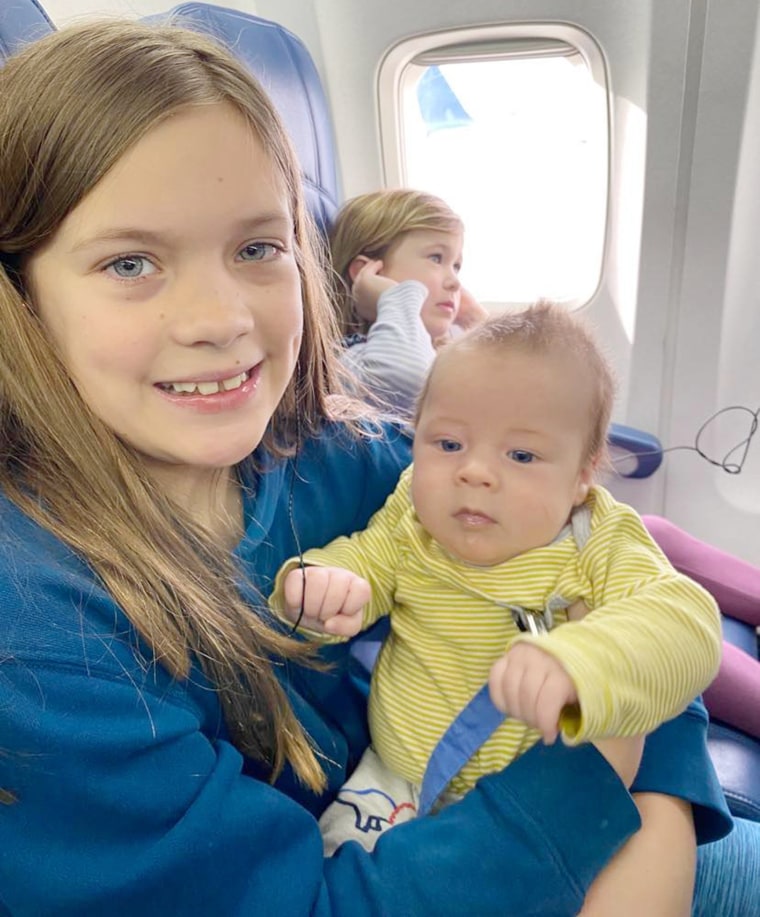 "Unless you want to sit alone with my baby"
Liz Rondeau, a military spouse and mom of three, tells TODAY.com that picking seats when traveling on military orders is often not possible due to reservations being booked through SATO, the military travel agency that provides travel services for U.S service members and families.
"You don't get a say in your seats," Rondeau says calling asking fellow passengers to switch seats "the age old dilemma."
Rondeau's oldest child is 10.
"For ten years I've asked strangers to switch seats 'unless you want to sit alone with my baby'," Rondeau tells TODAY.com "It's always been the most embarrassing plea. I hate this for families and the strangers we have to bother. Trust me, we don't find joy in it either."
"I certainly never paid the extra and just took the gamble"
Kelley Kitley, a mom of four kids ages 16, 14, 12 and 10, tells TODAY.com her family "rarely" gets to sit together.
"Our 10-year-old is terrified of flying," Kitley says. "When I've asked, over the years, when (the kids) were younger, some good samaritans have said no problem and others have out right said no."
"I certainly never paid the extra and just took the gamble," she says.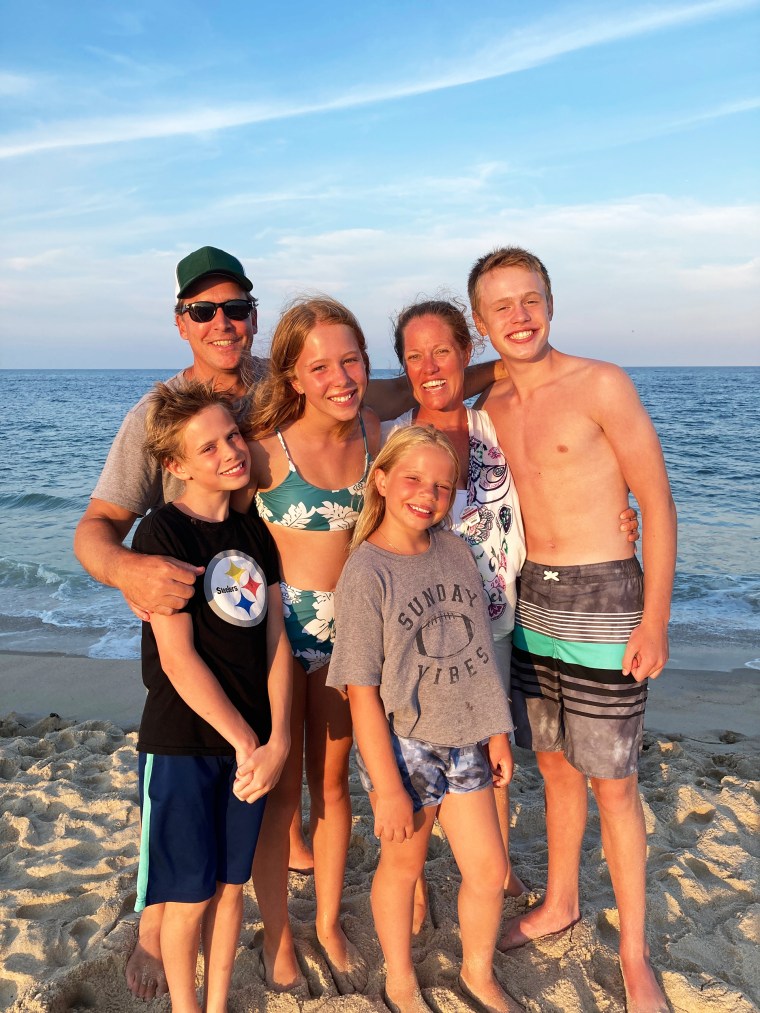 "It was very uncomfortable"
For Alison Almefty, who has a 9-year-old son with autism, asking a fellow passenger to move made her "very uncomfortable" on a flight from the Bahamas to Philadelphia in summer 2022.
After exhausting two gate agents, Almefty, 38, asked a flight attendant, who told her she would need to ask a fellow passenger to switch seats.
"She said there was nothing she could do," Almefty says, adding that a stranger agreed to swap seats for the family.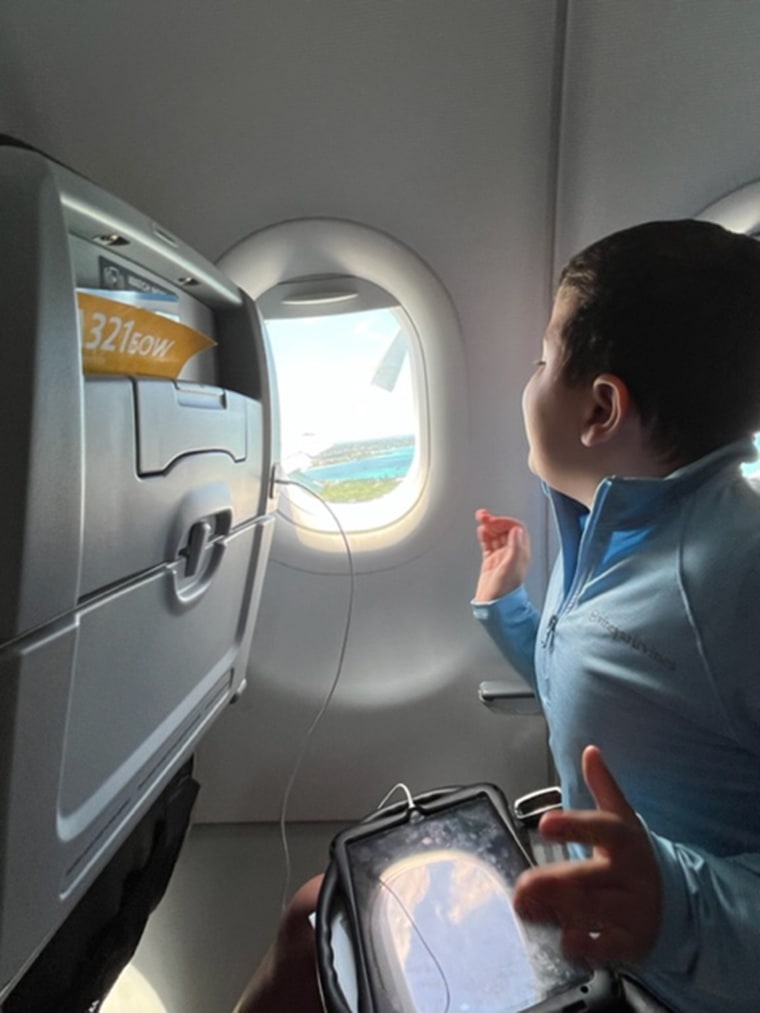 So, should you ask fellow passengers to move?
Jacqueline Whitmore, etiquette expert and former flight attendant, says no — but that doesn't mean it can't be done by airline personnel.
Whitmore tells TODAY.com that the time to switch seats is before you get on the plane. She recommends families seeking to move seats first talk to the gate agent.
"It puts people in an awkward position after you've boarded the plane," she says of asking fellow passengers to move.
If you've already boarded your flight, Whitmore says to speak with a flight attendant.
"Flight attendants have the authority to move people around and the flight attendant can ask someone," she says, emphasizing that seat trades should always be "equal."
But Whitmore says there are two scenarios where it is "never" OK to ask for a switch.
"It's not okay to ask people to switch if you're in a middle seat, and you're asking somebody in an aisle or window seat to switch with you, because who wants to downgrade to a middle?" she says. "And it's also not okay to ask someone who has paid for a Comfort Plus seat to come in the back and sit in the lesser seats."
Whitmore says "failure to plan should not become someone else's emergency."
"People pay for certain seats and people choose certain seats for a reason."
Related video: