/ Source: TODAY Contributor
Check back with TODAY Parents every day for a new tip on starting the school year off right. Today's topic: Creating weekend traditions.
As the school year ramps up, it often becomes harder than ever for families to spend time together. School, homework, sports, clubs and sleepovers dominate the schedule, and it can be easy to neglect family traditions. Yet, it still feels important to foster family time.
"I think that a lot of parents get overwhelmed by this idea," said Dr. Deborah Gilboa, a parenting expert. "What parents hear is one more thing on the to-do list. The point is protecting some time with family."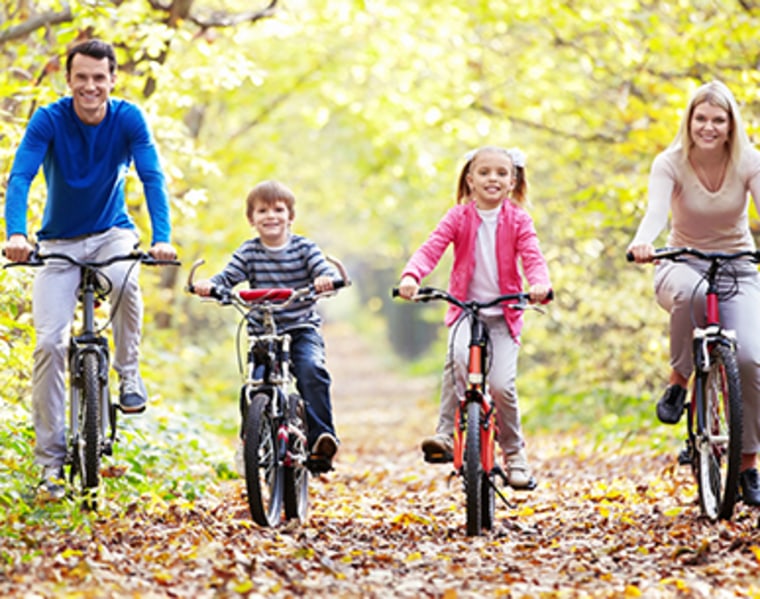 While some parents might think of traditions as big, complex affairs, Gilboa said parents should feel free to keep things simple. She recalled going to the grocery store with her father every weekend as a fun tradition.
"I encourage parents to open their definition of tradition," she said.
Dr. Michele Borba, a parenting expert and TODAY Parents' contributor, agreed.
"Think big, but start small," she advised.
The two experts provide a few tips on how to make traditions an easy part of family life.
Turn the mundane into a habit. Maybe the whole family walks the dog on the weekends. Or, every Saturday the family blares music and dances while cleaning the house. While these might seem insignificant, doing the same task together every weekend fosters togetherness.
Set a meeting. Make brunch every Sunday for everyone in the family. Host a Saturday cookout, when all family members attend. Make the time the same each week so that everyone knows what time to gather.
Connect with family. Pick a time during the weekend to FaceTime or Skype with grandma and grandpa or aunts and uncles who don't live close by. Those weekend conversations strengthen the bond between immediate and extended family.
Read out loud together. Pick a book that the entire family can read together. Make sure it is age-appropriate so older kids don't feel like the exercise is too lame. An interesting enough tale will get family members clamoring for more reading time to discover plot twists.
Go with the flow. Set aside a block of time each weekend reserved for family time. Each weekend, a different family member takes a turn picking the activity. The activity could be as easy as watching favorite YouTube videos or swimming or playing video games.Follow TODAY Parents' 14-day calendar for a tip a day on getting the new school year off to a healthy, happy start.