I wanted The Picture. After all, why do we even HAVE children, if not to get that perfect photo portrait to grace our walls and holiday cards?
I'm kidding, of course! There are tons of reasons to have children (right?). But I look at my friends' holiday cards year after year with jealous desire. I wanted that picture that would show my five children at their absolutely beautiful, joyful best, like all these other happy families. As my hall table piled up with photo after photo of glamorous parents with their catalog-perfect children cavorting in golden leaves, caught in mid-laughter, I grew more and more envious. My iPhone gallery of blurry pictures, though voluminous, seemed woefully inadequate.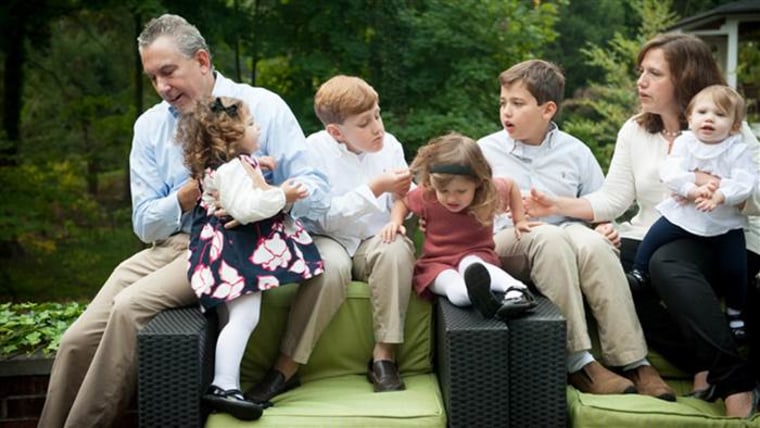 So we booked a wonderful photographer and went for it. And I think I aged five years in two hours.
In those two hours, my "perfect" family seemed determined to demonstrate just how imperfect they actually are. There were three instances of Pooping In Pants/Tights and enough costume changes to be worthy of a Broadway show. The baby fell and grew a lovely bruise on her forehead. My normally smiley 3-year-old decided she would try a "Surly Adolescent" personality for the morning. At least one tween snuck off to play the xBox. The 2-year-old decided to take advantage of our distraction to go into the pantry and find the cookies… of course, the chocolate cookies… and to use her dress as a napkin.
The baby was the best behaved out of everyone. And yes, I am counting myself and my husband.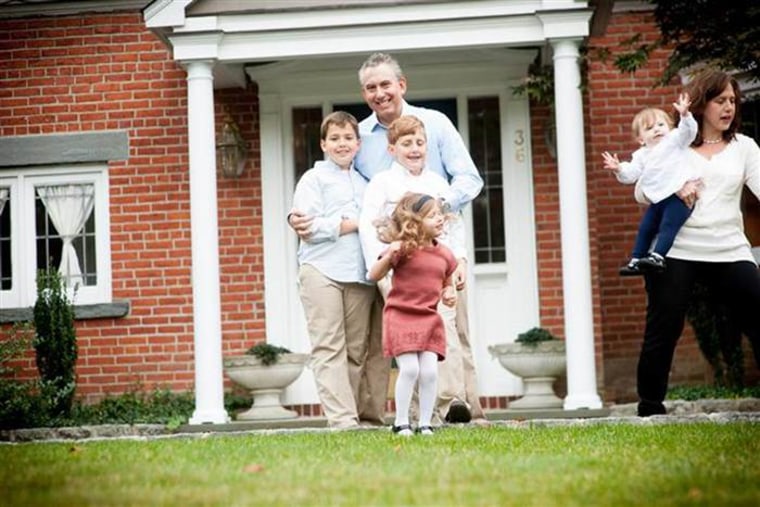 My main problem? My expectations were far, far too high.
Spare yourself a few new wrinkles. Here are some Golden Rules for Golden Family Pictures:
1. Know that all family photo shoots are chaos.
Foolishly, I thought that just because all the family portraits I'd seen were beautiful, that the families had all behaved beautifully throughout the shooting. According to my wonderful photographer Joanie Schwarz, I couldn't be more wrong. She assures me that every single family photo shoot is chaos—some more than others (she didn't tell me where we fell on the continuum, though).
RELATED: Holiday card stress: Why parents strive for perfection
"If the chaos is happy, often times it brings the great shots," she said. "As long as the chaos doesn't involve too much bodily fluid, all should be well." Once, Schwarz said, she had a family where there was "blood, spit up, poop and pee all in one session. AND one of the dogs had a small epileptic seizure. AND it was 100 degrees out. That was a day I'll never forget," she said.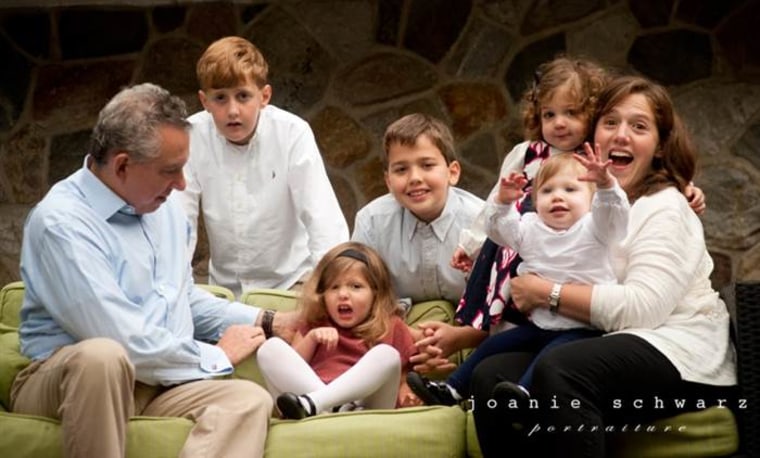 2. Let it go!
What's the most important thing to bring to your photo session? "Bring low expectations and be open to the dynamics of the relationship between the child, photographer and setting," photographer Nina Drapacz said. In fact, this elusive thing called 'relaxing' is important in order to allow the photo shoot to unfold naturally: "This reduces the tension between the child and parent and makes for a better photo shoot."
"Don't worry if it is the craziest session on record for the photographer," Schwarz said. "Your family is unique, and as long as you DON'T put crazy pressure on your kids to have a 'perfect' smile, it will be time spent together that will create fun, lasting images."
This is where I screwed up. I got pretty mad in this photo session: mad that the 3-year-old was Mr. Hyde rather than Dr. Jekyll, mad that everyone decided this was the perfect time to poop, mad that it seemed to be so hard for everyone to even look at the camera at the same time!! Mad, mad, mad.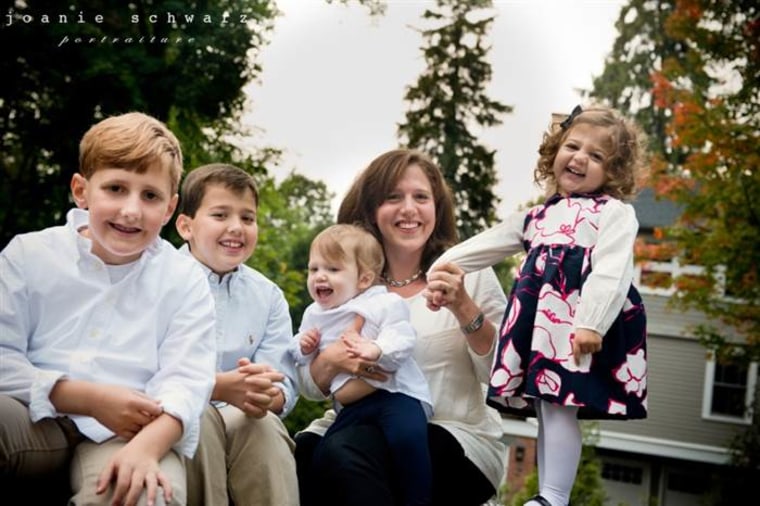 Which, of course, contradicts the whole purpose of the photo shoot: to celebrate your family, craziness and all. As the parent, you can pick out the outfits (most photographers recommend bright, solid colors) and you can brush the hair, but at a certain point, you have to Let It Go and trust that the photographer will catch those moments that reflect your family.
RELATED: The do's and don'ts of sending holiday cards
3. Include the kids' ideas.
"Encourage your kids to get into the artistic spirit and suggest photo ideas," photographer Mirah Curzer suggests. "This is a great sign that the kids are having a good time, and happy kids equal great photos. It doesn't matter if their ideas aren't holiday card-worthy. Sometimes kids want to pose with sticks, and I encourage them by taking photos of their ideas and praising them. When they put the sticks down, something else great will happen."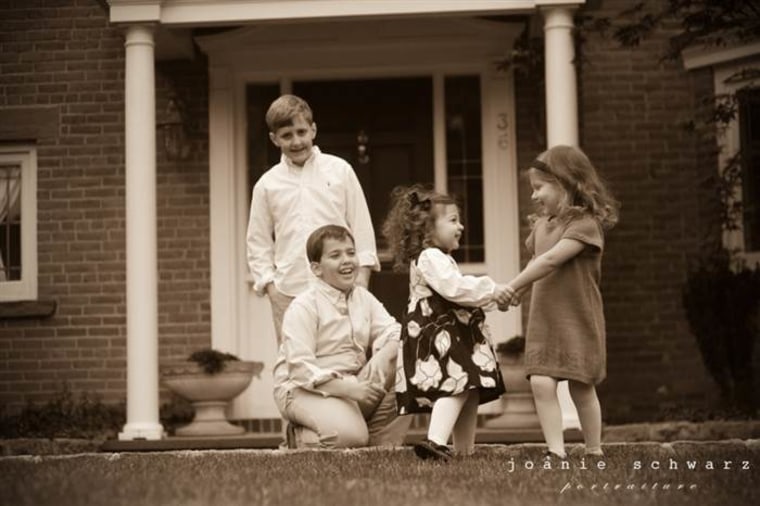 Some ideas are not so great—my 2-year-old deciding that she should wear her Hello Kitty backpack, for example, or my 3-year-old deciding to hold up a crumpled picture of an ultrasound that she found under a couch (I know, I know). But at one point in our photo session, our 3-year-old and 2-year-old decided to dance. Their dancing, and our loving looks at them as they did so, resulted in of my favorite photos from the shoot.
I'm not sure why I ever believed that my not-perfect family could be perfect in a photo. But what I learned is that photos that capture what my family really is—chaotic, crazy and loving—are priceless.
RELATED: The 'no rescue' movement: Could this be the cure for helicopter parenting?
This article was originally published on Nov. 10, 2014 on TODAY.com.