/ Source: TODAY Contributor
February 28 is a very special day in the Kosinski home: it happens to be the birthday of all six of Craig and Carrie Kosinki's children.
Almost four years ago, a woman contacted the Kosinskis and asked if they would be open to adopting her twins. "She said she was pregnant and wasn't able to give the babies the lives they deserved and wanted to put them up for adoption," Carrie Kosinski told TODAY Parents.
Though the Union Grove, Wisconsin, couple had planned on having biological children before adopting, "We just felt like that was what God wanted us to do, so we decided to put our own plans down and pursue the plan that God had for us and that was to adopt first," Kosinski said.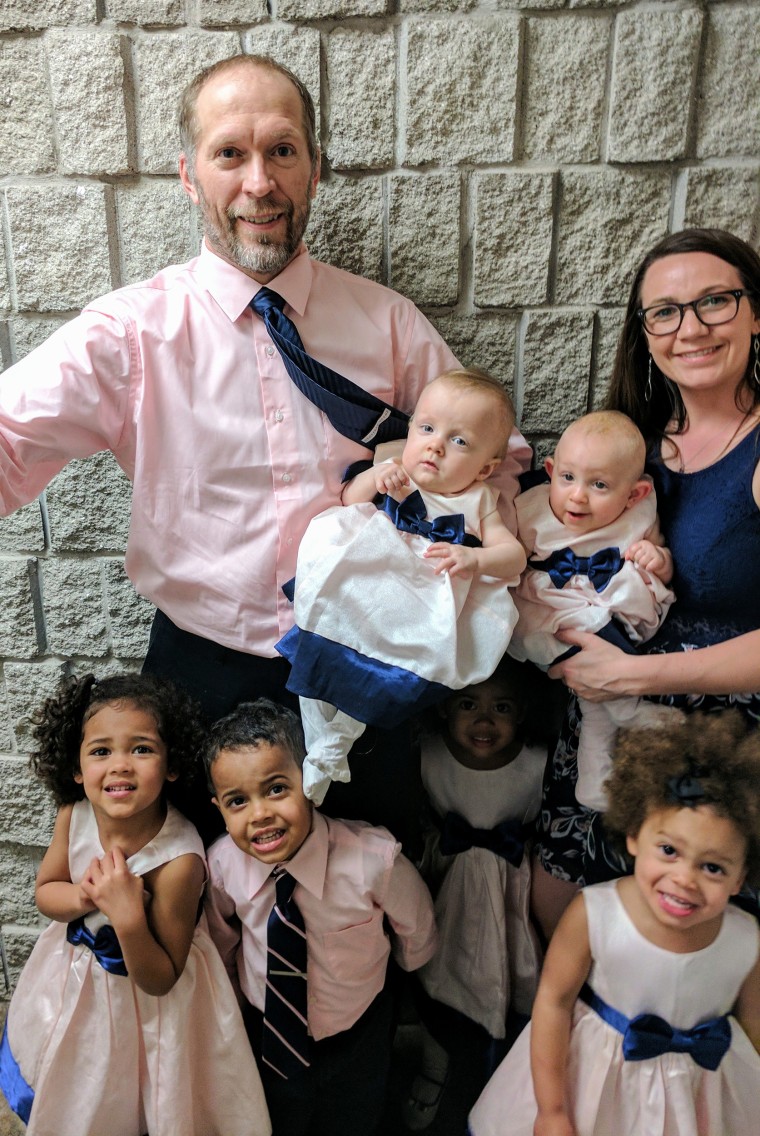 Adalynn and Kenna, both now 3 years old, were born by emergency C-section on February 28, 2014 — which also happened to be the birthday of their twin biological siblings, JJ and CeCe, who had been born on February 28, 2013, also by emergency C-section.
The Kosinkis established legal guardianship of Adalynn and Kenna when they were 3 months old. Then, a year later, their biological mother reached out to the Kosinskis again. This time, she asked if the couple would be willing to adopt her older set of twins, JJ and CeCe, and the answer was again yes.
Never miss a parenting story from TODAY.com! Sign up for our newsletter here.
In September of 2015, the Kosinskis found out they themselves were expecting, and a month later, they discovered that they would be having even more twins. "We were in shock, but super happy," said Kosinski.
The twins' due date was June 12, 2016, but after Carrie's water broke at 19 weeks and six weeks of hospital bedrest, she gave birth to twins Clarissa and Karraline by — you guessed it, emergency C-section — again on February 28, 2016.
Even though they all share a birthday, Kosinski said her children are all individuals. "They are all very different. Each has their very own personality, which is very fun, but we get pulled in six different directions," she laughed.
Kosinski said that she found adding in the second set of twins "really easy" because she already had a schedule in place. "I have to be very organized and keep to a schedule, or things get out of hand," she said.
The Kosinskis said they want to tell their story in the hopes of opening up other people's minds about adoption. "We believe that because God adopted us into His family that we were meant to adopt these children into our family," Carrie said. "It's such a huge blessing to us. We love all our children the same. We wouldn't want our lives to be any different."