This is a love story that begins with two grieving strangers who are about to become a family of 10.
Jessica and Ryan Ronne had never met and were living in different states when they both lost their spouses to brain cancer within the same week. Brought together by an online message, they began corresponding, fell in love and married.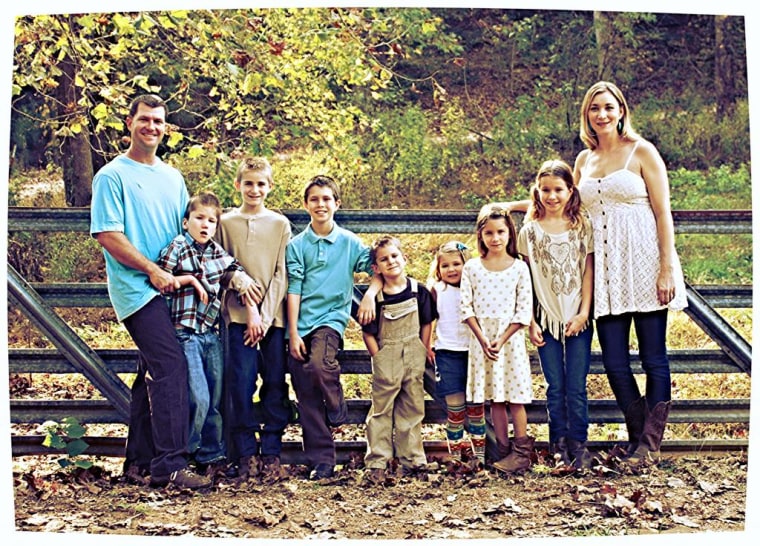 Their household — which now includes her four children and his three kids — is about to expand again as Jessica prepares to give birth to the couple's first baby in June. And there's one more reason they're beaming: She's just earned a master's degree, a dream almost a decade in the making.
It's a moment for the family to savor.
"I don't really have words for it. I'm so at peace in this life and happy," Jessica, 38, told TODAY Parents.
"She taught me how to live again," Ryan, 37, said.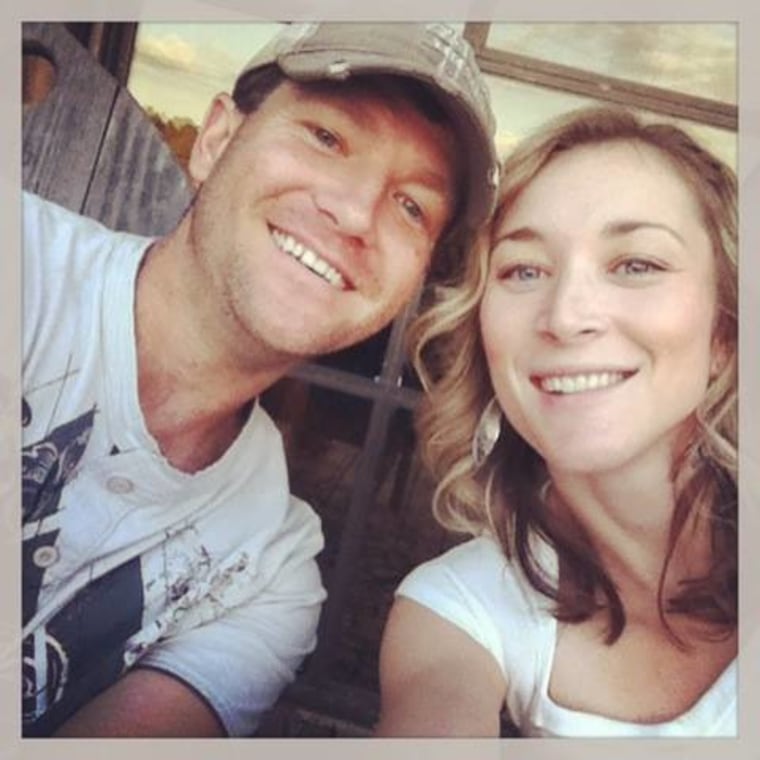 Just a few years ago, life was filled with heartache for both of them.
Jessica lived in suburban Grand Rapids, Michigan, with her husband Jason. When he suddenly began losing weight and having seizures in 2007, doctors found a brain tumor, an oligodendroglioma. Surgery helped for a while, but the tumor came back as a baseball-size glioblastoma.
"I felt like I was drowning every day trying to take care of the four kids and a husband who was completely deteriorating," Jessica recalled.
Jason died on Aug. 24, 2010.
At that moment, some 1,000 miles away in Guymon, Oklahoma, Ryan had just four days left with his wife Kaci. After suffering from excruciating headaches after giving birth to the couple's third child several months earlier, a scan revealed she had an astrocytoma, a tumor on her brain stem.
"It's going to kill her," a doctor bluntly told Ryan.
Kaci died on Aug. 28, 2010.
Looking for a way to keep family and friends updated on their spouses' conditions, both Jessica and Ryan started writing separate blogs online. And somehow, a woman they had never met was reading both of them. On Halloween in 2010, she sent Jessica a message.
"There's this man in Oklahoma who lost his wife four days after you lost your husband and I just think you could be encouraging to him," it read.
Jessica found Ryan's website and left a message offering to talk or email, if he wanted to.
"What was strange was that same Halloween night, my son came in after they'd been trick-or-treating and he said, 'Dad, when are we going to get a new mom?'" Ryan recalled.
"That just floored me because it had only been two months. I was in terrible shape… I'm not even thinking about that at all. When I prayed with him that night, we just said, 'God, if that's what I'm supposed to do, give me a sign, show me something… just prepare my heart for something like that.' I woke up the next morning to her email."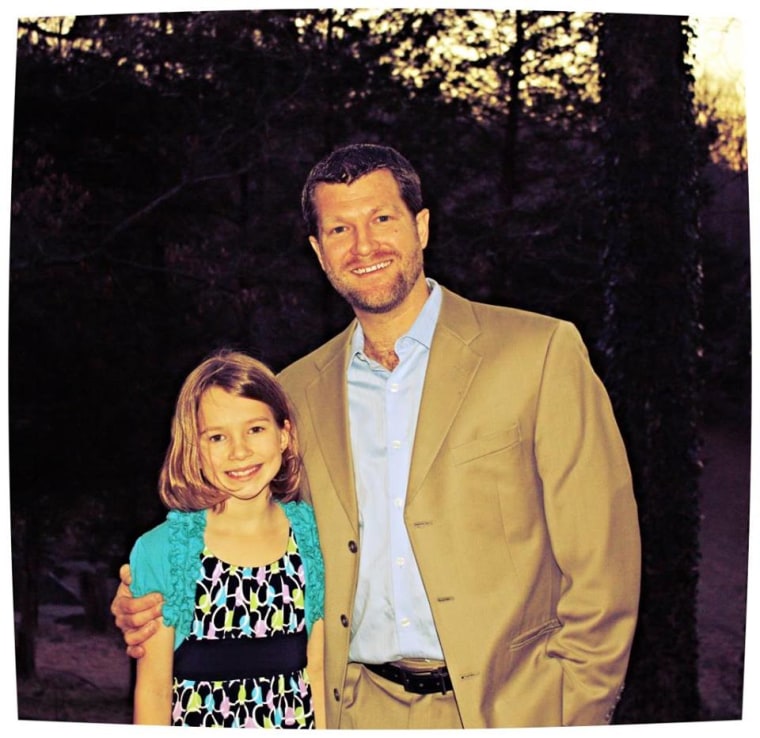 Jessica and Ryan began emailing the next day and talked on the phone a week later, staying on the line for hours. They weren't looking for romance, but the connection between the young widow and widower was instant. They decided to meet on Dec. 2, 2010, in Savannah, Georgia, a city both had always wanted to visit and which they called "neutral ground:" no kids or family to distract them from figuring out what was happening.
"Both of us had really good marriages and thought, 'I want to do this again.' I knew very quickly, even in the conversations, that I wanted her to be my wife and spend time with her for the rest of my life," Ryan said.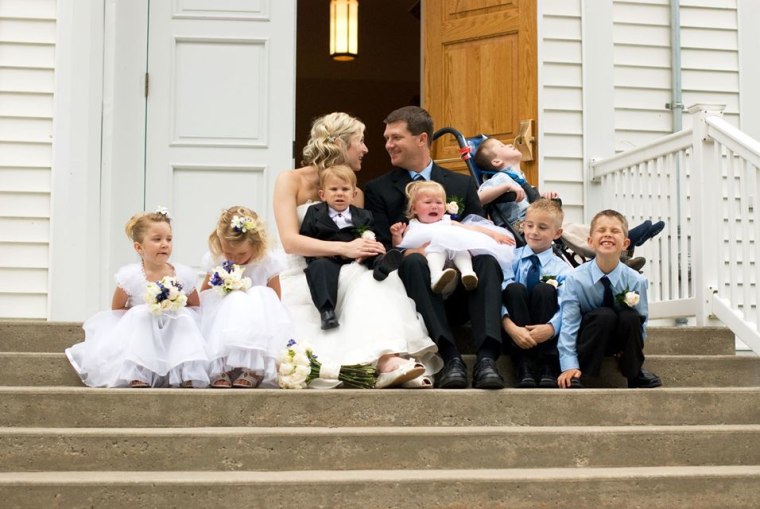 He proposed in February 2011 and the couple married two months later. Jessica's special-needs son Lucas, who was born with hydrocephalus, attended a great school in Grand Rapids, so Ryan and his kids moved from Oklahoma to Michigan so Lucas would not have to be uprooted.
In 2013, the Ronnes fulfilled their dream of living in a big country house by moving to a 30-acre property in Bath Springs, Tennesee.
The household now includes seven kids under 13: Caleb, 12; Lucas, 10; Mabel, 8; Joshua, 5; Tate, 11; Mya, 10; and Jada, 5. The couple has adopted each other's children.
"The kids all just meshed as if they were brothers and sisters from day one. It's just amazing how they just took to each other immediately," Ryan said.
The children have chores and each day is structured so they grow up to be independent adults, he added. Still, there's bound to be some chaos.
"We tell people we brace for the weekends. We love it when Monday morning comes because they all go back to school," noted Jessica, who chronicles some of her experiences on her blog. "Our house isn't going to be spotless and things are going to be loud and rowdy."
Jessica comes from a big family — she is the oldest of 12 — so doing that much laundry, cooking and cleaning is not a big deal, she said. The country house has a big garden, fruit trees and chickens, allowing the Ronnes to focus on eating healthy — a big deal for a family so deeply touched by cancer.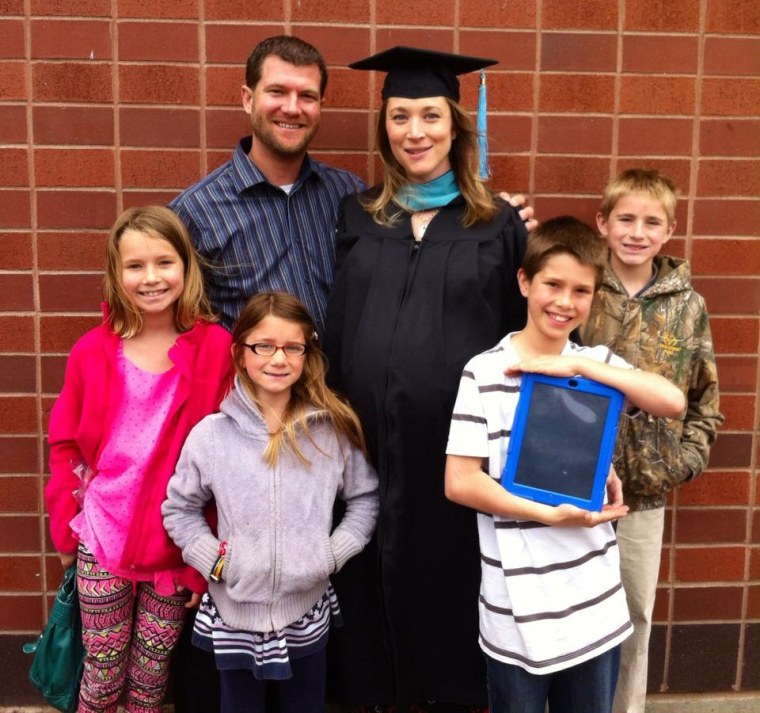 The baby is due June 12, but there was one other big event to celebrate recently. Last month, Jessica graduated from Grand Valley State University with a master's degree in education, a goal she began working on nine years ago, long before her life was interrupted by cancer, death and grief.
These days, it's all about joy and love.
"It just feels right, all of it," Jessica said.