/ Source: TODAY Contributor
A TED Talk and a chance encounter on a plane provided the parents of a premature baby inspiration to "just keep swimming" through their son's 118-day stay in the NICU. The video based on their story has been viewed 14 million times and shared more than 200,000 times.
"We heard so many other stories that people have sent us because of the video. It has been a really cool experience of how many people it touched," Maureen Azize told TODAY Parents.
After learning she was pregnant after miscarrying her first child, Azize's happiness was tempered when she discovered this pregnancy was also high risk. She has a bicornuate uterus, which is when a heart-shaped uterus makes carrying babies difficult. The doctors hoped that with medication and bed rest she could reach viability. She just made it.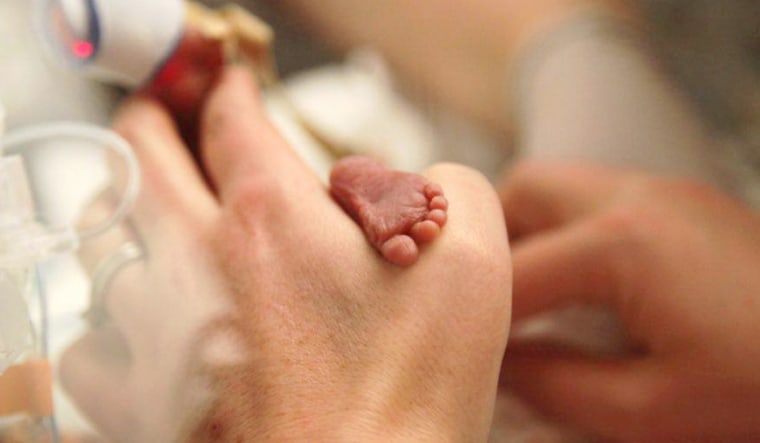 On January 13, 2015 Azize gave birth to Francis—17 weeks early. The boy weighed 1 pound 9 ounces. Azize and husband, Jeffery, saw the baby for minutes before he was whisked away to the NICU. Doctors said Francis had a 15 percent chance of surviving.
RELATED: Photographer mom documents her own delivery in stunning collection of photos
"I was blown away by how tiny he was," said Azize, of Little Compton, Rhode Island. "Our wedding bands could go up his arm to his shoulder."
Five days later doctors realized that the boy suffered from perforated bowels and the couple needed to decide between surgery or a less-invasive stent.
"You felt like you just hit a brick wall," Azize said.
They opted for the stent and prayed. It worked.
"We had been blessed with the outcome," she said.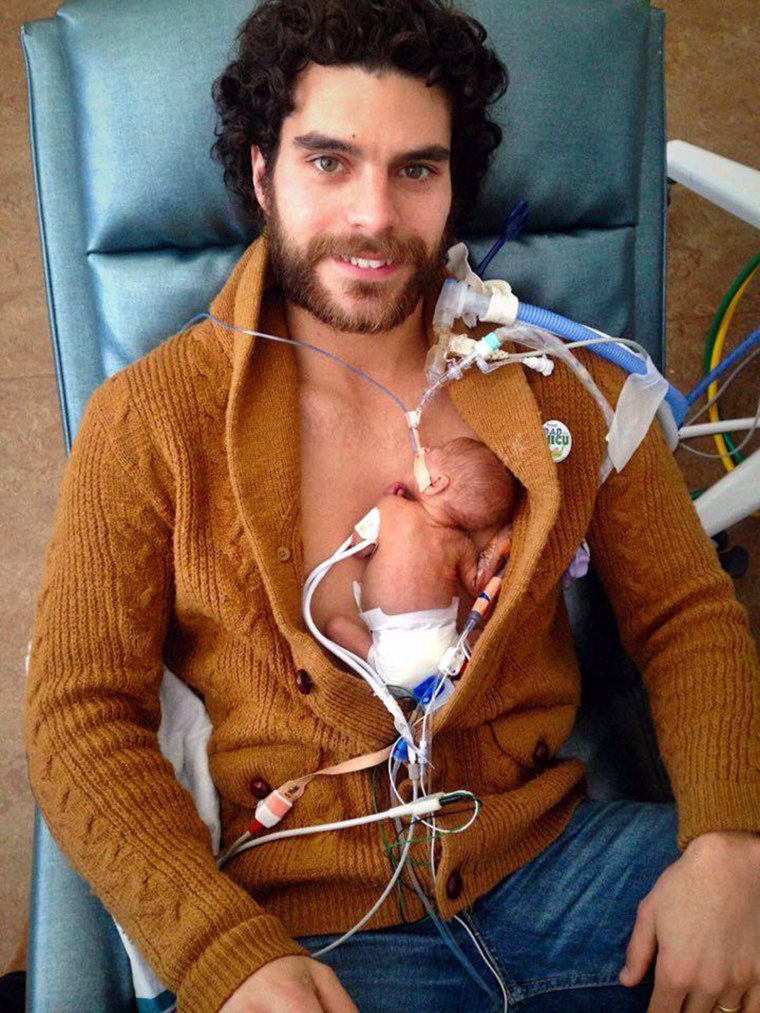 That was just one of several scares Francis faced. He had infections and some nights it didn't seem like he'd make it. Azize's brother, Chuck Kinnane, a documentary filmmaker in Los Angeles, felt helpless. But he found a TED Talk by Andrew Stanton, a Pixar director, writer, and actor behind movies, such as "Finding Dory," that he though might help. He sent it to Azize only a few weeks after Francis' birth.
"I was kind of like 'Chuck, thanks, but I kind of don't feel like watching a TED Talk,'" Azize said.
RELATED: Dylan Dreyer says she's a roller coaster of emotions in first weeks of pregnancy
But they watched it and realized why Kinnane shared it. Stanton revealed he was born prematurely; doctors said he would not survive.
"I was in the hospital for months. I lived. Whatever I ended up being good at I would strive to be worth of the second chance I was given," he said.
Stanton's revelation moved Azize and Jeffrey to tears.
"It is amazing that he, too, is a preemie," said Jeffrey in the six-minute video about Francis made by Kinnane.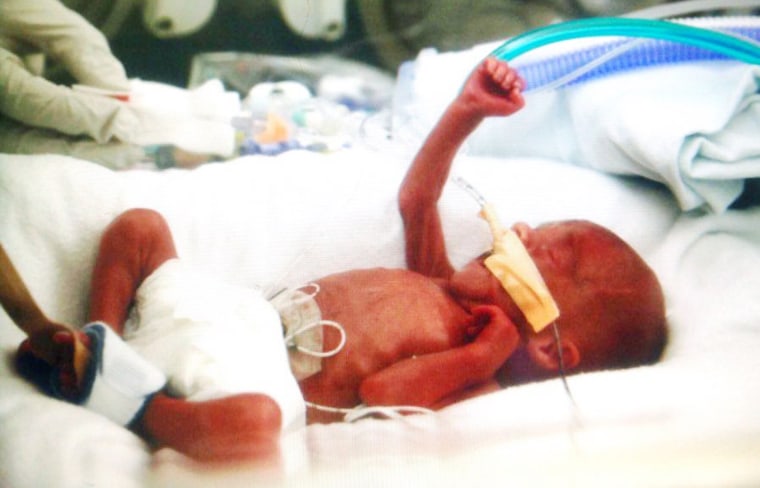 The talk gave them hope when doctors warned the Azizes to prepare for the worst. They felt like if Stanton could become successful, Francis could, too.
"With Andrew Stanton seeing how grateful he was and how he applies that to everything he does ... that is something we hope Francis will listen to," said Azize.
But a random meeting between Stanton and Kinnane only strengthened the connection between the Azizes and Stanton. On a short flight, Kinnane looked over at the window seat and discovered he was sitting beside the director.
Never miss a parenting story with TODAY's newsletters! Sign up here
"I didn't believe it," said Kinnane. "There's no way it is him."
But Kinnane felt he had to talk to him; he shared Francis' story and Stanton asked to see pictures of the baby who was still only weeks-old in the NICU.
"He said to me 'Us preemies need to stick together,'" said Kinnane. Then Stanton tore a piece of paper from his notebook and wrote "To Francis William, just keep swimming."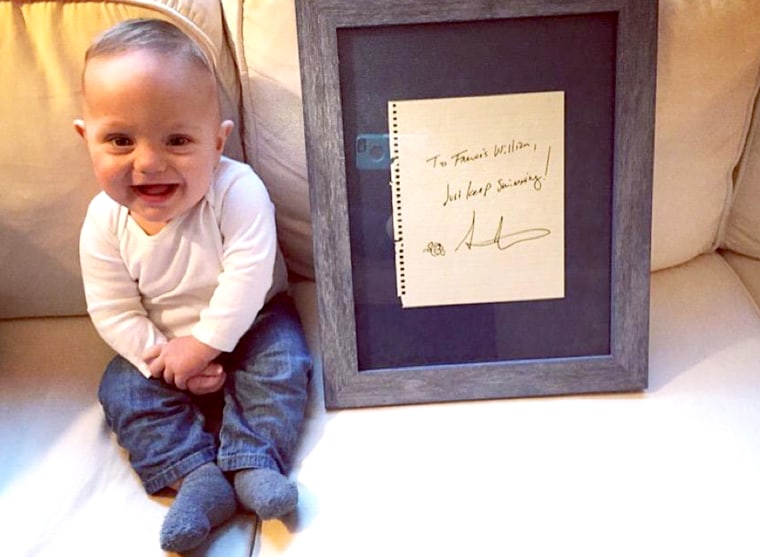 Kinnane and the Azizes could not believe Stanton wanted to share an inspiring message with their son.
"These little coincidences that kind of accumulate ... it is cool," said Azize.
Kinnane agreed that the coincidences seemed powerful — and moving. He asked to make a short film about Francis, which has gone viral since its release June 17.
"It's a testament to how powerful stories can be," said Kinnane.
After 118 days in the NICU, Francis went home. While he will always have lung problems and lingering side effects, he remains a happy, determined baby who loves to snuggle. He's trying to walk and talk. And, he's even taken the words the family lives by — just keep swimming — and enjoys the water.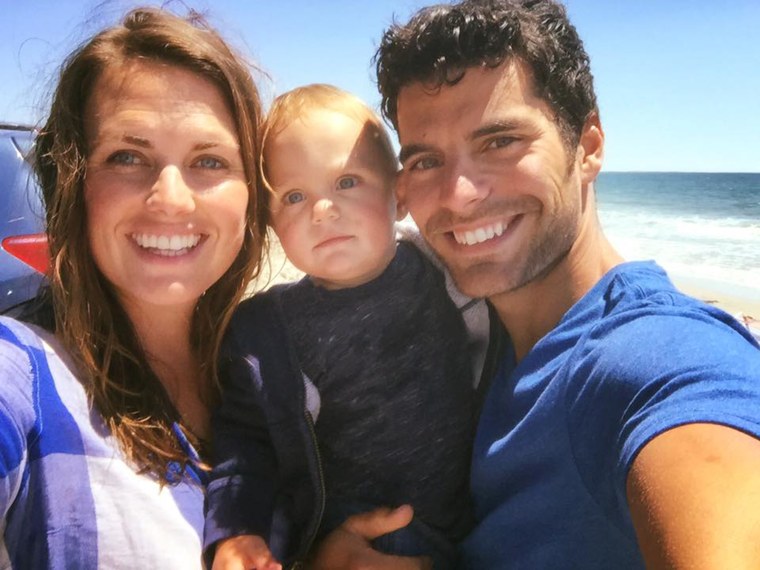 Now when life seems tough, the Azizes remember they know how to stay afloat.
"If you can get through the NICU you can get through anything that life throws at you," Azize said. "I feel like you have a greater appreciation of life."