Almost 10 years after her son died in Iraq, Patsy Maciel says he sent her a message — delivered through a very special American flag.
Covered in handwritten messages penned by her son's platoon mates, the flag should have made its way to Maciel nearly a decade ago after the 20-year-old Marine was killed in a helicopter crash.
Instead, it ended up in a flea market hundreds of miles away, on sale for $5 because of the writing on it.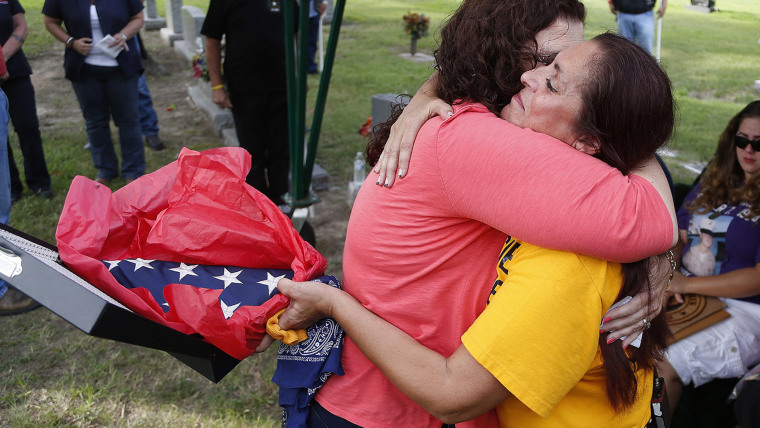 By the time the flag was finally given to Maciel on Saturday evening, the 55-year-old Houston mother was emotionally prepared to receive it. She saw it as a sign from her son that she needed to begin healing.
"If this happened any earlier, there's no way I would have been able to go out there and receive it because I was an absolute basket case," Maciel told TODAY.com the day after the exchange. "Now, my heart is at peace."
Watch the video: Missing flag presented to family of fallen Marine
Maciel said she believes her son, and a bit of divine intervention, played a role in helping Lanie and Walter Brown find the flag earlier this month at a flea market more than 200 miles away in Hemphill, Texas. Lanie Brown agreed it was practically a miracle they were there at all, since her husband can't stand such places.

"If it's not Home Depot or Collectors Firearms, he doesn't stop and shop," she recalled with a laugh. But on July 7, his search for a holster led them to the flea market.
"The first room we walked into had a stack of American flags," she said. "My husband starts going through them and he says, 'Lanie, come here. Look at this one. It's got writing on it.'"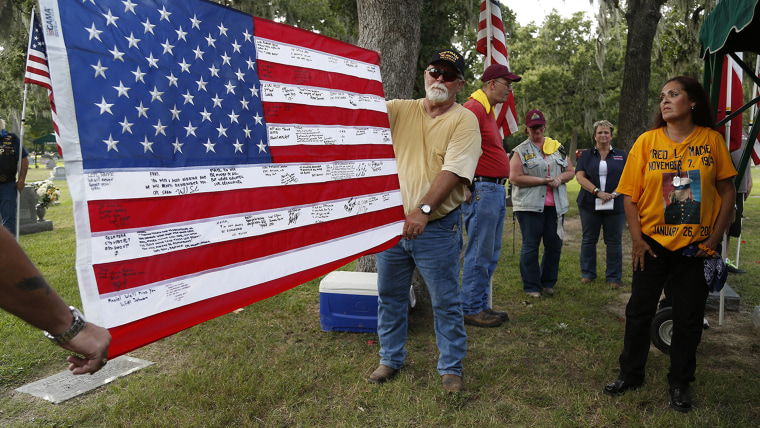 They saw the messages, written in black ink throughout the flag, were dedicated to a fallen lance corporal. The Browns have a son and a son-in-law in the Marines and recognized the title that was mentioned repeatedly.
"We'll always remember the sacrifice you made. God Bless," one person wrote.
"We'll miss those cheeks," said another.
One other person pledged: "I promise we will see each other again."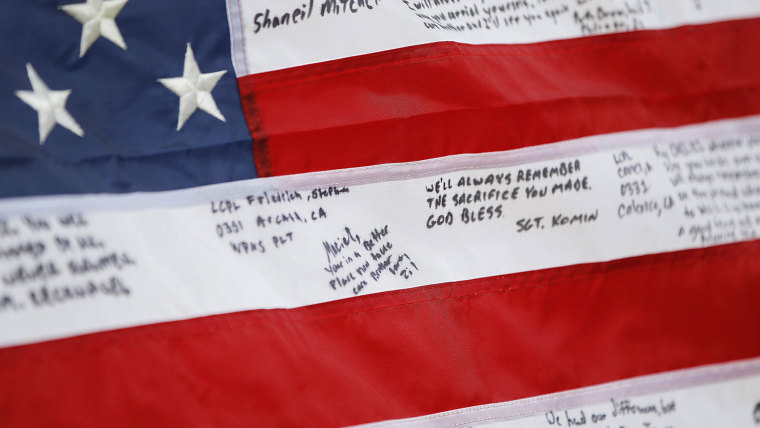 Although the other flags were marked $15 to $30, this particular one lacked a price tag. The seller offered it for $5 because of the writing on it, and the couple seized the deal.
"If they asked us for $100 we would have given them a $100 bill. It was priceless to us because we knew it meant something," Brown said.
Back home, her son recognized the item as a tribute flag, something signed by the platoon members of a fallen Marine. Under normal circumstances, the flag would have been packed along with the serviceman's personal items, a letter from his commander and mailed to his family.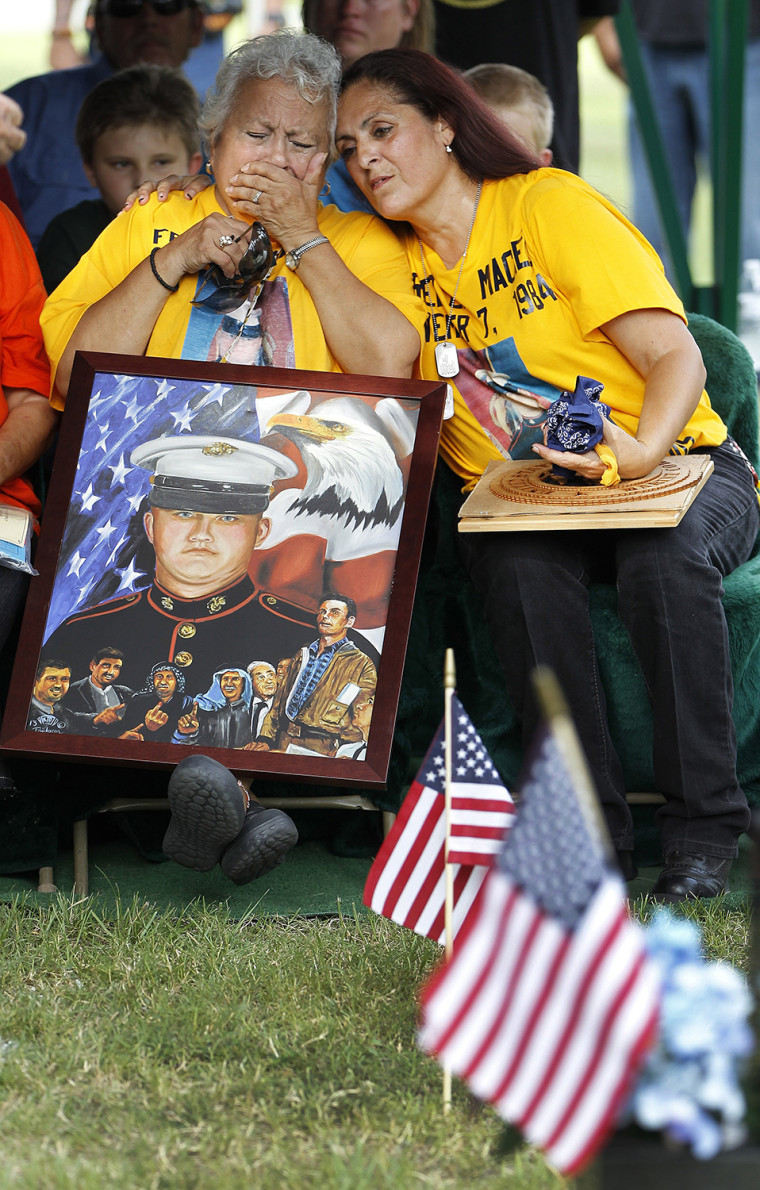 They identified the flag as belonging to Lance Cpl. Fred Maciel and, with the help of Brown's children, tracked down his obituary and eventually his mother through Facebook. They sent a message, letting her know they had something of Fred's.
Patsy Maciel called immediately. The two families spoke for more than an hour, sparking a series of phone calls until they settled on a day to meet.
On Saturday evening, they finally met in person at the gravesite of Maciel's son, just outside of Houston.
Brown gave a short speech and handed over a small box with the flag inside. The two women started crying. But finally, Maciel was crying tears of joy.
"When we hugged each other, I felt as if I've known her our whole lives. I finally had this feeling of peace," she said.
Brown said she sensed Maciel's spirits lifted.
"She was beaming from ear to ear," Brown said. "She was in a very happy place."
Maciel said just weeks earlier, she quietly admitted to her sister that she feared she was starting to forget what her son looked like. 
"Now, he's everywhere. This is Fred telling me, 'No, Mom. I'm not going to let you forget,'" she said.
Maciel said the occasion brought the entire family together, just like her son would have wanted.

"Fred was all about getting the whole family together and playing basketball or football or whatever it took to have a good time. And he did that again. The whole family was together again," she said.
"The family has this piece of him now and my heart is finally healing."
Follow TODAY.com writer Eun Kyung Kim on Google+ or on Twitter.