/ Source: TODAY Contributor
Lizzie Valverde and Katy Olson had always dreamed of being writers, but they never could have imagined the story that was about to unfold.
In January 2013, while enrolled in a creative writing class at Columbia University's School of General Studies, Valverde and Olson discovered they were long-lost sisters.
The siblings — one year apart — had been born to a teenage mom in Tampa, Florida, and were adopted by two different families. Valverde grew up in New Jersey and Olson was raised in Florida and in the Midwest.
But in a twist of fate, on the first day of their literary reporting course, students did self-introductions and the details of their childhood seemed eerily the same.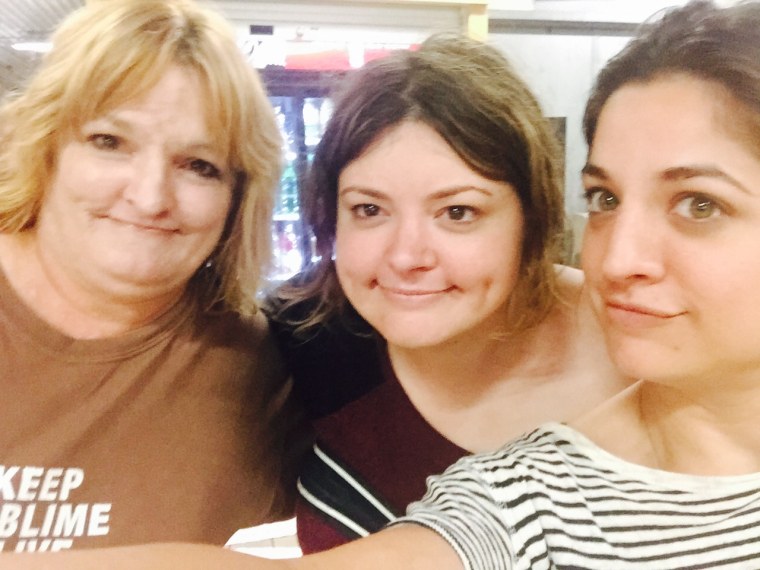 "We had an unspoken familiarity," Valverde, 35, who lives in New Jersey with her 6-year-old daughter Estella, told NBC News.
"It was crazy," Olson, 34 and a New York City comic, said of the chance encounter that would change both their lives. "The odds of us finding each other? Do the math."
After that fortuitous class, the sisters went to a local bar, and over buffalo wings and beers pieced together their past.
On Monday, Valverde received her degree in creative writing on Columbia's New York City campus. And cheering her on was Olson, as well as their mother, 54-year-old Leslie Parker, who gave the girls up for adoption three decades ago. It was the first time Parker had met Olson.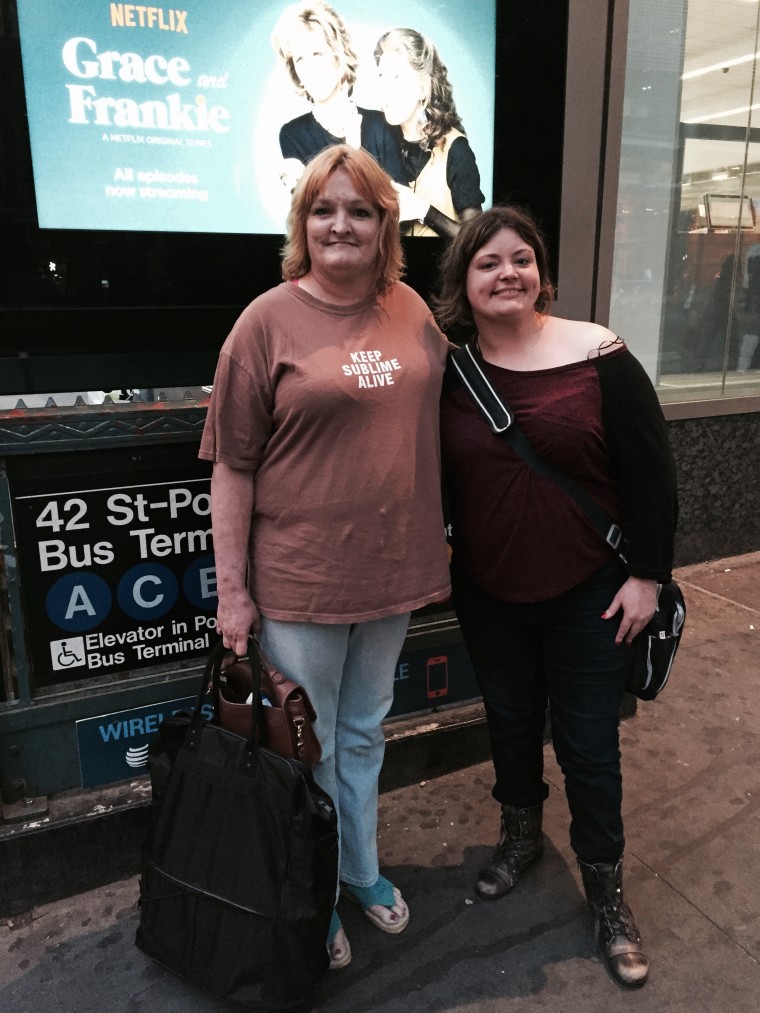 "I always whimsically approach everything I do in life," said Valverde. "But the way this happened, the only thing that comes to mind is something magic. It's a real life fairy tale, like it was supposed to always be."
After their story first appeared in the New York Times, the sisters told NBC News that they were besieged by the press — "maybe like 900,000 calls," joked Valverde.
Valverde had learned her mother's identity three years ago after doing online research. Parker, too, had wanted to be a writer, but had been hampered by a life of poverty and drug abuse.
NBC News reached out to Parker by email, but she did not immediately respond. However, she told the New York Times that she "felt the world was coming full-circle," when she reunited with her daughters at Columbia this week.
The sisters have an easy-going repartee, and Valverde admits Olson's sense of humor has helped them to bond after a lifetime apart.
"Katie is very easy to get along with," said her sister. "She is a really warm person who made the acclimation a lot easier. She's a stand-up comedian, so we can laugh."
Olson knew about her older sister's existence. "I sometimes wondered what life would be like if she were around—then I decided I didn't want anyone bossing me around," she laughed.
Valverde thought her younger sister had died. Olson had been born prematurely and adoption officials had asked her older sister's family if they were willing to adopt her, as well.
"My mom was about to be divorced and was a single mom," said Valverde. "She wasn't in a position to adopt a baby, but she didn't give a definitive, 'no.'"
"They didn't give the baby a good chance at survival because there were a lot of complications at the birth," she said. "When she never heard anything back, she assumed the baby was dead."
Today, the women are becoming close friends. Olson spent last Thanksgiving with her sister and has begun to know her niece. "It's all good," she said. "We've developed a relationship over time, drinks and craziness."
"She has a dark sense of humor and the ability to laugh at hard things and an awful situation," said Olson, who was raised with a biological brother who died in 2009. "But we are looking forward to being a part of each other's lives."
Valverde said she was "a little bummed out" to graduate fourth in her Columbia class, not as valedictorian, but discovering her sister meant just as much.
"My graduation was more than a degree," she said. "It was a strange bond into sisterhood."
And for Olson, it meant meeting her biological mother for the first time. "That was incredible," she said.
"I am just so glad [Parker] was open enough to give me the opportunity. I love my mom who raised me, but I think a lot of adoptees have a curiosity about their past," said Olson. "We have exactly the same need to wonder where did this nose and this pinky toe come from—where all those pieces fit together."
The sisters said their unique narrative is sure to continue. Olson is going on to get a master's degree.
"We are both still writing," said Valverde. "It's pretty clear we are two writers who have been given the gift of a truly incredible story."