Facebook rolled out a preview Monday of Messenger Kids, a new app designed specifically for kids, allowing them to video chat and send messages to friends and family.
The social network giant said children between the ages of 6 and 11 are most likely to gravitate toward the standalone app, raising concerns about its safety in the hands of such youngsters.
But Facebook says parents have complete control of the app, through their own accounts, from which they must approve all of their children's contacts before kids can begin chatting.
"The parent really is helping to establish that social community," said Antigone Davis, Facebook's head of global security and families. "This is about communication. This is about facilitating communication among families."
Messenger Kids, which is available for now only on Apple products, allows children to video chat with individuals or with a groups of people. The home screen shows them at a glance who they are allowed to talk to, and when those contacts are online.
The video chat places a big emphasis on interactive face filters that use frames, masks, stickers and emojis, as well as various sound effects. Young kids turn into elderly versions of themselves — or babies sucking on pacifiers. A wide-open mouth can turn them into an opera singer cracking glass.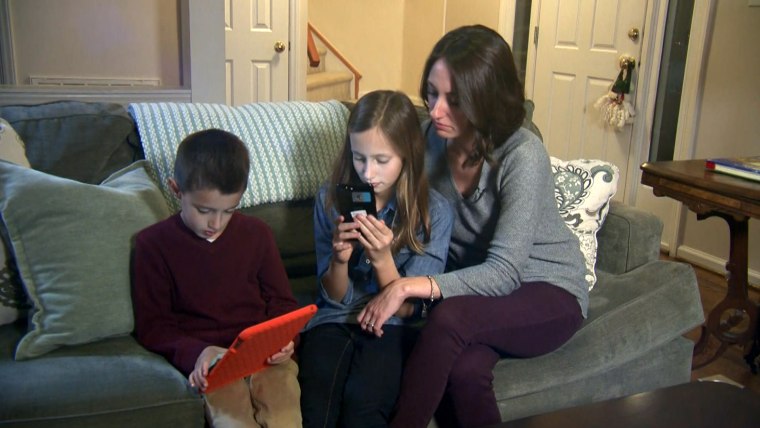 "One of the things we found over and over again is that kids look at communications as play, and so we wanted to make this as playful as possible," said Loren Cheng, Facebook's director of product management.
Facebook said it had "thought-provoking conversations" around parent controls and responsible online communication with organizations such as National PTA and Blue Star Families in shaping the app.
The Fountas family in Raleigh, North Carolina, got to test out the program and offer input at one of Facebook's numerous roundtable meetings.
Nikki Fountas said she loves being able to monitor her 10-year-old daughter Amelia's activity on the app.
"I think it's very important that parents know who their kids are talking to. That they know that the conversations are appropriate," she said.
Neither of the Fountas children — 6-year-old son Jack does not have an account — have smart phones so the Messenger app gives them a fun way to talk with their out-of-state grandmother, Fountas said.
"The unique thing about this was, and the thing I really liked about it, that it's not a profile. So it's not like anyone else can look up your child," she said.
Facebook says Messenger Kids does not have ads or in-app purchases, and none of the information about the children will be used for ads. The social network also is looking at building controls around how much time a child can spend on the app.
Children can block and report anything that makes them feel uncomfortable, which will immediately notify parents. Kids also are not allowed to delete conversations so adults can monitor their children's devices.
"I think at some point, we need to be realistic that social media isn't going away," Fountas said. "It's actually really great for kids to see how grownups communicate effectively online and you can have the chance to model it for them."