Nick Sissa wasn't quite sure what drove him to buy the 2.5-ton military vehicle he saw last year at an auction. He learned the answer last month.
Nick's impulse purchase was critical in helping to rescue more than 300 of his fellow Houston residents who were stranded by severe flooding brought on by Hurricane Harvey. Nick's efforts became the latest focus of TODAY's "Everyone Has a Story" series.
The morning the storm hit Houston, a restless Nick found himself unable to stay at home.
"He was a little frantic the morning the rain started to come down. 'I just have to get out of here,'" his wife, Martha, recalled Thursday on TODAY.
As Nick got into his military truck, he told his wife he didn't know where he was going. So he just started driving.
"It was just a desire to go out and help people," Nick told Kathie Lee Gifford and Hoda Kotb. "I don't know what was going on so I treated it like a hot bath, I kind of eased into. And then as we met more people … it just snowballed."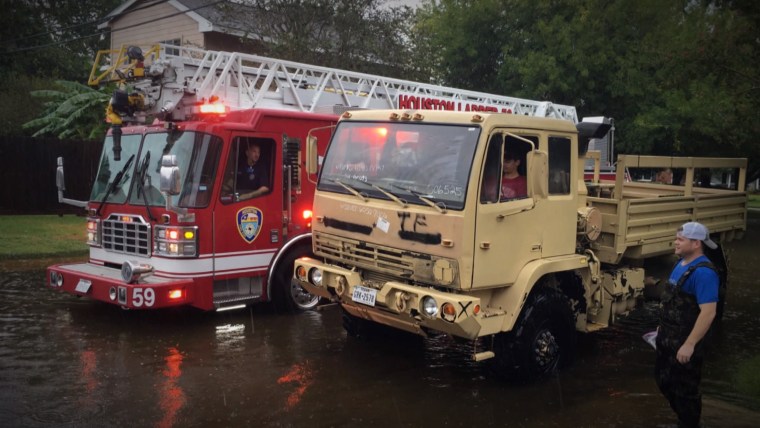 Nick did call his wife later that first day he went out to assure her he was safe and that he had been working with the Houston Fire Department.
"I knew he was going to be okay," Martha said. "He's a survivor. He's kind of a planner. To me, it's just a thing he would just do out of his character."
Nick went out with his enormous vehicle for three days in a row for at least eight hours each time, often in blinding rain, making his way through the flooded streets of Houston to help carry people to safety.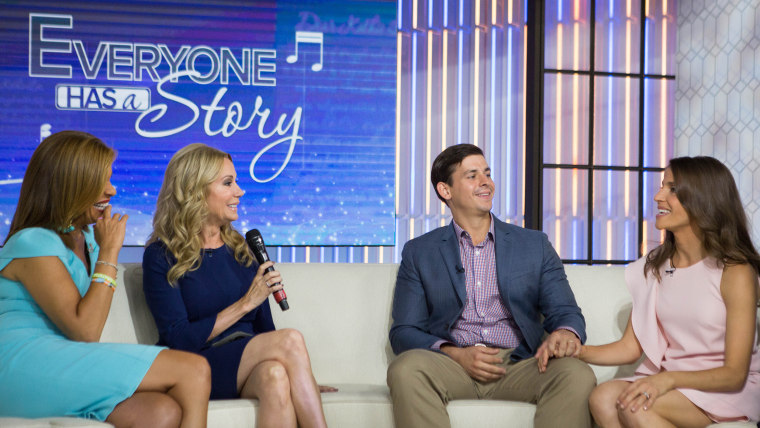 When Nick bought the vehicle last year for $6,000, Martha was pregnant with the couple's first child and in disbelief over the purchase. So was everyone else.
"Family members and friends thought Nick was crazy to even consider it. Whatever would he do with this?" wrote his friend Faith Cook in her letter nominating Nick as an "Everyone Has a Story" candidate. "But Nick knew he would find a purpose for it. He studied the manuals for the enormous truck to make sure he knew how to operate the vehicle properly."
Nick's unusual purchase was instrumental in rescuing at least 300 people, authorities estimate. On TODAY, he received a warm round of thanks from one of the families he helped rescue, as well as several Houston Titan players who applauded his valiance.
Cook recalled how Nick told his wife that "any normal guy with a truck would've done the same thing." But she doubts that.
"Nick is not a 'normal' guy," she wrote in her letter, and confirmed to Kathie Lee and Hoda. "Based on his caring heart, and his love for God, he anticipated a way to be there for those in need. Many in Houston owe their lives to Nick Sissa, a true American hero."