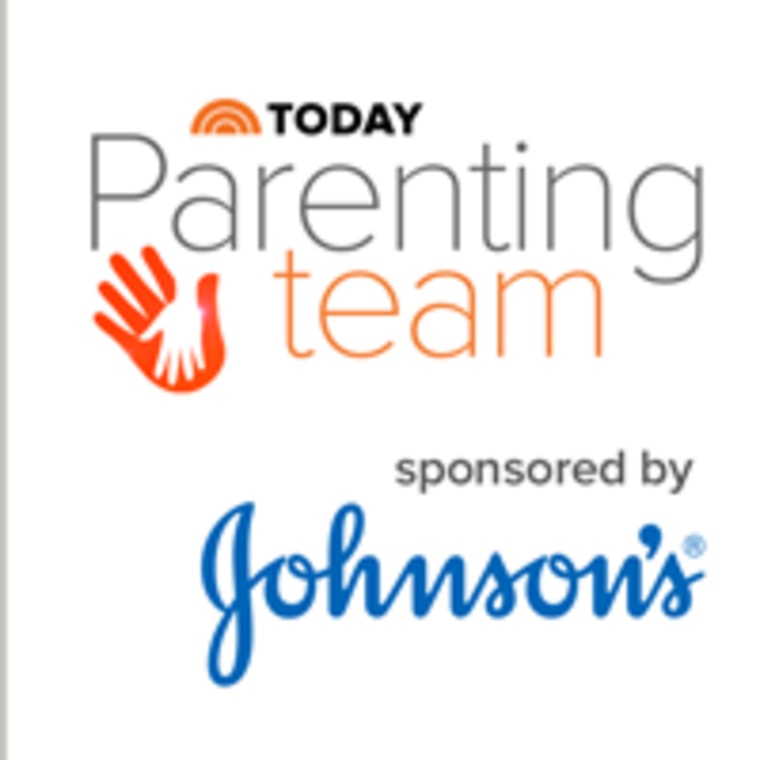 The craziness of raising kids can turn any mom or dad into a frazzled parent. But don't fret: There are lots of strategies to help you keep your sanity while keeping your kids healthy, busy and on schedule.
Three TODAY Parenting Team contributors demonstrated some of their favorite parenting hacks to get through sick days, household challenges and the morning rush. We bet they'll become your favorite hacks, too.
When your kids are sick
Amanda Mushro, the writer behind the blog Questionable Choices in Parenting and a mom of two, shared these tips:
Getting kids to take medicine: "A little bit of chocolate goes a long way," Mushro said. Before giving the medicine, put a few mini chocolate morsels on their tongue and let the chocolate melt. It coats their tongue, so all they taste is the sweet chocolate and none of the medicine.
For serious negotiations, Mushro turns to a currency her kids understand: lollipops. Dip the lollipop in the medicine, such as a cough syrup, and let your child lick the medicine each time you dip. When they finish all the medicine, they get the rest of the lollipop. (The parent gets one, too.)
Tracking medicine: When you're exhausted, it may be tough to remember the last time your kids took their medication. Grab a marker and create a small chart on the side of their medicine bottle for doses and the number of days they need to take the drug.
Easing earaches: Earaches are so painful and keep everyone awake, but creating a home-made heating pad can help. Take a white sock, fill it with coarse sea salt and a few drops of lavender, and warm it up in the microwave or a skillet so that you have a soothing heating pad to place on a painful ear.
Prepare for kids with tummy trouble getting sick at night: "Think lasagna: you want to have layers," Mushro said. Make layers of bed sheets and towels so that when you need to make late night clean ups, you can strip off a layer and the bed is already made and ready for the next round.
How to keep kids busy, organized and helpful around the house
Bree Smith, a meteorologist for KSDK NewsChannel 5 in St. Louis and mom of a 19-month-old toddler, had this advice:
Create a sensory bag: Fill a gallon Ziploc bag with cheap, clear hair gel and some non-pointy cheap plastic toys, like dice, marbles or poker chips. Seal it and wrap with duct tape to make sure nothing oozes out. It becomes a "super easy, super inexpensive" interactive toy infants can poke and squish. It's a great way to keep them entertained when you can't go outside.
Old diaper wipe plastic containers make great storage containers for small toys and baby items: "Little hands fit perfectly in here," Smith said. These are perfect to stashing crayons, toy cars, action figures and Legos. They're great for travel, too.
Get kids involved in laundry sorting: Use color coded baskets to help them along. A white basket is for white clothes; a black basket is for dark clothes and a bright basket for colors. This way they can sort everything themselves.
For good behavior, confiscate the charging cord instead of taking electronics away: "It is a little maniacal," Smith said. "But it reinforces good decisions." Children then have to ration their battery life until they earn their cord back.
Let them pour: All kids get to the "I want to do it myself" phase. When that involves pouring liquid, open the dishwasher door and have them pour over the door. It is at their level and if there is a spill, no worries: Just close the door and mess disappears. "This is genius," Smith said.
Managing the morning madness
Bunmi Laditan, mom of three, "Honest Toddler" creator and author of "Toddlers are A**holes: It's Not Your Fault," shared these tips:
Let your toddler help you set the breakfast table the night before: Then all you have to do in the morning is pour cereal and milk. There's no arguing about plate colors or spoon sizes. "Mornings are hectic — the last thing you need is trouble at the table," Laditan said. To make meal time even easier, use kitchen shears or a pizza cutter to cut through food in a snap — no need for knife and fork.
Let your kids pick out their clothes the night before: Lay them out "like a person" on their bedroom floor before they go bed, flat scarecrow style, down to the socks and shoes. It makes mornings a breeze and it's fun to look at. This works best for kids who are 3 and older.
To help younger kids know what time to wake up, get a clock with an LED light designed to change color when it's an acceptable time to get up. "Children like to rise before the sun… but these clocks tell them when it's OK to rejoin the family," Laditan said.
If your toddler still uses a pacifier, be sure to always have one on you: "The last thing you want to do is be in the grocery store and your kid is screaming like they're possessed," she noted.
Do you have advice and stories to share about parenting? Sure you do! Join the conversation on our TODAY Parenting Team.