For many Americans, the vast majority of time spent with parents occurs before college or whenever they leave the nest. Blogger Donn Felker even quantified it, estimating that out of our total time spent with them, 90% happens before age 18. 
It's one of those statistics you can't fully appreciate until that time has passed. It really hit me three years ago, when I found myself alone in a college dorm room on a Friday night. My friends were busy, so I watched "The Holiday," but all I wanted was to have a movie night with my mom. We both would probably fall asleep on the couch and miss the ending. Yet, we would be together.
So when the coronavirus pandemic took hold in the U.S. in March 2020, I got an unexpected yet welcomed extension of life at home, spending every day with my family for six months. It was a chance, as an adult, to get to know my parents and two younger brothers better while falling back into the easy routines of childhood — time I wouldn't trade for any college experience now.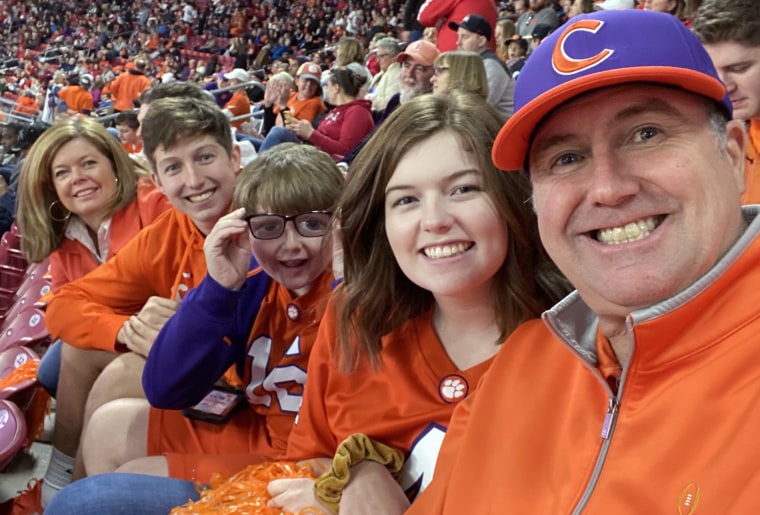 College, interrupted
Back in middle and high school, I took quiet Friday nights for granted. It wasn't until 2018 and my first year at the University of North Carolina at Chapel Hill that I really yearned for those simple days when I followed a routine that my parents guided me through: awake by 6 a.m. for school, a ride to dance practice, dinner on the table and then an episode of "Jeopardy!" or a rerun of "The Office" before bed.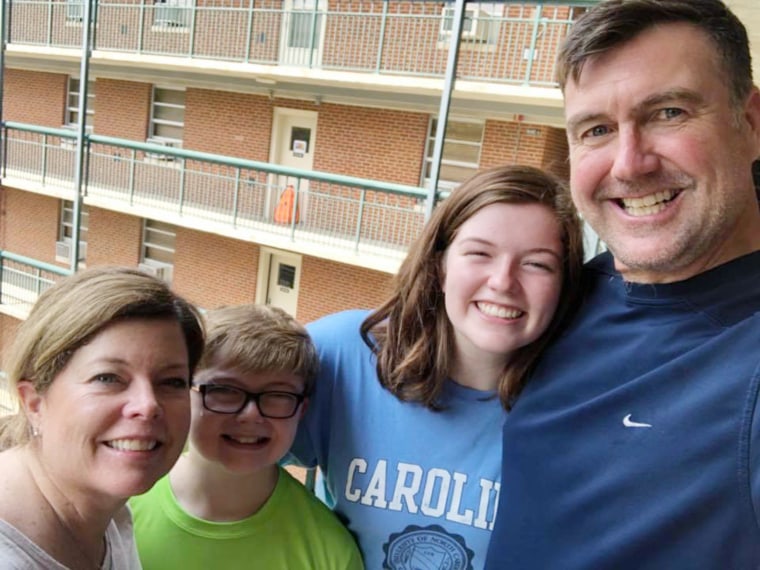 In college, I had to set my own routines. And by sophomore year, I finally found my groove: connecting with people to pass my days with, editing at my college newspaper and starting to focus on writing as a career. I finally had a full, packed schedule.
By January 2020, I spent every day in The Daily Tar Heel newsroom. And we started seeing headlines about a spreading virus across the world. I remember thinking that with so few cases in the United States, maybe we'd get two weeks off school, max. Surely, everything would be fine.
Then spring break rolled around, and I had planned the rest of my year to be just fun. I had a relaxing beach trip with two of my best friends to Hilton Head, South Carolina, my formal was set for later that month — I still needed a dress, but I was confident I'd find something — then, I had our end-of-year banquet for the paper. Celebrations abounded.
But on the drive to Hilton Head, my friend Morgan checked her email. Our university extended spring break by another week before starting fully remote instruction due to COVID-19, which had just hit North Carolina. For the rest of that trip, we went about life as normal. But I started feeling a creeping dread and unease being in a crowd. 
When the school announced on March 17 that the residence halls were closing, I drove back with my roommate to officially move out of our sophomore year dorm. We threw out our dead plants, stuffed bedding and clothes into trash bags and filled her car to the brim. It was messy and haphazard (in my panic, I emptied my entire desk drawer, throwing away everything, including legal documents). She dropped me off, with my poorly packed luggage in tow, and I moved back into my parent's house in Charlotte, 2 1/2 hours away.
We weren't alone. The University of Washington became the first major college to cancel in-person classes on March 6, 2020. Twenty days later, 1,102 colleges or universities had followed suit. One professor estimated that the onset of the pandemic impacted more than 14 million college students.
WeWork, family edition
My first college Zoom class proved to be a disaster. I overslept for the 8 a.m. class, joined late and forgot to mute myself. But I couldn't complain about it to my roommate afterward in the library or tell my sorry tale to friends at lunch. Instead, after logging off, I walked downstairs and my dog was there to greet me, wagging his tail and staring at me expectantly. So, I told him about it. 
My house converted into a two-story co-working space. My father, who had always worked from home, saw his office of one turned into an office of five. He'd mute his Zoom and shout from downstairs if my brothers and I talked too loudly. Or he'd stomp into the living room and turn down the TV volume himself.
My mom took calls from our kitchen table. In her days at the office, she was the type of mom who would dress up in pink Chico's blazers. Now, she took calls in her pajama pants. 
My brother Jackson, a junior in high school at the time, had been finishing up a dreaded research project and figuring out how remote AP testing would work. Joshua, in seventh grade, missed playing basketball with his friends at recess and instead, practiced his tuba from his bedroom during virtual band class. (We all quickly learned not to schedule meetings during those times.)
But by 5 p.m., when we finished up our homework and my parents took their last calls of the day, our shared office quickly turned back into our home. My brothers and I set up our old Nintendo Wii and started playing Mario Kart and Wii Sports Tennis again. We took our dog on a walk at 6 p.m. every night, letting us watch the sunset as we chatted with passing neighbors from a 10-foot distance. Then we would watch a few episodes of a show together. First, it was "Outer Banks," then Netflix's "Tiger King."
"The greatest privilege of all was realizing that they made for not only a loving family but the greatest of friends."
All in all, our routines were simple. A few times a week after our walk, we'd play doubles tennis (mind you, only our mom had ever really played before) in a rotation to make sure all five of us were included. We made tacos every Tuesday, and it became part of how I kept track of the weeks. I downloaded TikTok for the first time and started sending the funniest videos to my brothers, texting them from just one room over. 
From family ... to friends
I'm especially grateful for this special time with my brothers. As the eldest sibling, I have always said that one of my greatest privileges is watching them turn into "real people." Of course, they were always real, live human beings, but at a certain point, you watch them become mini-contributing members of society. They have their own favorite songs, go-to jokes and sarcastic inflections — topics they could talk about for hours. Jackson and I shared an Apple Music account and discovered that our only intersection in music preferences was the song "Circles" by Post Malone. It was the most-played song for us in 2020 by a long shot.
Rather than just pesky creatures following you around, pushing your buttons and aiming to make your life as difficult as it can be, younger siblings eventually turn into people you can confide in — and want to hang out with.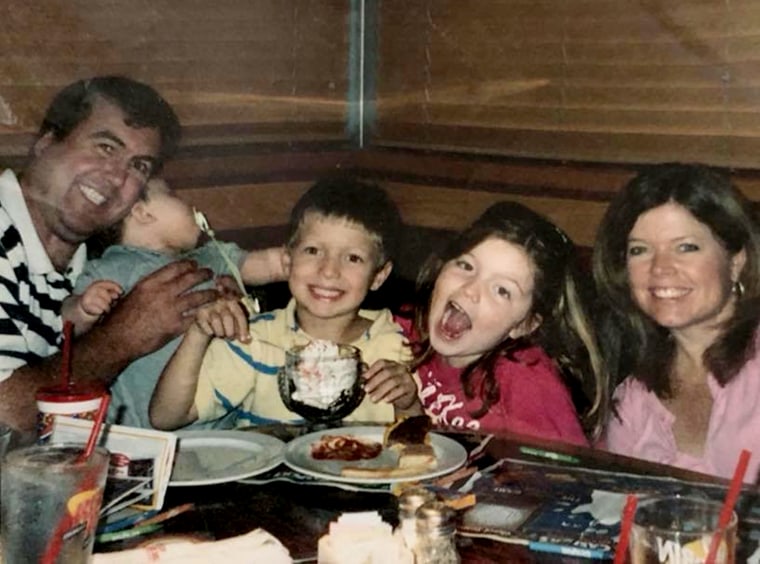 And over the summer of 2020, I was lucky enough to solidify those friendships.
We talked to each other all the time. Sure, I FaceTimed my friends from college, but in the day to day, the people who kept me from being lonely was my family. To get through something as life-altering as a pandemic, we were forced to lean on each other.
And the greatest privilege of all was realizing that they made for not only a loving family but the greatest of friends. 
My mom can actively listen to a story while juggling any responsibility. My dad's dinner table stand-up comedy became my favorite entertainment, and just his laugh alone could make it hard to breathe. Jackson is fiercely loyal, and even if he acted like he didn't care, he enjoyed knowing about our lives and the people in it. And Joshua's ability to quote obscure sitcom lines will serve as an impressive party trick one day. 
So, when I turned 20 later that June, surrounded by my family, it was the best party I've ever had.
I moved into my first college apartment six months later to start my junior year online. Now, I'm finishing my senior year. Jackson is a freshman in college and Joshua started high school. My family has a texting group chat that is active daily, even if it's just my dad sharing his Wordle score. 
I think we just got so used to talking to each other every single day that it would be impossible for us to stop now.