"We're pulling the goalie!"  
That was the silly, conspiratorial phrase my husband and I would say to each other when we talked about how we were ready for me to stop taking birth control and to start growing our family. 
Oh, how foolish and naive we were to think that we had any control over it. 
That was back in 2019. Then, after a year of "trying" to no avail, we resigned ourselves to the possibility that we might be one of the estimated 1 in 8 couples who struggle to get pregnant without medical intervention. We did all the tests and found no health-related reason why it wasn't happening for us. As it turns out, unexplained infertility is also pretty common. But we, like most people on the precipice of ART (assisted reproductive technology — we IVF people love acronyms), had no idea of how common any of this was. Which is a big part of why I'm writing about it now.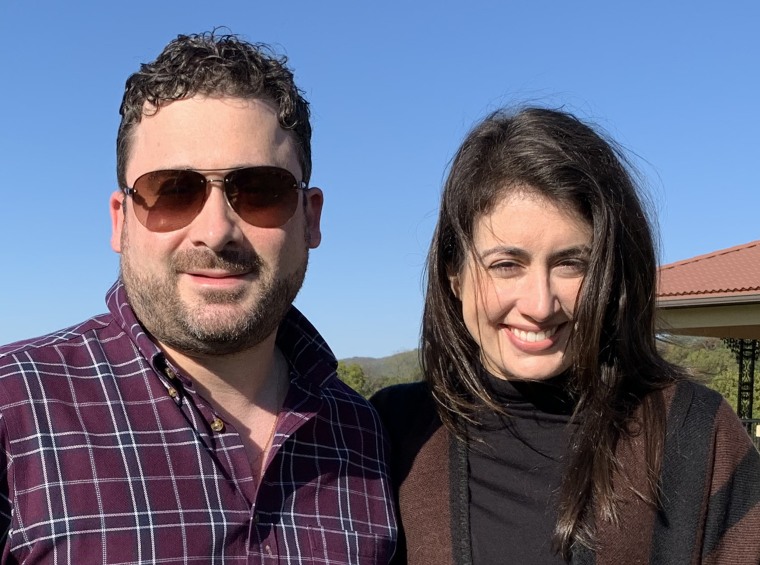 I can't help but think that, in my case, our inability to conceive on our own had at least a little to do with a medical sword of Damocles hanging above my head: my BRCA1 genetic mutation, which increases my lifetime risk of breast and ovarian cancer. I took care of the breast part a while ago, having a double mastectomy with reconstructive surgery while in college. But the ovarian part was still ahead of me. Ever since I got those genetic test results back, at age 20, it had been drilled into my head that I should consider having children earlier in life, or at least by age 40, so that I could hurry up and get my ovaries removed. As of now, there is no method for early detection of ovarian cancer. I was approaching my mid-30s, and so I had this additional pressure in my head. No doctor would diagnose this, but I'm positive that at least part of our struggle to get pregnant was mental — I was stressed.
Everyone tells you "just relax!" when you're trying to get pregnant. "Think positively!" But I'm here to tell you (if you don't already know), that advice isn't worth the paper it's written on. If you've been trying for a while and nothing's happening, and especially if the specter of cancer is looming larger every day, that elusive mind-body connection only gets harder. 
The hardest part, for me, of the limbo between our initial period of TTC (trying to conceive; what did I tell you about the acronyms?) and our decision to pursue IVF (in vitro fertilization) was the lack of control I felt. I am, frankly, a control freak. I'm not proud of it. But I find peace in being able to take charge, make a decision and see the results from that decision. Nothing makes you feel less in control of your future than seeing "NOT PREGNANT" over and over again on that evil little stick, or getting yet another period after thinking maybe this is finally the month.  
Nothing makes you feel less in control of your future than seeing "NOT PREGNANT" over and over again on that evil little stick, or getting yet another period after thinking maybe this is finally the month.  
So actually, for me, when we decided to pursue IVF, I felt like I was regaining a lot of that control. I was going to the appointments. I was giving myself the shots. I was going into surgery for my egg retrieval. With every day and every shot that went by, I was getting closer to a goal.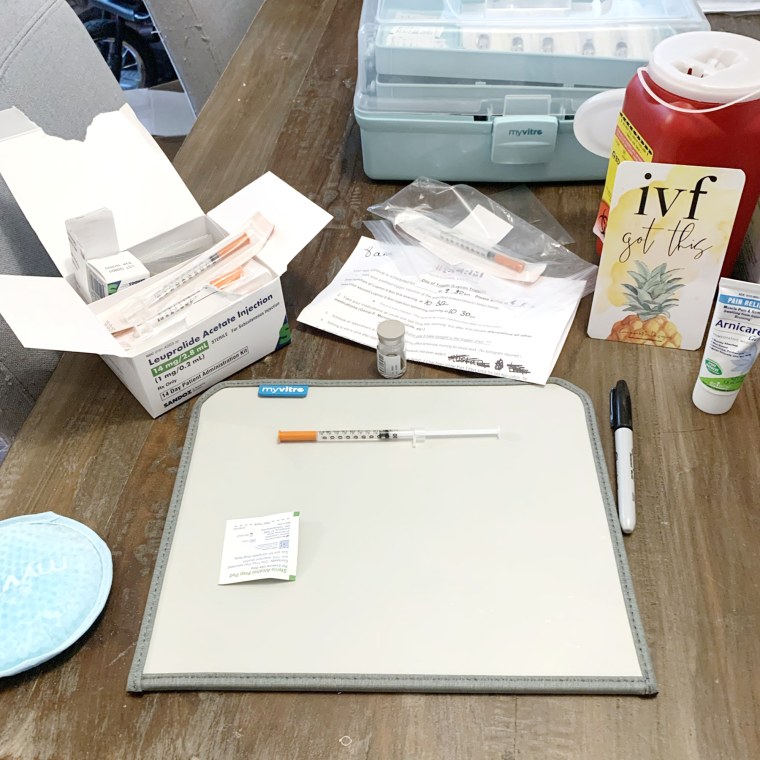 We had a second element of control in that we were able to screen out the embryos we fertilized that carried the BRCA mutation, ensuring that any child I was lucky enough to bring into the world would not have to deal with that same genetic sword of Damocles as me. 
But of course, the serenity I got from a fresh syringe, that sense of authority with every alcohol swipe across my belly — it was all a ruse. None of it was really in my control. I learned that lesson fully after our first egg retrieval, where we fertilized five high-grade embryos, but all of them had the BRCA gene. We did four egg retrievals in total, before our first embryo transfer. More on that in a second. 
After that first result, I had a big cry. I felt so helpless. But we moved forward. We did another round. Another month of crossing off days on the calendar, checking off the number of shots I had left, watching as my belly swelled not with a child but with ovaries many times their natural size. And I got through it. We had better results in the second round. And the third and fourth. (We were lucky to be able to choose how insurance covered our cycles; I wanted to front-load all the egg retrievals before any embryo transfers. That flexibility is rare.)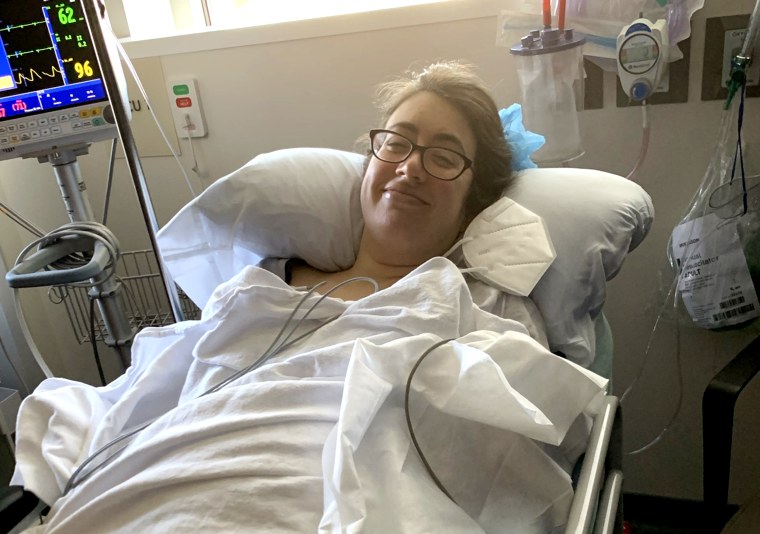 What helped me get through it all? Celebrating each small victory. I got more eggs than I did the last time? Time to celebrate. We got two euploid (chromosomally normal) embryos this round? Pop the champagne. I got in and out of my 7 a.m. checkup in less than an hour? Time for a celebratory bagel. I deserve it. (I'm telling you, find a fertility clinic that's close to a really good bagel store.) 
One of the worst parts of IVF is how much of a roller coaster it is. Of course, that's to say nothing of the exorbitant costs, the dismal state of fertility insurance in the U.S., the judgment lots of parents face when it comes to various ART-related choices … I could go on. But emotionally speaking, the worst part is the low lows. So I had to teach myself to savor the high highs. 
And that's come in handy, because right now, I'm pregnant. Our first embryo transfer was a success, and it's a girl. As I write this, she's only about 10 weeks along. But that was enough for my husband and me to share our joy with people we love, on social media and in person. I know I'm still in the "danger zone," but, honestly, I don't care. This is a high high, and I'm going to celebrate it with every ounce of my being. I'm popping the sparkling apple juice, and I'm getting myself a celebratory bagel. I deserve it.