I'm sure we've all been there: strolling the aisles at Target and sipping our favorite Starbucks drink. We wander aimlessly up and down each aisle dreaming of a house with white couches and perfectly curated farmhouse décor by Joanna Gaines. 
We head to the aisle with the throw pillows and dream of owning another cute pillow with pom pom tassels that doesn't have our toddler's snot on the front. We have a whole hour to ourselves. Uninterrupted. Without kids. Sipping caffeine. 
Except before we know it, we notice that we're on the men's aisle grabbing our husband's deodorant, or we're in the children's section picking out socks for our tween who somehow burns holes in his faster than we could with a match. 
Suddenly, our trip to Target is far from a relaxing visit. We're going through the to-do list in our head and trying to remember that other thing that the teenager insisted she have for her lunches at school that she barely eats anyway. 
On the surface, a trip alone to Target sounds lovely for most overwhelmed, tired moms. But rarely I would say it counts as self-care. 
Self-care should be something that rejuvenates and restores. It should be intentional. And if I'm being quite honest — it should be solely focused on YOU. 
I remember the first time it finally clicked for me that time alone from my kids was the ultimate form of self-care. REAL time alone. Like a weekend. Or a night at a hotel. Not just a quick trip to Target. 
It was 2013 and I was in the trenches of motherhood. I had an 18-month-old, a 4-year-old and a 7-year-old. To say I lived and breathed for my children is an understatement. But I had a chance to take a weekend away from kids and be with my sisters.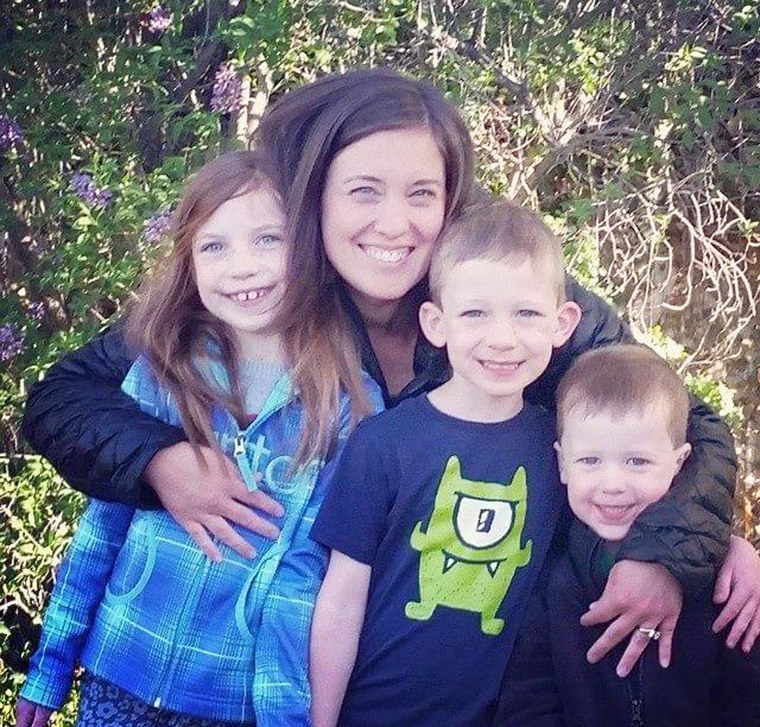 It was going to be a weekend of kid-free bliss, and I was nervous, like any young mom would be leaving her kids for the first time. I had dreams of sleeping in uninterrupted, laughing with my sisters, eating out a lot and a train ride into New York City for some shopping. It was going to be glorious. 
Except, in true Murphy's law fashion, my first time away from my kids didn't go as planned. One of my sisters got the flu and we ended up not getting to do much of anything. We did however make an unexpected trip to the emergency room late one night when my sister was having the worst migraine of her life. 
We watched old reruns of "Catfish" on TV and ordered food in. We didn't get to go to New York City, no shopping happened and my sister and I were sharing a bed in the only guest room at my other sister's house, and she coughed All. Night. Long. 
Yet, somehow, this trip refueled me in the best possible way. I remember thinking before that trip that time away from my kids would be too selfish, or that it wasn't good for any of us to be apart. 
How is it that a trip that didn't really work out at all ended up being the best thing for me as a mom? 
I think it's because it was on that first-ever trip alone without my kids that I realized that what I needed to feel really refueled was time with people who get me. What I need as a mom to feel rejuvenated is time to be silly and only worry about myself, and time to be with people who know me better than anyone on Earth.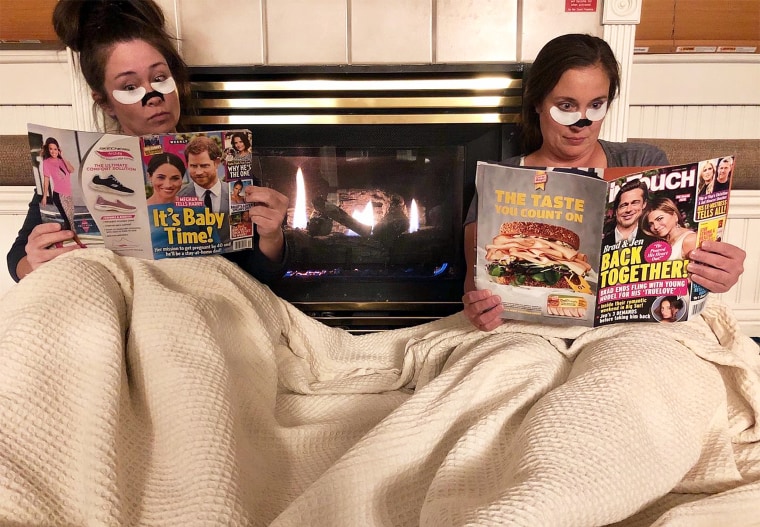 I came home from that trip to a kid with a fever and a raging ear infection. Yet, I can still remember the car ride home from the airport because my kids were so happy to just be with me again. My baby was giggling the whole way.. My 4-year-old told me it was the "best day ever!" because his mama was finally back.
After getting settled in at home, I was thrust right back into mom duty, complete with a sick kid. And yet, I felt new. Restored. Like I had a newfound appreciation for my babies, and for the life that I had. 
I had gotten to feel like myself again. The me before kids and ear infections and sleepless nights. I felt like the me who only had to worry about herself and didn't have the added stress of so many other people's personalities to juggle and take care of. 
We are so quick to think that any alone time we get is self-care and, frankly, we're shortchanging ourselves. I talk a lot about this idea that the basic needs we have as human beings should never be counted as self-care. I know it sounds extreme. When are you supposed to get self-care in if you can't count that shower you got during nap time as self-care? In my new book, "The Mother Load," I explain it like this: 
"The good news is that you get to decide what self-care looks like to you. Self-care is something that we do on purpose to take care of ourselves. This can be something to take care of our mental, emotional, or physical health. Agnes Wanman once said, 'Self-care is something that refuels us, rather than takes from us.' Does going to the bathroom alone refuel you? How about shopping alone for your family? How about going into your room to take a fifteen-minute power nap after being up all night with a colicky child? The sad thing is many women might say yes. Those things do give you a boost. Yet the boost is more like a breather than restorative, long-lasting self-care."
My two best tips to figuring out what self-care should look like to you is to make a self-care list, and to communicate with your support network what self-care really is for you. Maybe it's a pedicure, or a girls' trip. It doesn't matter, really. What matters is that you get a restoration so that you can go back into mothering with that mother load feeling a tiny bit lighter.
For me, I don't count those trips to Target alone as self-care anymore. Those trips are full of my mental load. They aren't carefree. They don't restore. They don't make me feel like ME. 
I've taken lots of what I call mom trips over the years now. Sometimes they are full of fun activities, like Broadway shows and restaurants. And sometimes I'm literally lying in bed texting my best friend a meme while she lies in her own bed across the room from me.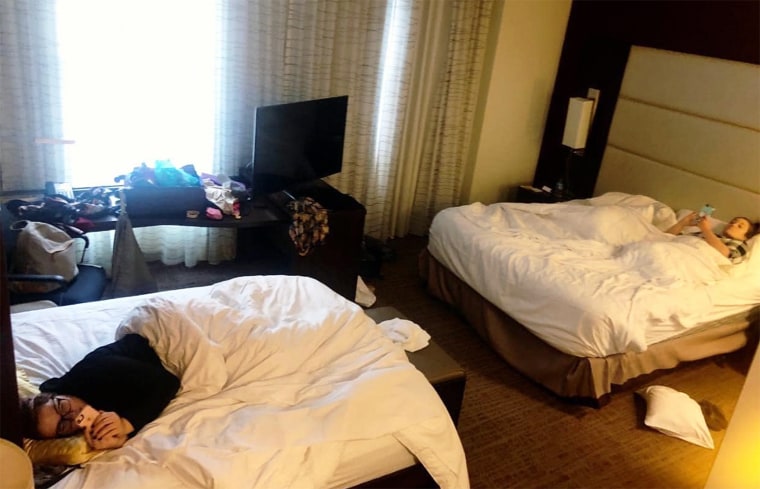 Sometimes my self-care is locking myself in my room once my husband gets home and not doing the bedtime routine. Or spending the night at a hotel alone that's just down the street from my house so I can watch a movie while I eat dinner in bed. 
That's what works for me. I'm sure you'll find what works for you. Because a trip alone to Target always sounds nice, but most likely, we're still going to be tackling our mental load while we're looking at those cute, seasonal door mats. So, find the thing that makes you feel like YOU again — that's when you'll find out what self-care really feels like.