Today, it's impossible to not feel proud to be a Catholic.
With all the magnificent pageantry and tradition of the Church on full display for this holy occasion, even my non-Catholic friends are feeling a little bit Catholic.
For Catholic parents, though, the blessing of a new pope also provides a beautiful opportunity to deepen our children's faith and bring our spiritual inheritance to life for our little ones who will one day (we pray) pass it on to the next generation. Sometimes, in these moments our children teach us about our faith.
My 4-year-old, Paloma, has a habit of comparing herself to her best friend in preschool. Some days she wants to trade her straight, brown bob for Gloria's blonde curls. Other days she wants me to have another baby, "like Gloria's mom." Gloria's name became a new source of grade school longing during rehearsals for their Catholic school Christmas program. "Why didn't you give me an important name like Gloria?" she asked after weeks of practicing the iconic Latin Christmas song, Gloria in Excelsis Deo. That day, I held her in my arms and told her how beautiful her own name was. After all, I reminded her, Paloma means dove in Spanish and the dove represents the Holy Spirit, no less than the third person of the Holy Trinity.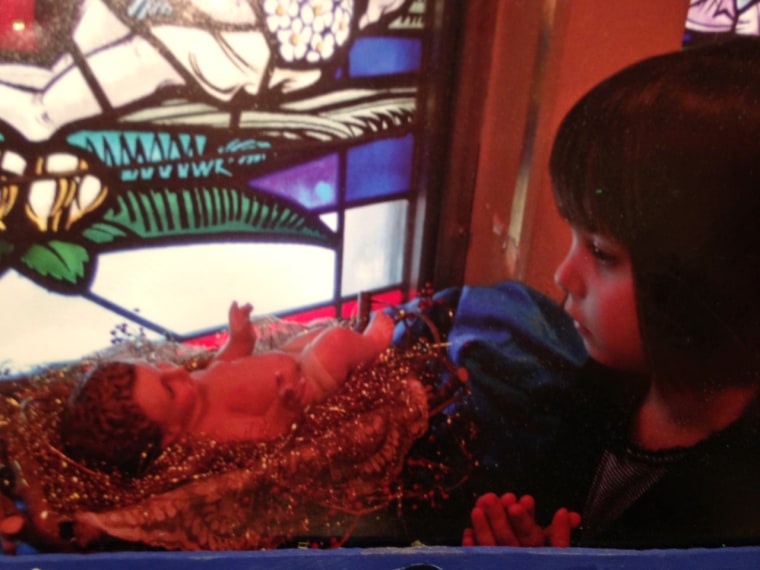 She wasn't very convinced.
This week, when she asked me who picked Pope Francis, I announced, "You did, Paloma!" The Holy Spirit picked him, I explained. Can you see how important your name is, preciosa?
Her sweet, sweet smile said it all.
This time she believed me. And she has been enthralled with the notion ever since, asking many more related, and interesting questions; questions that take her deeper, not further from these spiritual mysteries.
Too often as parents, we can underestimate the spiritual potential of our children. My children's innocence and their refreshing lack of cynicism is an invitation to experience my faith as they do: with the awe and wonder of having heard about it for the first time.
At today's celebration, the Holy Spirit is indeed the star.
We Catholics believe that, literally and figuratively, the Holy Spirit has guided the Church through the centuries, connecting a faith forged by the blood of martyrs to an illustrious history and inimitable religious tradition. The Holy Spirit had a hand in the chance meeting of Paloma's mother, the descendant of Spanish Catholics and her father, the great grandson of Irish-Catholic settlers to Wisconsin, and that encounter is why she is Catholic.
From St. Peter, our first pope and disciple of Jesus, to Pope Francis, our 266th, somehow, through the grace of God and the Holy Spirit, a little preschooler from Wausau, Wisconsin is profoundly united in this historical, spiritual moment, with every single Catholic saint and sinner, who came before her and all Catholics yet to be born.
Today, the eyes of the world are all on Rome. I will remind my children that as Catholics, at the heart of the spectacle and the splendor is the Mass: an ancient ritual that Jesus taught his best friends during the Last Supper, the day before He died on the cross. The Mass, the Holy Eucharist - this too belongs to sweet, little Paloma.
From Rome to Wausau, the miracles endure.
Rachel Campos-Duffy is an author, pundit, and mother of six. She works with The LIBRE Initiative, an organization that promotes economic empowerment and opportunity for Hispanics.