Forget the "Bachelorette" breakup in the news — there's a "Bachelorette" baby on the way!
Andi Dorfman and Josh Murray called off their engagement, but Emily Maynard is pregnant with baby No. 2 — her first child with hubby Tyler Johnson, E! News can confirm. The expectant reality star also Instagrammed a pic of her bump, adding jokingly, "too much pizza" while revealing a #july2015 due date.
Emily and Tyler gushed to Us Weekly (who was first to report the happy news) that they're "super excited" about their expanding family. Future big sister Ricki, 9, is undoubtedly looking forward to the new addition as well. Sadly Ricki's father, Emily's fiancé Ricky Hendrick, was killed in a 2004 plane accident before she was born.
After the death of Ricki's father, Emily raised her little girl alone in Charlotte, N.C., staying in close contact with her late love's family. In 2011, she looked for love as a contestant on "The Bachelor" and seemingly found it with Brad Womack. The twosome got engaged, but ended things later that year.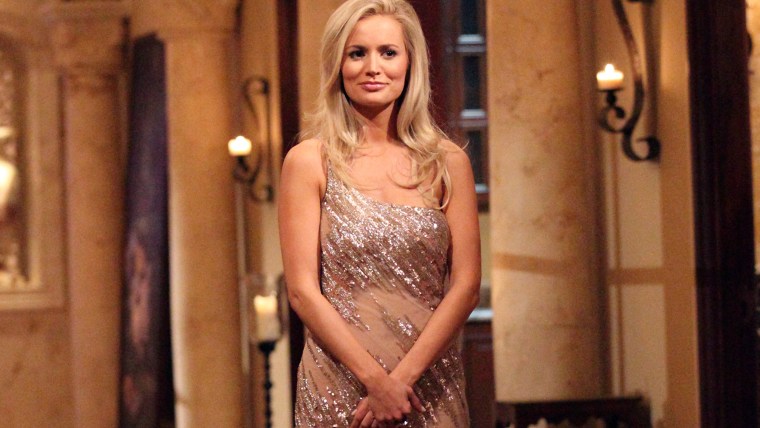 In 2012, Emily looked to reality TV to find love again — only this time, she was the Bachelorette! She fell in love with contestant Jef Holm, and although they also got engaged, they broke things off later the same year.
PICS: Remember Emily Maynard's "White Trash" bachelorette party?
But things started looking up in 2013! Emily met Tyler through church (not a "Bachelor" related franchise!), a source told E! News. By early 2014, the two were engaged, and Tyler bought a ring for his then bride-to-be and her daughter Ricki.
The lovebirds made their love official when they said "I do" in June 2014 with a beautiful country wedding. A video posted after there ceremony showed the bride, groom and Ricki, the maid-of-honor, walking off into a field holding hands.
Congratulations to all three of them on the happy news!
PHOTOS: Bachelor and Bachelorette status check: Which couples are still together?!