Emily Blunt and husband John Krasinski are expecting their second child, and it's not quite the same experience the stars had before they welcomed their 2-year-old daughter Hazel to the world.
Now they're pros when it comes to pregnancy.
"I think we are more laid-back this time," the actress told TODAY's Matt Lauer Wednesday. "We know what to expect. It is the great unknown with the first child."
So there's less to worry about this time — and there's also one less person around. Sort of.
Blunt has said goodbye to her former pregnancy pal, Gary.
MORE: Emily Blunt on expecting baby No. 2: 'I forget that I'm even pregnant'
"Gary was pregnancy pillow that somebody gave me, which was like having another enormous man in the bed," she recalled. "Eventually, John was like, 'Gary's gotta go!'"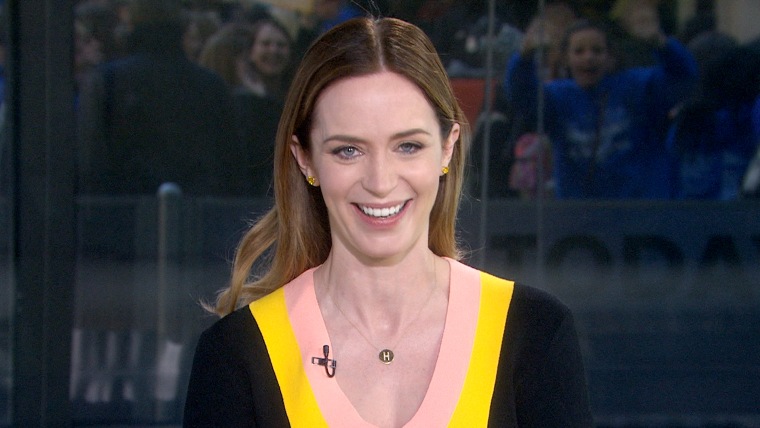 Over all, Blunt said she feels good right now. And she certainly looks good — as People magazine recognized when they named her one of their stylish pregnant stars in the latest "Most Beautiful" issue.
As for when she'll be swapping her pregnancy style for a new mom-of-two style, Blunt's remaining mum on that.
"I'm not going to tell you!" she replied when Lauer asked about the due date, adding with a laugh, "Guys, show up to the hospital on this day!"
You can see more from Blunt when her latest film, "The Huntsman: Winter's War," opens Friday.
And you can catch a sneak peek of her upcoming movie, "The Girl on the Train," now. We've got the exclusive first look at the trailer for the flick, which hits theaters on Oct. 7.
Justin Theroux, Lisa Kudrow, Luke Evans and Laura Prepon also star in the life-after-divorce thriller based on Paula Hawkins' bestseller
Follow Ree Hines on Twitter.