Thirteen years after enduring a horrific kidnapping ordeal, Elizabeth Smart has overshadowed that dark memory with the joy of becoming a mother.
In a speech in Oklahoma City last week, Smart 28, called the birth of her nine-month-old daughter, Chloe, "the best thing ever" while reflecting on what she learned from her 2002 kidnapping and how motherhood has changed her life.
"I'm happy,'' Smart told The Oklahoman after the speech. "I'm really happy."
RELATED: Elizabeth Smart on kidnap ordeal: 'I was broken beyond repair'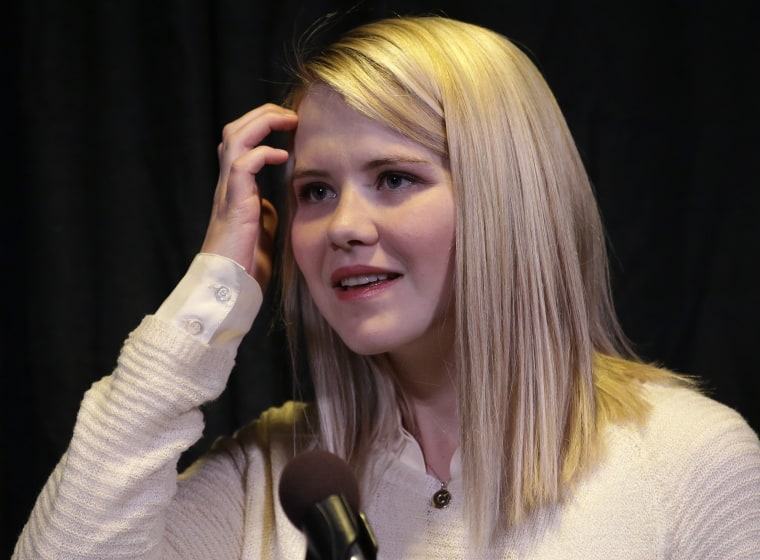 On June 5, 2002, Smith was kidnapped at knifepoint from her bedroom at her family's home in Salt Lake City by homeless street preacher Brian David Mitchell and his wife, Wanda Barzee.
For the next nine months, she was repeatedly raped and assaulted. On March 12, 2003, she was recognized while out with the two in Sandy, Utah, and rescued.
Mitchell is currently serving a life sentence and Barzee is in the midst of a 15-year sentence in a federal prison.
Reflecting on her "nine months of hell," Smart told The Oklahoman, "It's probably made me like the most paranoid, overprotective, annoying parent ever.
"I'm definitely given a whole new depth of feeling about everything."
Smart has taken the advice of her mother about the best punishment she could give her captors: living a happy and productive life.
In 2012, she married Scotsman Matthew Gilmour, whom she met on a Mormon mission. She also created the Elizabeth Smart Foundation, which works to prevent crimes against children.
She has drawn strength from surviving the horror of 2002, and worked to help others facing similar traumatic situations.
"I will never forget how filthy and how crushed and how terrible I felt," she said in her keynote address at the 59th Annual Flaming Festival at Oklahoma City Golf & Country Club.
"With that being said, I just have to say that no one can ever take away your worth, no matter what they do to you. You are always special. Nothing can change that.
"There's only one of you in the entire history of the world, and there will only ever be one of you. Nothing can change that, and you don't have to allow those events to control the rest of your life. It's terrible and it's miserable and nobody deserves it — but we can move on."
Smart has done her best to channel a horrific situation into a positive.
"I do believe it made me a much more compassionate person,'' she told The Oklahoman.
"It did help me realize that, well, the world's not black and white, and there's a lot going on that we don't see, that we just will never understand because we're not necessarily the person it's happening to or we're not involved directly in the situation."
Follow TODAY.com writer Scott Stump on Twitter.