Elizabeth Smart, who was kidnapped from her Utah home at age 14 and then became an activist for missing children, gave birth to her first child in February.
The news was revealed by Elizabeth's father, Ed Smart.
"Elizabeth is great," Smart recently told EastIdahoNews.com. "She just had a little baby girl about three months ago named Chloe. We're just so excited."
He also said Elizabeth's daughter is his third grandchild and told The Salt Lake City Tribune that the media learning about Chloe three months after her birth could be "just what Elizabeth wanted," saying, "It is totally private. This is something she is keeping to herself and not trying to have out there."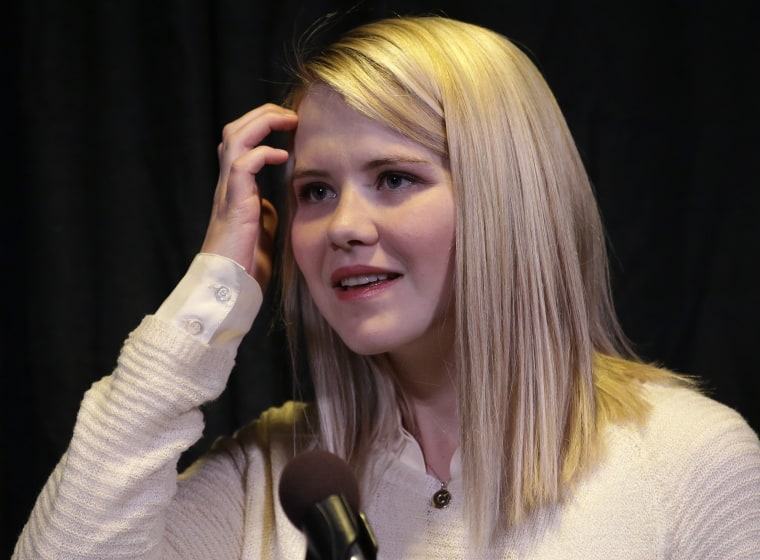 Elizabeth, now 27, married Matthew Gilmour, a Scottish man she met while on a Church of Jesus Christ of Latter-day Saints mission, in a small wedding ceremony at a Mormon temple in Hawaii in 2012. Ed's confirmation of Chloe's birth comes weeks after he shared a public post showing a picture of himself with a baby girl on social media.
NEWS: Elizabeth Smart is engaged
Smart was abducted from her parent's home almost exactly 13 years ago in 2002 by a homeless street preacher. She was subjected to sexual assaults throughout her nine-month captivity, during which she was forced to wear a disguise in public and wander with her captor and his wife. She was freed and they were arrested after people identified her while seeing the three walking near Salt Lake City.
Her abductor was sentenced to life in prison for kidnapping and unlawful transportation of a minor across state lines for the purpose of engaging in sexual activity. His wife received a 15-year jail sentence.
Smart's kidnapping story made international headlines and inspired the 2003 TV movie, "The Elizabeth Smart Story." After her horrific ordeal, she launched the Elizabeth Smart Foundation, which provides resources to help locate missing children and stop sex-trafficking of kids.
Her father also became a child safety advocate. He spoke to EastIdahoNews.com while visiting east Idaho to attend a screening of a documentary about child sex trafficking.
"We want all of those people that have been victimized out there to be survivors," he told the outlet. "We want them to find their dreams and find that new hope in life that helps them become the best and the most they can be."