You don't have to be crafty to love these homemade costume ideas. They are as timeless as they are doable, even if you're not a DIYer.

Baby Aerobics Instructor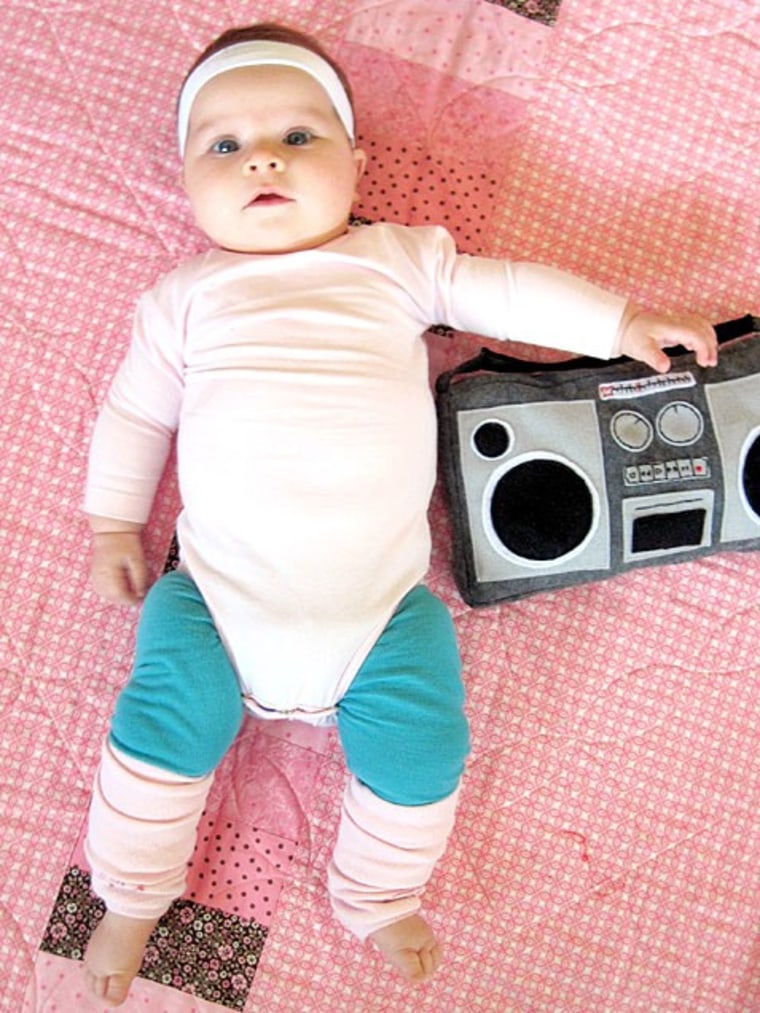 Mom: Jill of Homemade by Jill
What You'll Need: onesie, leggings, leg warmers, knit headband
Tip: Layer a onesie over leggings, preferably in cool '80s color combos. Boombox optional (this one was hand-embroidered and made of felt).
Kissing booth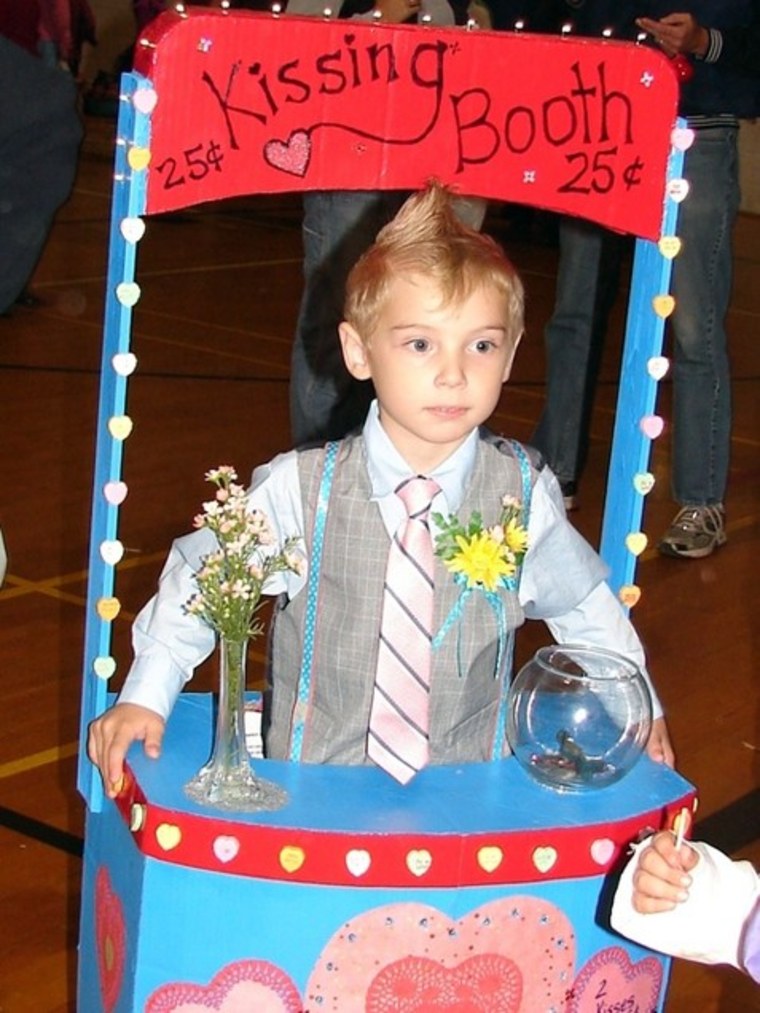 Mom: Nicole from Costume Works
What You'll Need: Cardboard, different paint colors, your kid's Sunday Best, corsage, heart decorations, glue gun, plastic jar, lights (optional), wheels (optional)
Tip: Using a big piece of cardboard, cut out and paint a table with two posts holding a sign. Decorate with hearts and, if you like, a row of cordless lights running around the edge. Dress your kid in something smart, plop a corsage in his front pocket, and install a vase for kiss cash. If your construction ends up weighing a ton, add some wheels for easier carrying.
Superhero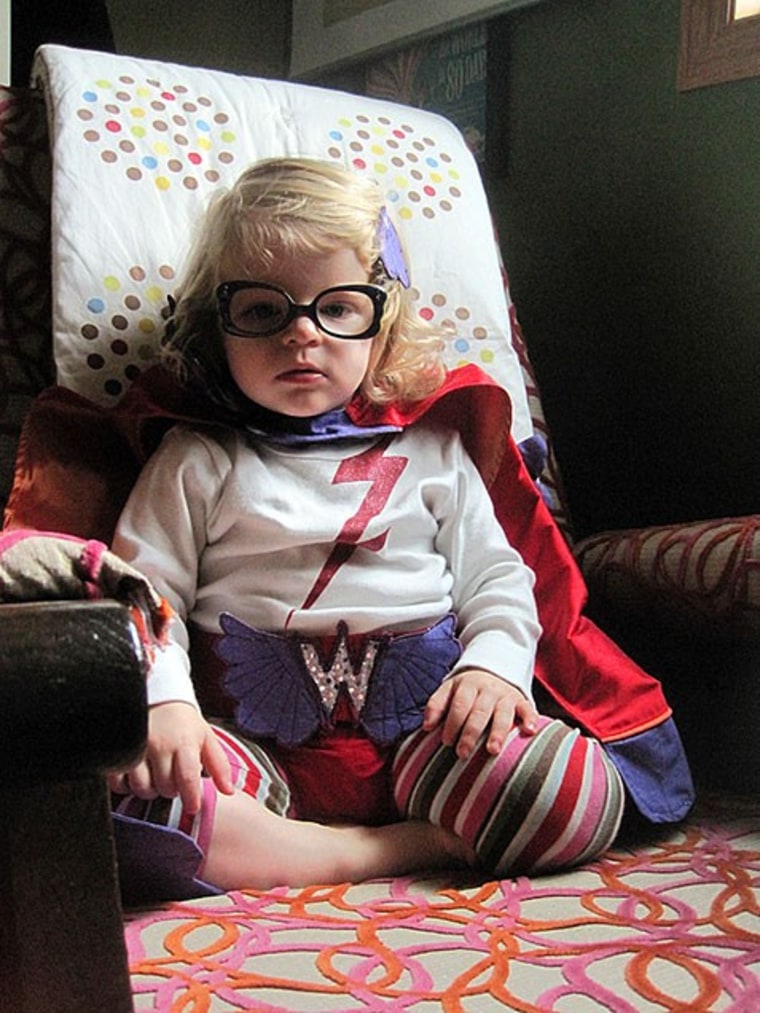 Mom: Mari of Small for Big
What You'll Need: T-shirt, leggings, bloomers
Tip: Personalize your kid's superhero (in this case, the Winged Wren) by adding her initial, a logo, favorite animal or color. Incorporate cool accessories (a favorite barrette, a crazy belt) that kids can use for dress-up play after Halloween.
Boxes of candy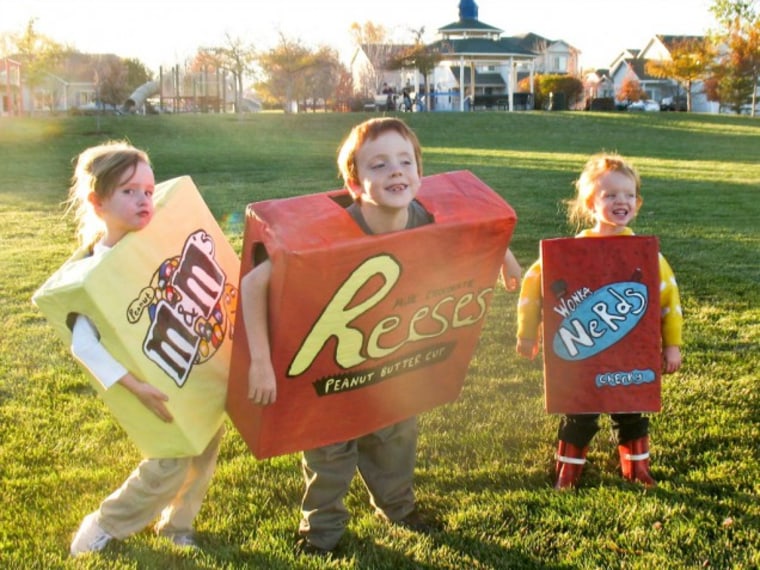 Kids' Names: Guini, Gavin and Gemma
Mom: Stephanie of maydae.com
What You'll Need: large cardboard boxes, craft paper, pencil, latex and acrylic paints.
Tip: Cut holes for your child's arms and head out of a large cardboard box, then cover it with craft paper. Using a pencil, draw the candy box lettering and other details; then paint.
Viking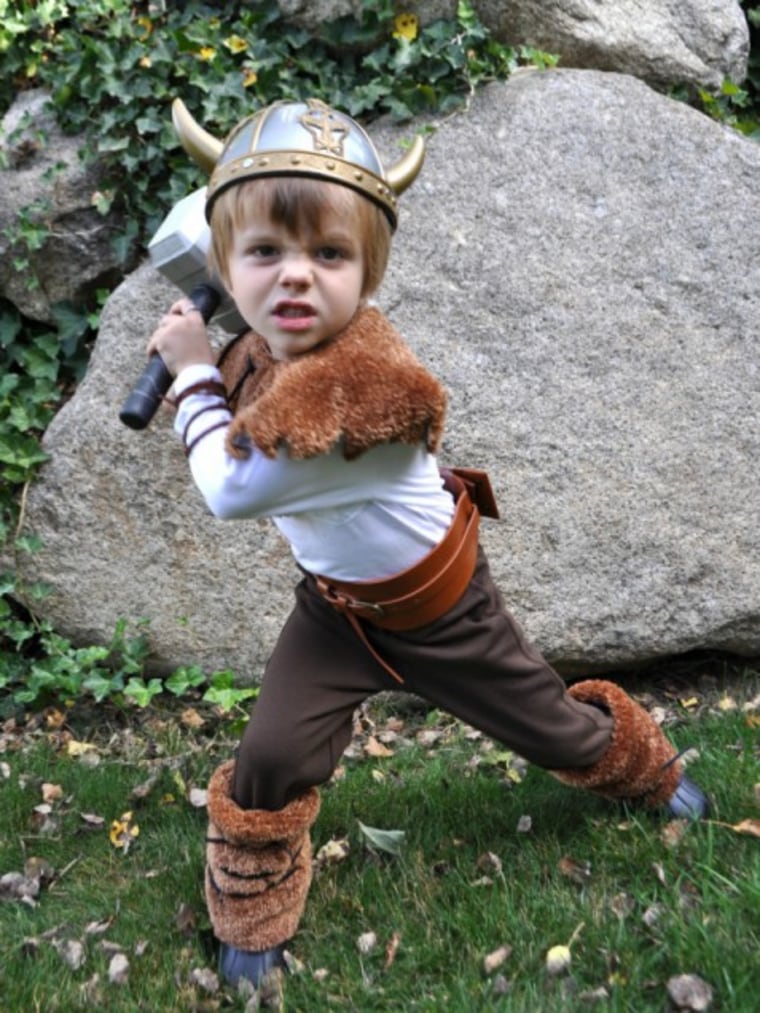 Kid's Name: Baden
Mom: Cheri of i am momma hear me roar
What You'll Need: Long-sleeved white shirt, brown pants, brown fluffy toilet seat cover, brown and black leather string, brown leather belt, boots, plastic viking helmet.
Tip: Take two toilet seat covers; trim the elastic off of one and cut a small circle for the neck. Add leather string to tie it shut. Tie leather string around the wrists of the t-shirt. Trim the elastic off the other toilet seat and cut it in half; wrap the pieces of the toilet seat cover around each boot and tie with leather string. 

Bag of jelly beans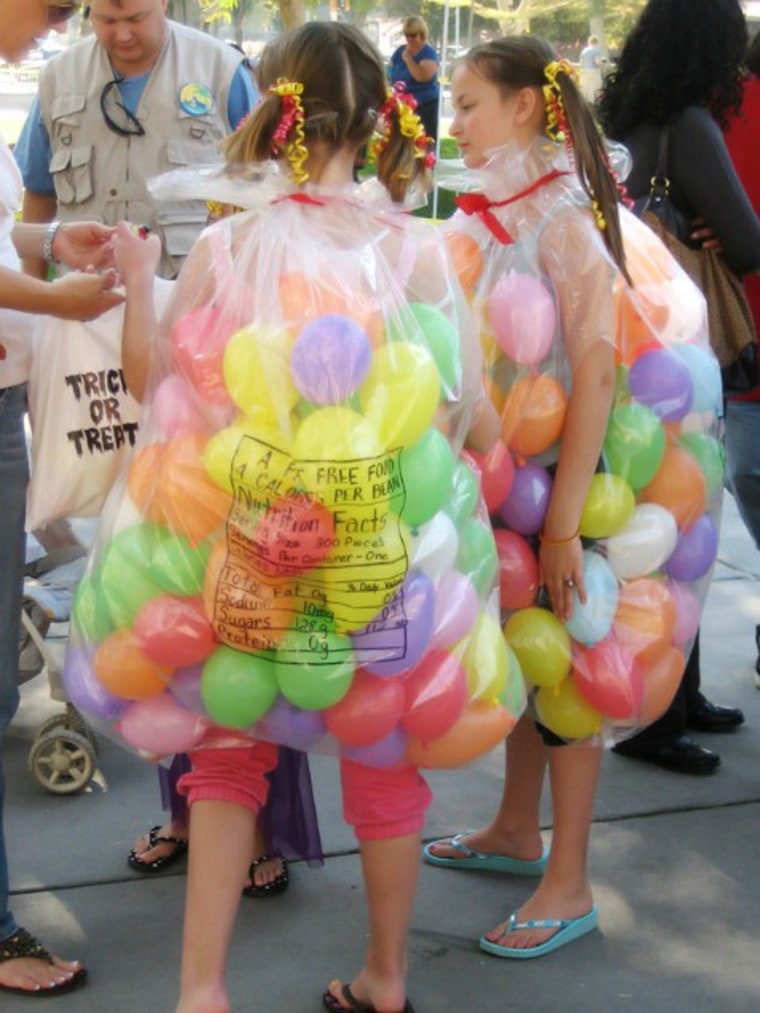 From: Featured on Modern Kiddo
What You'll Need: A large, clear plastic recycling bag, mini balloons in assorted colors, ribbon, Sharpie.
Tip: Blow up the mini balloons (use a pump to make it easier -- you'll need lots of them!). With a Sharpie, write ingredients and nutritional information on the back of the bag. Then, carefully cut leg and arm holes in the plastic bag, have your child step into it and fill with balloons. Cinch the top loosely around the neck.
Little lion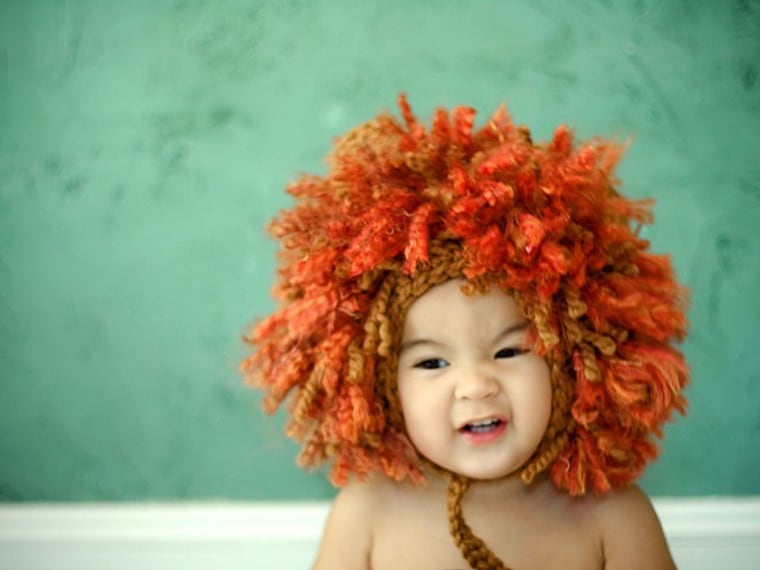 Mom: Cathy of SweetPeaToadTots
What You'll Need: Solid color knit hat or bonnet, yarn.
Tip: Cut small pieces of yarn (about 2 to 3 inches) and tie them onto the hat (cut some small holes on the hat big enough for the yarn to go through). Depending on how full you want the mane to be, you can either just have hair on the front or the entire head (full out the yarn to make it fuller). Make sure the color of base of the hat is the same as the choice of yarn for the hair.
Popeye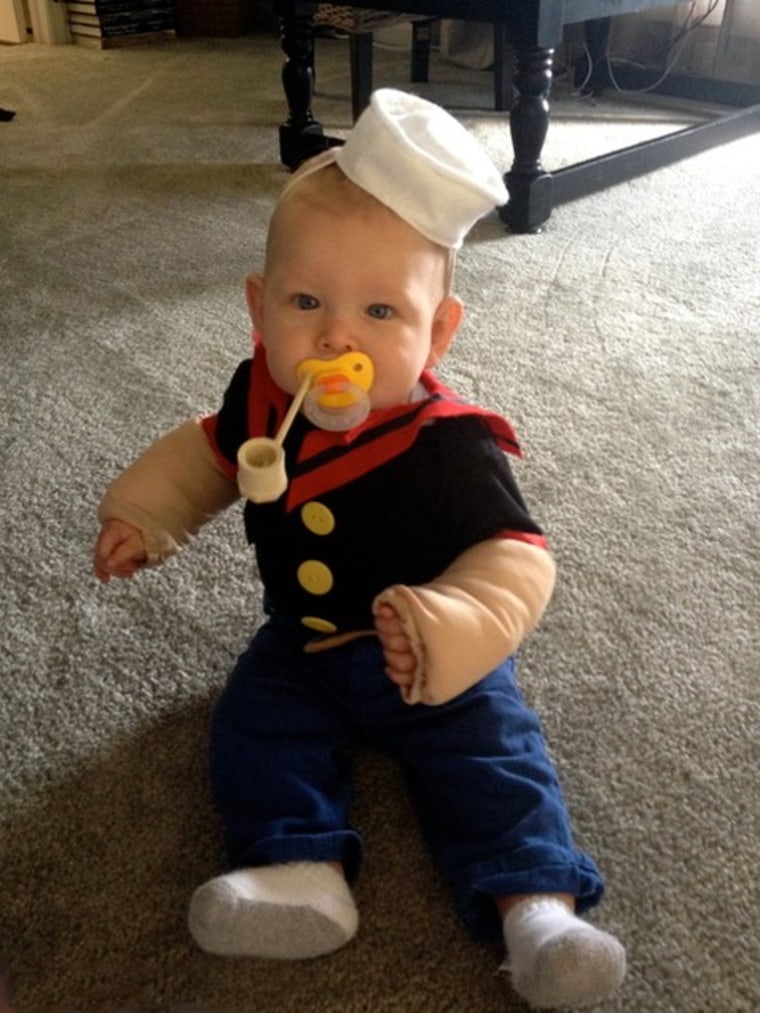 Mom: Christina from Costume Works
What You'll Need: Black long-sleeve onesie, red ribbon, nude fabric, big buttons, pacifier, wooden pipe, blue pants, can of spinach, sailor hat with elastic chin strap
Tip: Layer the onesie and nude fabric for arms, and embellish with red ribbon and buttons for the top. Then glue gun a wooden play pipe to a pacifier (or make one from a wooden dowel and a piece of PVC piping like Christina's), and empty and clean a spinach jar as an easy candy bag.
Peacock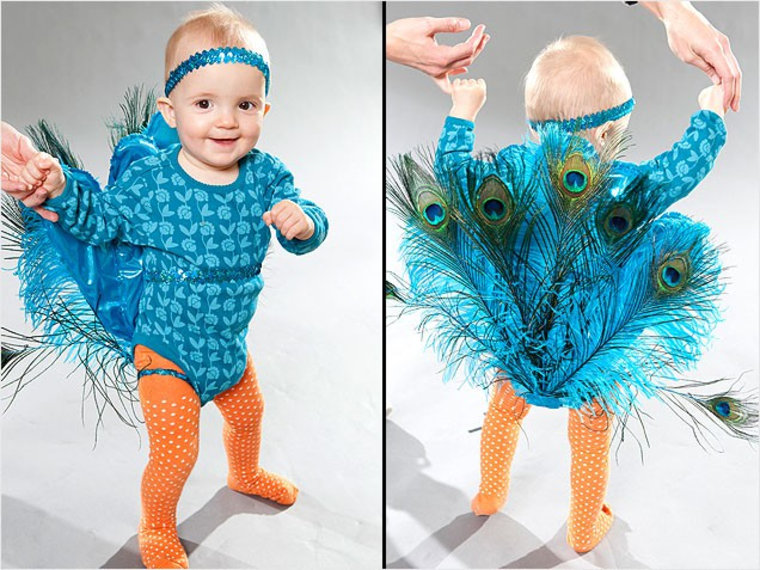 Mom: Christy of Creatively Christy
What You'll Need: Orange tights, blue onesie, feathers, elastic sequin bands
Tip: Layer feathers on top of a square of fabric using a glue gun; attach elastic bands to put around the legs and waist.
A version of this story originally appeared on iVillage.