/ Source: TODAY Contributor
After a successful and epic outing to see Santa Claus in December, the intrepid members of the Chicago Twin Moms group accepted an even bigger challenge this spring: the mall Easter Bunny.
This time, the group brought a daunting 18 sets of twins — all ages 2 years old and under — to meet the big bunny himself at the Woodfield Mall in the Chicago suburb of Schaumburg, Illinois. Miraculously, they captured an image of all the moms and twins looking relatively compliant and happy to be there, which is more than most parents of singleton children can say.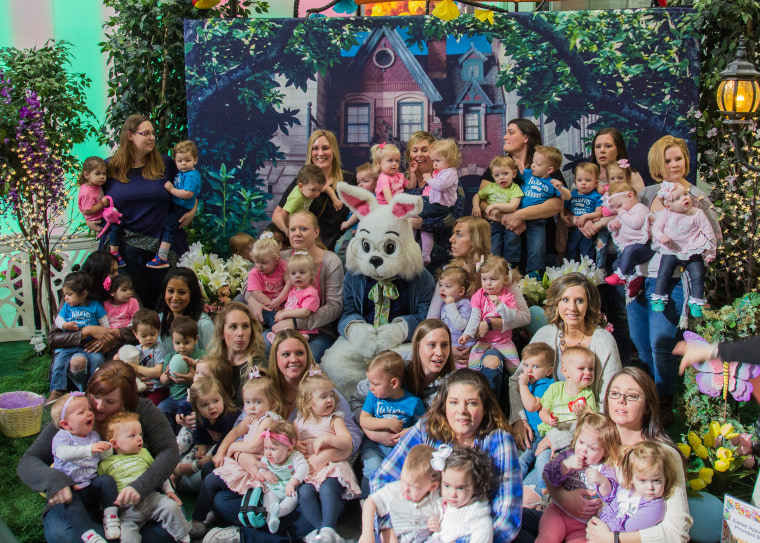 The group's co-founder, Stacy Kifer, said they use social media like private Facebook groups to organize these outings as well as more casual park dates on warmer days.
"We planned the bunny visit about a month in advance so that everyone could plan their schedule around it and get our outfits planned," Kifer told TODAY Parents. Many of the kids wore T-shirts proclaiming "Twins are the best peeps around," courtesy of a fellow twin mom who owns clothing company O-Twins Clothing Co.
Never miss a parenting story with the TODAY Parents newsletter! Sign up here.
The group gave the mall advanced notice this time, and mall representatives were ready for them and the inevitable chaos that 36 toddlers will bring wherever they go. "For the photo, there were lots of extra hands, so they placed us so we were all seen and then acted like crazy people to try to get the kids to all look and not cry. They were fabulous!" said Kifer.
But the moment still had its challenges. "As our kids are getting bigger and heavier, holding them together is getting increasingly challenging," said Kifer, who has 19-month-old twin boys, Kobe and Kaleb.
While the photographer worked hard to get the "perfect" picture, some of the moms were holding up to 70 pounds of little boy. "If you look closely, we were all dripping with sweat!" Kifer laughed.
"Towards the end, the photographer asked if anyone could 'easily' get up to come glance at the picture. We all had to collectively laugh, because at that point, getting up or moving 'easily' was not happening!"