Dylan Dreyer opened up to TODAY Parents about how she and husband Brian Fichera are feeling leading up to their first Father's Day as parents to baby Calvin. Want to surprise dad with something special for the big day? Our sister company GolfNow has launched a sweepstakes that includes the chance to golf nine holes with Dreyer in Scotland. Enter now!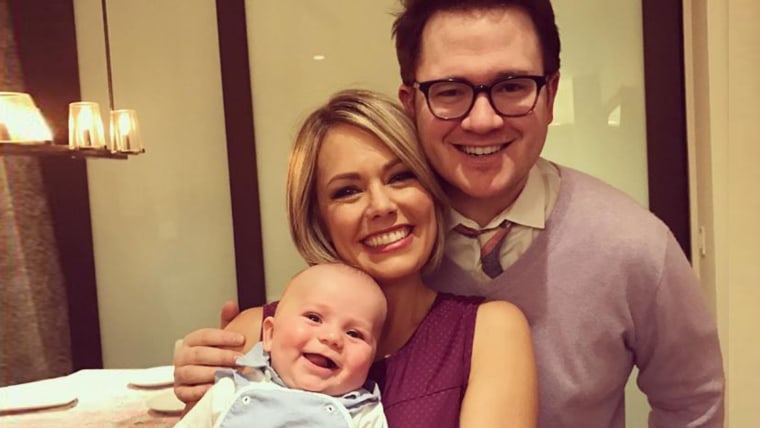 This Father's Day is particularly meaningful because it's my husband's first Father's Day. He spoiled me on Mother's Day, so I'm going to make sure I do the same thing for him!
It's the first time we're parents to something more than just a dog. (Hah!) So it just has a different feeling in your heart, in your soul. It just feels different. Like yeah, I'm a mother now! And for him — yeah, I'm a father now! And you really get to celebrate that.
Why is Brian the perfect dad? He's so patient and so excitable. He's happy all the time. When I'm getting stressed and I'm like 'I don't know what to do, I don't know if Calvin's napping enough, I don't know if he's eating enough,' Brian's like, 'He's fine. He's smiling, he's happy and that's really all that matters.'
It brings me back to reality that as long as Calvin's happy, we're all happy and Brian points that out.
Brian has such a love for life. He doesn't get stressed often and he doesn't get angry. He loves to laugh, he loves to find the humor in everything. He's so patient.
He loves to communicate, he loves to talk about feelings and he's just so open and warm. I have a pretty good feeling judging by Calvin's already good nature that he's picked up a lot of that from Brian.
So he had no problem telling me all he really wants is homemade chicken Parmesan for the big day! He said he actually wants it for breakfast in bed.
I said, 'I'm not getting up at three in the morning to make you chicken parm for breakfast in bed!' So I think we'll have chicken parm for dinner. And possibly take a trip to the zoo.
Here's to relaxing and enjoying our very first Father's Day as a family!
As told to TODAY's Brooke Sassman.