/ Source: TODAY Contributor
When Jake White's wife, Jen, gave birth to triplets two years ago, the Ohio couple wasn't sure what challenges they would face while parenting their trio.
White, who is a stay-at-home dad, says his background in fine arts and sculpture has come in handy, providing him with a unique set of skills to solve some of the problems that have come their way.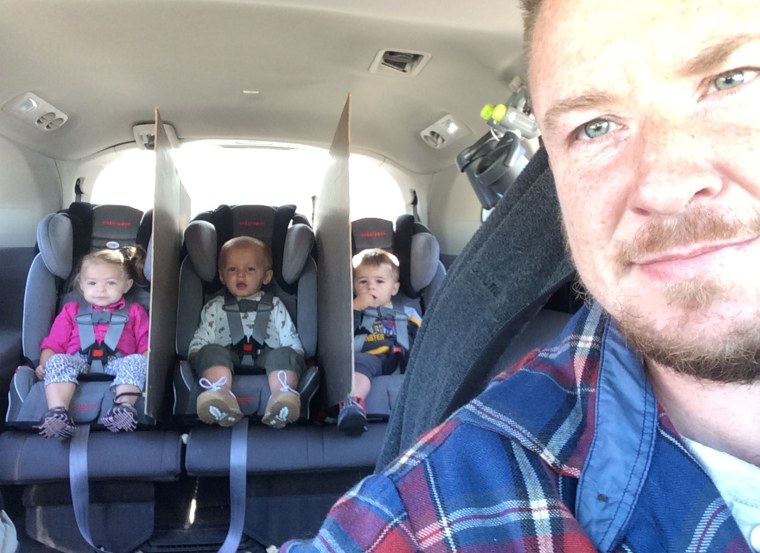 Most recently, White set out to stop his triplets, Xavier, Stella and Jude, from fighting over snacks in the back seat of their car. White proudly showed off his solution — a set of dividers between each carseat — on Facebook, resulting in the image going viral.
RELATED: 'Breastfeeding dad' gets creative during feeding time to soothe infant daughter
"I did it because there was snack-stealing going on and to a 2-year-old, that's the end of the world," White told TODAY Parents. "The dividers are foam core, just strong enough to keep the kids separated. The kids aren't strong enough to break it from a seated position yet."
As an artist, White says he has enjoyed approaching the challenges of parenting triplets creatively.
"The kids are very well behaved and I take them everywhere, so it was a natural solution to keep the peace," said White, adding that he was initially shocked that the post went viral.
RELATED: How one dad helped his daughter wear her superhero costume with pride
"I really had no idea this was viral material, but now that I look at the combination of components in the photo and the caption, it makes sense why it went viral. Parents get it when it comes to problem solving."
White says the foam core dividers only took him about five minutes to install. After completing the installation, White took his triplets on a drive, passing through a restaurant drive-through on the way.
Never miss a parenting story with TODAY's newsletters! Sign up here
"The guys there said they wished they had tried it and to let them know how it works out," said White. "Guys, driving was so peaceful."