To bring his idea to life, filmmaker Patrick Boivin had to design the costumes, stage the fight sequences and seamlessly blend the work of his stuntmen and his actors.
But the toughest part of making his "Dragon Baby" video that has now gone viral? Getting the star, his 1-year-old son, Romeo, to cooperate.
"That was the hardest piece of all this," the French-Canadian director told the TODAY hosts with a laugh Monday.
It took Boivin about two months to create the 1-minute movie that features his little boy in a yellow one-piece suit punching, kicking, spinning and ultimately beating the stuffing out of a stuffed dragon using some pretty cool Kung Fu moves.
Related: 'Dragon Baby' viral video features toddler taking on stuffed dragon
"It's an easy idea," Boivin said humbly, one that anyone could come up with. But with a background in movie making and special effects, he was well equipped to bring the vision to computer screens everywhere. "But I can do it, so that's why I came up with it."
He began by designing two sets of costumes - large and small - filmed two stuntmen fighting and flipping in front of a green screen and shot Romeo toddling around their backyard. Then, with the magic of special effects, Romeo's face was melded to the stuntman's Kung Fu moves, and the fast fighting footwork came alive.
"It's a pretty long process," said Boivin, sporting a red mohawk while holding Romeo, who had his own blond babyhawk going on.
The world ate up the video, viewing the short film more than 20 million times on YouTube since it was posted on Nov. 2.
"I was not expecting 20 million in a week, that's for sure," Boivin said.
It's not his first video to take a big spin around the Web.
Two years he posted "Iron Baby," starring his baby daughter, Marguerite, in a takeoff of the movie "Iron Man." The movie, which shows "Iron Baby" zooming through the sky and fighting three gun-toting rabbits, has been viewed more than 16 million times since it was uploaded to YouTube in 2010.
Boivin knows a good thing when he sees one. "When we were working on it we knew it would go viral because 'Iron Man' was a big thing at the time," he said.
That prompted TODAY's Matt Lauer to check on Boivin's availability to make a few more videos. "Can I bother you to make a couple of videos of my kids?" Lauer said, drawing a wide grin from Boivin.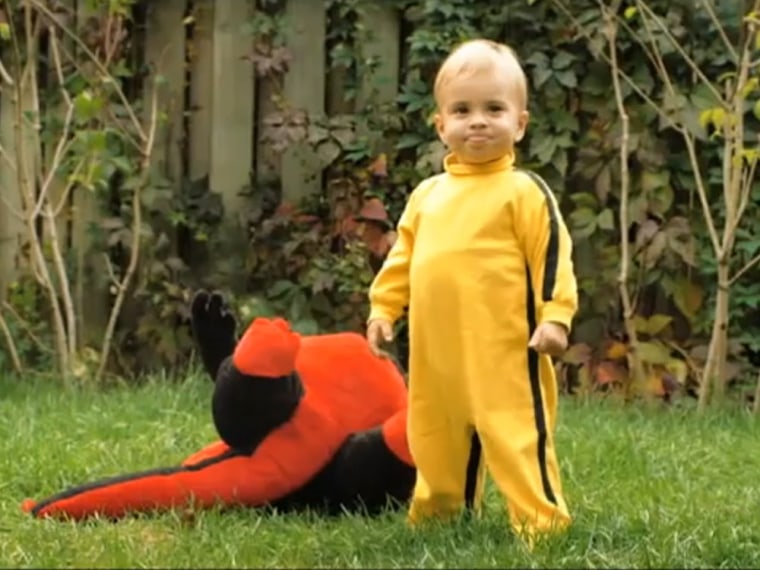 More from TODAY Moms:
Big deal, she's a girl: Football player's video is just darn good
First Gerber baby meets newest model