/ Source: TODAY Contributor
After stepping on an IED in Afghanistan during the surge in 2010, Corey Kent started slipping into shock and worrying about his loved ones. One thought kept passing through his mind — if he didn't make it he would never have a family of his own.
"I was laying there talking to myself," Kent told TODAY. "What if my injuries are really bad? What if I don't make it? That's when I started thinking about my family and friends and how I was never going to have a family. But I cut that train of thought."
After the medic treated him, a helicopter came for him and he finally lost consciousness. Eight days later, he woke in Walter Reed National Medical Center in Washington, D.C.
"The first thought was 'I can't believe they got me,'" he said. "I always had suspicions that odds were fairly decent that I was going to get injured."
At the time he was injured, Kent was 21 and had only been in the Army for 10 months. He lost both his legs in the IED blast, and during the first months in the hospital, he underwent 70 or more procedures.
"It was pretty slow going. I was in a hospital bed for about seven months that was probably the worst time," he said.
Never miss a parenting story with TODAY's newsletters! Sign up here
While there, he met another veteran that told him about the Stephen Siller Tunnel to Tower Foundation, which was building him a smart house to make life easier when he returned home. Kent asked his friend if he could connect him to the foundation, too.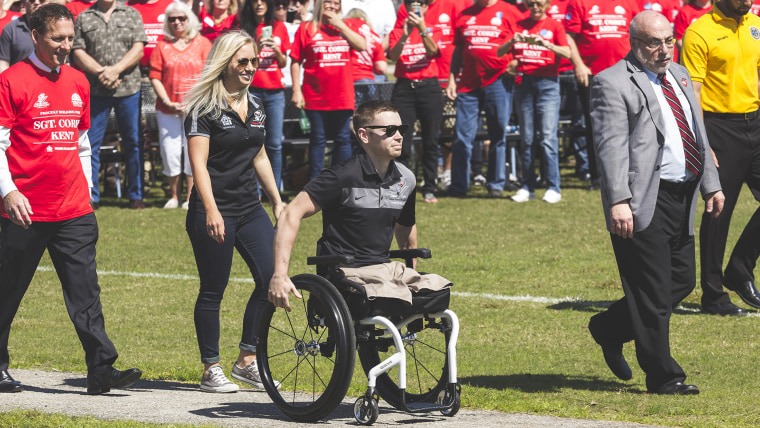 Tunnel to Towers is a nonprofit started by the relatives of Stephen Siller, who was a firefighter in Brooklyn's Squad 1. On September 11, 2001, his shift had ended when he heard that a plane crashed into the World Trade Center. He hopped in his truck and headed to the Brooklyn Battery Tunnel but it was closed to traffic. So Siller put his 60 pounds of gear on and ran through the 1.7-mile tunnel to help his squad. When the South Tower fell, Siller and his entire squad were killed.
The foundation honors Siller's memory by helping firefighters, catastrophically injured service members, and children without parents.
While at Walter Reed, Kent talked with someone from the foundation but thought little of the informal chat. At the same time, the community in Cape Coral, Florida, was building an addition on his mother's house. It was like a studio apartment, without a kitchen, which was handicap-accessible. While Kent did lots of physical therapy, his above-the-knee amputations made it painful for him to use prosthetic legs. And, he just got around faster in the chair. The apartment worked well for a while, but then he met his future wife, Brandy, and that apartment felt cramped.
Kent and Brandy attended the same high school and even stood near each other during graduation, but they didn't meet until much later. Friends introduced the two when Brandy was living three hours away. First, the two met monthly. Then every other weekend. Then every weekend. Then Brandy moved in.
"I take up a lot more space," he said. "We were having to do maneuvers to get past each other."
Kent didn't realize that his initial chat with a Tunnel to Towers representative in Walter Reed was the start of the application process. The foundation contacted him after he returned home, and he felt excited that the organization wanted to build him a smart house. Even more so because he knew he couldn't raise a family in the cramped apartment.
"I didn't want to have a kid and dump all the responsibility on Brandy," he said.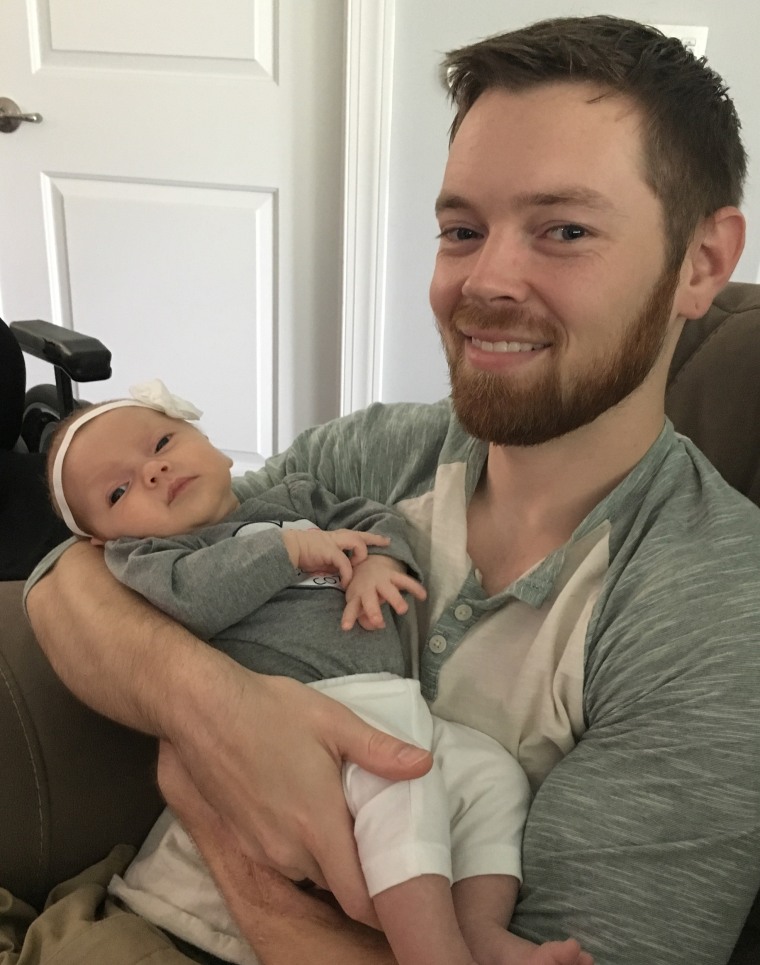 The Stephen Siller Foundation, with the Home Depot Foundation, built the Kents a smart house, which they moved into after the dedication September 11, 2016. This was perfect timing. In May, Brandy gave birth to a baby girl, Avery, and the house makes it easy for Kent to be a dad. The wide hallways and rooms make it easier for Kent to wheel through the house and the accessible appliances, lowered counter, and sinks, means that Kent can toss in a load of laundry or give Avery a bath.
"I think we found a good split to the workload," he said. "I didn't know how active and mobile I was going to be and I didn't want to be dependent and a burden on my family … I am very happy I can help out as much as I am able to."
As his first Father's Day approaches, Kent said he is filled with gratitude.
"Being a dad is something I've looked forward to for a long time. I'm excited to have something to focus my energy on," he said. "I hope I can teach her to be a better person than I am, and to leave the world a better place. In the military you're part of a team and it's about more than you, and it's exciting to feel that again."