You don't have to be best at everything, to be best at something.
That goes for colleges, and is the thinking behind the Princeton Review's annual Best Colleges guide, which offers its most recent edition, "The Best 380 Colleges," starting today. This year the company surveyed 136,000 students at the 380 top colleges to rate their schools in 62 areas. Students were asked 80 questions about their school's academics, administration, student body, and themselves.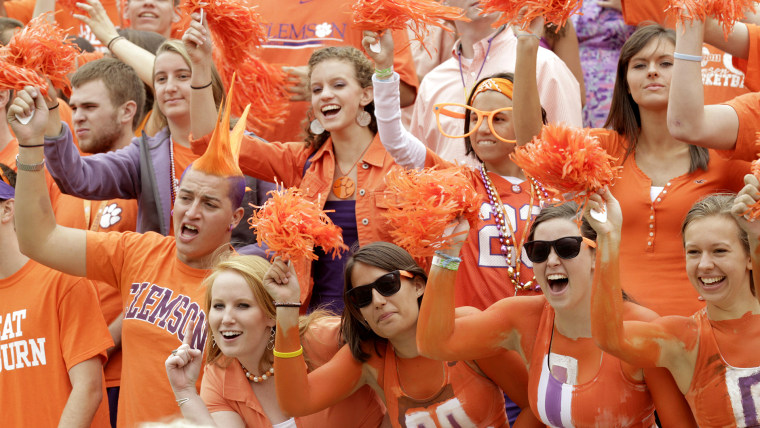 Consider a few of them (and props to Princeton Review for creating some not-your-grandma's-college categories):
Best Career Services: Clemson University (SC)
Best College Dorms: Bennington College (VT)
Great Financial Aid: Princeton University (NJ)
LGBTQ- Friendliest: Emerson College (MA)
Happiest Students: Vanderbilt University (TN)
Best Campus Food: Bowdoin College (ME)
Students Most Engaged in Community Service: Brandeis University (MA)
Best Health Services: University of California, Davis (CA)
Most Beautiful Campus: Rollins College (FL)
Best Athletic Facilities: Kenyon College (OH)
And of course, what's a college list without the Biggest Party school? Golf clap goes to the University of Illinois at Urbana-Champaign (IL).
"Every college in our book has outstanding academics," said Robert Franek, Princeton Review's Senior VP-Publisher. "Our lists provide direct student feedback on the schools' campus culture, program offerings and cost. Our goal is to help applicants choose and get into their dream college—the college best for them."
Franek says the Best Career Services list is one of the rankings he is most proud of because an increasing number of college students are interested in classroom-to-career practical applications of earning their degrees. Students want internships while in school and jobs once they graduate. "Students are much more practical and savvy about the value of their college degree than ever before," Franek told TODAY.com.
Financial aid is, of course, a big factor in that decision. Here are the top-ranked schools for financial aid, according to the Princeton Review:
1. Princeton University
2. Yale University
3. Vassar College
4. Pomona College
5. Claremont McKenna College
6. Franklin W. Olin College of Engineering
7. Stanford University
8. Thomas Aquinas College
9. Trinity College
10. University of Virginia
Franek reminds parents that there is a college out there for every type of student, and finding the best fit is the ultimate goal. His tips (for students and parents) on the college search process:
1. Get informed by talking to current college students. Get their opinions by talking to current students on campus, follow student groups on social media platforms, read student publications.
2. Be fearless around financial aid / paying for college. This is one of the toughest but most important strategies as paying for college causes such angst for students and families, said Franek, who points to a Princeton Review survey that found that 90 percent of college bound students and their parents who responded said financial aid would be "extremely" or "very" necessary.
But he advises that paying for college is a knowable and navigable process. "Your student's job is to be awesome in high school and do well on the SAT / ACT. Your job as parents is to be as savvy as possible around paying for college. Remember that 70 percent of all students enrolling in college get some sort of financial aid," Franek said.
3. Encourage students to figure out why they think a school might be a good fit for them. Some students apply to schools only because they're hard to get into, some because they're easy to get into, others because of the school's brand power, some because everyone from their high school normally applies. "Your student needs to be able to articulate why each school they're considering are truly best fits for them," Franek advices. " It's such a powerful tool to use personally when winnowing down a college hit list and just as valuable in articulating that same fit message to admissions counselors evaluating your college applications."
Kavita Varma-White is an editor for TODAY Parents and is the mom of two teens, 16 and 13. She lives in Bellevue, Wash. Follow her on Twitter @kvarmawhite.