Barbie has been scrutinized for years over everything from her controversial body proportions to her outfits and accessories to her careers. But there is one aspect of her persona that Nickolay Lamm feels consumers have glossed over: her heavy makeup.

"I think it's a little bit too hyper-sexualized and I think people don't say anything because makeup has been on dolls for so long," says Lamm, an artist and researcher who lives in Pittsburgh.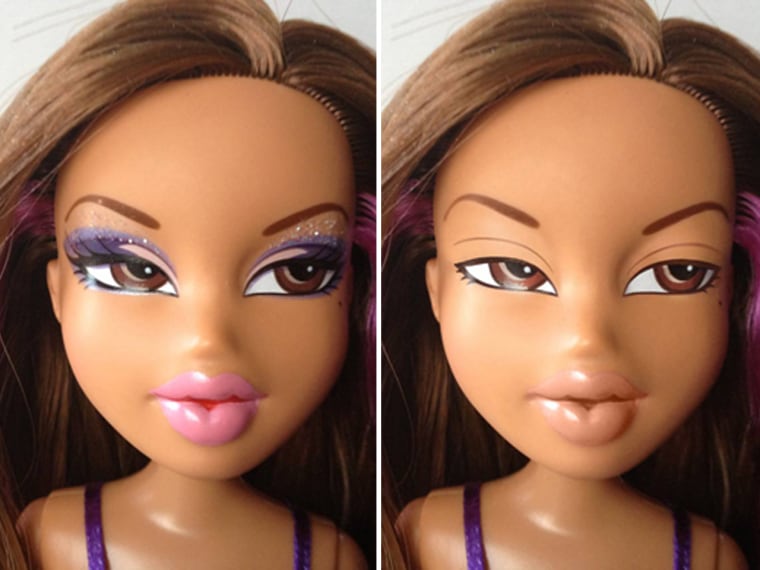 An image of Barbie imagined without makeup went viral earlier this month, but some critics said she looked ill, and it was noted that she had yellow teeth, dark under-eye circles and braces.
Lamm felt that picture was an unrealistic exaggeration. Mindful of how good Ken looks, he thought: "There's no way Barbie looks like this."
He set out on his own investigation to find out what the doll might look like with a clean face. He found out the makeup issues go beyond Barbie. Lamm worked with another artist to photograph four Barbies, along with a Bratz and Disney doll, and digitally remove their makeup. His work, commissioned by myvouchercodes.co.uk, has also taken a trip around the Internet since it was posted last week.

The result, he and online commentators said, was flattering images of dolls sans eye shadow, pink lipstick and thick mascara that made Lamm wonder why a full face of makeup comes standard on many dolls.
"People are so used to seeing Barbie with makeup that we don't realize how much makeup she has on once we take it off," Lamm says.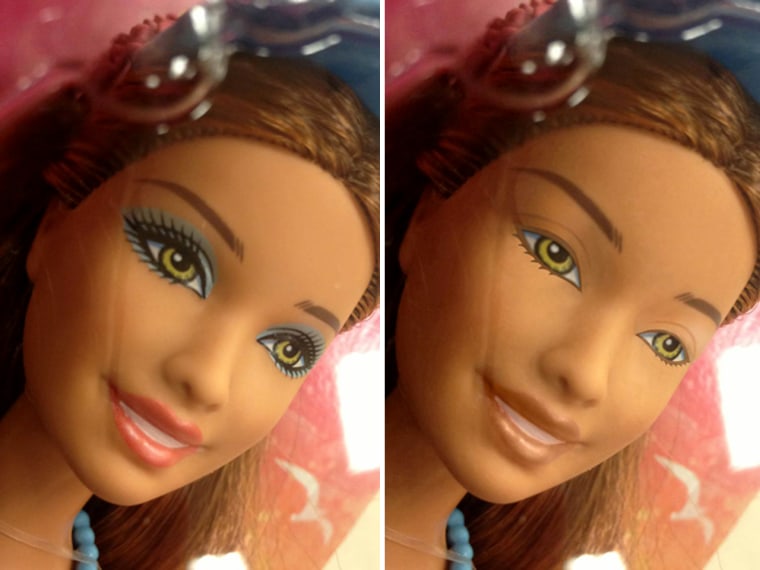 "The Barbie and other dolls look better, more natural without makeup and I feel that without the makeup, they still look good and why don't they sell them without makeup as well?" Lamm told TODAY Moms.
At 24, he doesn't have children, but he does remember playing with G.I. Joe as a kid. While he didn't care that his action heroes had ripped torsos, he feels that the influence of dolls is greater on girls because they face more societal pressure to look good.

"I didn't care about his six-pack abs, but I know that women have a much more different standard in regard to their appearance than men," Lamm says. "I feel that Barbie, to young girls, it affects their self image in a negative way and the makeup certainly adds to the hyper-sexualized dolls."
Kate Anastario, a mom of three girls and a boy, counts some 30 Barbie dolls in her Sterling, N.J., home, along with playthings like Barbie's kitchen. She wishes Barbie's makeup could be "toned down" and prefers the images Lamm created of her without a painted face.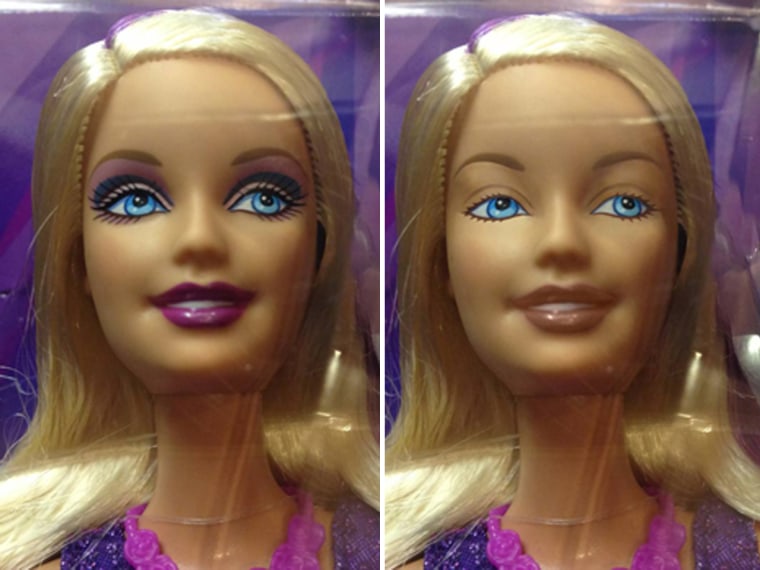 "If I had a choice between the two Barbies, I would pick the one without whore paint," she said. "It's just not necessary."
But, Anastario said, she's not the kind of mom who would refuse to buy the dolls her daughters love so much because of their heavy makeup or large bust, and she doesn't think the dolls will play a role when her daughters want to wear makeup.

"I don't think that Barbies are the reason for body-image issues and self-esteem issues," she said, adding: "Barbie is hardly going to be the singular influence in my daughters' life."
She feels that her girls would have no problem playing with dolls without makeup because they don't seem to notice makeup on dolls one way or the other. After Barbie, her daughters' second favorite doll brand is American Girl, whose (makeup-free) doll of the year last year was a gymnast named McKenna.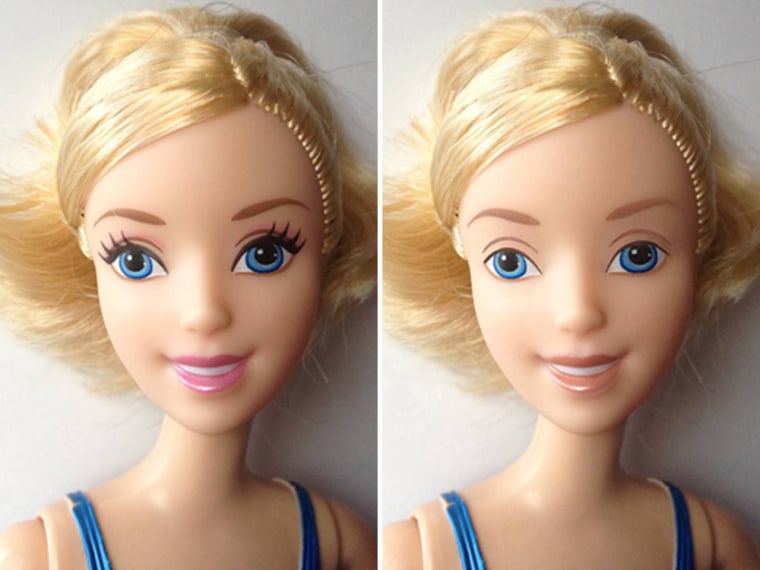 "They never said, 'How come Barbie has purple eye shadow and McKenna doesn't have any makeup?'" she said.
Still, Lamm hopes his project will make consumers more aware.

"I think parents buy them without really thinking about the whole makeup part but I hope these images get parents thinking about maybe telling Mattel and other companies to create dolls without the makeup," he said.