Some new moms are saying that if you buy a Pink Drink at Starbucks, you might get some extra breast milk for free.
Lifehacker recently published the account of a few mothers, like Laura Galvin of North Carolina, who reported an increase in the amount of breast milk they were producing after drinking the creamy Starbucks treat.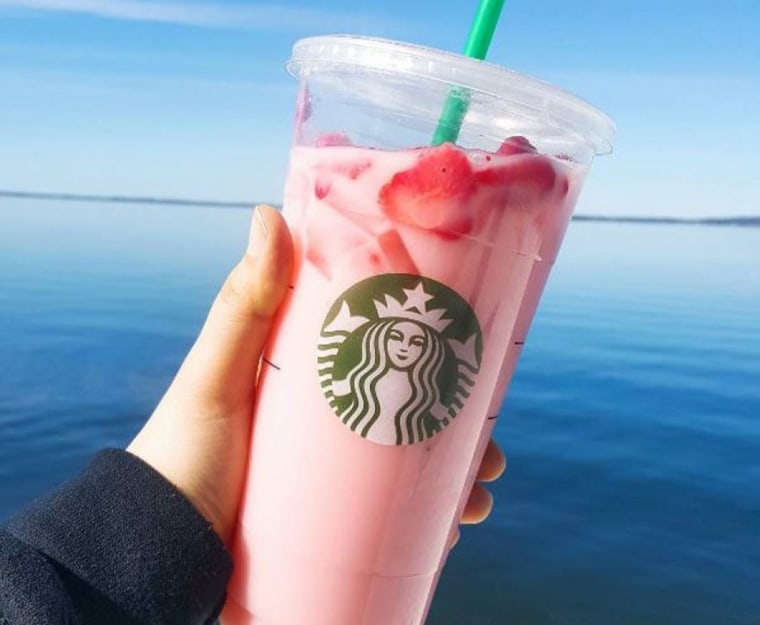 "I'm trying to find a place to donate it," Galvin told Lifehacker, saying she stored away 48 4-ounce bags in a week. Some moms said their breast milk supply had doubled, while others claimed it increased by 10 times the normal amount.
Dr. Alison Stuebe, the Medical Director of Lactation Services at UNC Health Care, points out there are no known randomized controlled trials on the coffee chain's iced drinks and lactation, but the only downside is the drink's 140 calories, mostly from sugar (for a 16-ounce grande size).
"Confidence is a really important part of breastfeeding, and when moms are stressed or anxious, it's harder for their babies to get milk," Stuebe told TODAY. "If it tastes good and makes people happy and relaxed, it could very well help with milk flow."
Stuebe said there's "embarrassingly little science" for new moms to turn to who are having trouble producing enough milk for their babies and many don't want to be told to turn to formula as an option. She joked that Starbucks should fund that study.
Meanwhile, some moms turn to "galactogogues" — foods and supplements believed to augment maternal milk production, such as moringa, fennel seed and oatmeal. Lora Steffie, the director of the Lehigh Valley Breastfeeding Center in Allentown, Pennsylvania, told TODAY via email that the evidence to support those foods and herbs helping is anecdotal at best, and each woman's experience will likely vary.
Mothers do burn 500 calories breastfeeding, however, and she said that the drink, which is made with acai, strawberry and coconut milk could count as a snack. Gatorade is thought to be a galactogogue, Steffie said, and coconut milk, which is rich in electrolytes could be considered a more natural version.
Amanda Cole, who owns Yummy Mummy, a New York City store that sells nursing products, said that she hadn't heard of any of the ingredients in the Starbucks drink having any particular efficacy. She says many moms are tired, hungry and dehydrated, and the drink could help with that. A tea with fenugreek and blessed thistle as well as Milkmakers Lactation Cookies made with oats and flaxseed are popular products at the store.
Anything that helps a new mom relax is probably worth a shot, said Dr. Lisa Masterson, an OBGYN who was a host of "The Doctors" and blogs at Health in Heels.
"If it makes mom happy, it probably won't hurt," she told TODAY.