More pregnant women and their partners are making "push playlists" for the delivery room, doctors say.
Spotify reports that more than 90,000 users have made them, and Dr. Jacques Moritz, an OB/GYN in New York City, told TODAY that about two-thirds of his patients have made playlists to listen to when they give birth.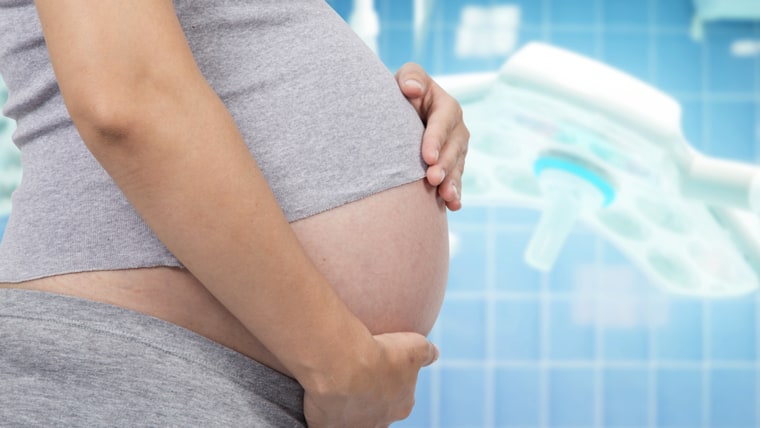 "Labor is a really tough thing, and it goes on for a long time, so we try to find things that are comfortable and soothing," said Dr. Moritz, who even teamed up with Spotify to create the ultimate push playlist, which he now uses if patients don't come in with their own tunes. "Music can be very soothing. It's like having a familiar friend singing to you."
RELATED: Yes, vagina speakers are a thing; no, your unborn baby doesn't need them
Music is already known to be linked to our memories, emotions, fear and pain, and research shows music therapy can lower anxiety in women who are undergoing cesarean sections.
While the idea of push playlists isn't new, they're increasingly common — and Dr. Moritz isn't the only one to notice the trend among his patients.
RELATED: 'We can't stop...': Watch this couple's hilarious pregnancy announcement
"People have done this for years," Dr. Suzanne Gilberg-Lenz, an OB/GYN in Beverly Hills, told TODAY. "My ex-husband did one for me during my labor 18 and a half years ago!"
You can thank the invention of iPhones and portable speakers for bringing personalized music to the delivery room.
"It used to be that once in a while, someone would bring in a boombox with a cassette player, but that didn't take off too much," Dr. Moritz said. "Definitely the big boom came with wireless speakers."
New rooms at New York-Presbyterian Hospital, where Dr. Moritz practices, have wireless speakers built into the walls that sync with patients' smartphones, he added.
The playlist Dr. Moritz created for Spotify is meant to mirror the birthing experience, starting with slower songs before transitioning into stronger beats. And the songs — from John Lennon to Beyonce — aren't necessarily what you'd expect.
RELATED: What's the best song to wake up to? Spotify has your science
"People think you would need head-banging metal music to push the baby out, but you have to remember, it's one minute of pushing and then three minutes of quiet time," Dr. Moritz said. "When you're pushing, you're not even hearing the music."
He suggests moms-to-be choose songs that are comforting and familiar, and to include a mix of genres and artists on the playlists, as you never know how long labor will take.
"You learn a lot about people from their musical tastes," he said. "And then the whole conversation drifts away from the labor and time just goes by."