Holy plot twists, Batman, The Joker was the hero this time-around!
A Tennessee family with a sense of humor pleaded with their obstetrician to have him stay in his costume as Heath Ledger's Bat-villain from "The Dark Knight" to deliver their baby daughter on Halloween, instead of going home to change.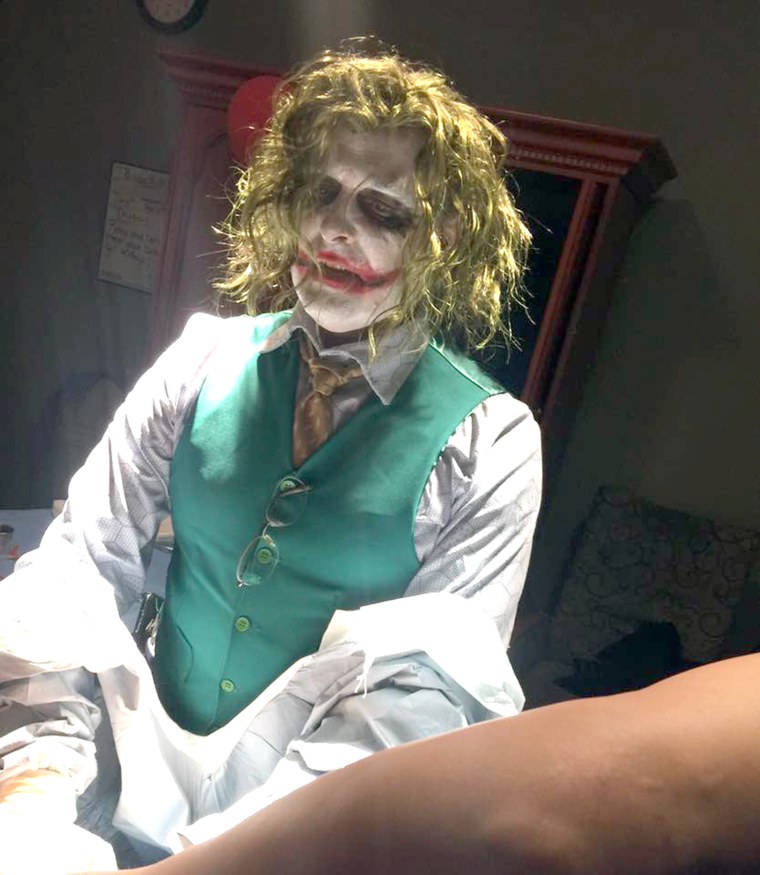 Dr. Paul Locus's comic delivery took place at Henry County Medical Center in Paris, Tennessee, on Tuesday, when Brittany Selph arrived to give birth to her daughter, Oaklyn, almost a week before her Nov. 5 delivery date.
"I think seeing him dressed up in the delivery room, it did kind of take away from everything I was doing and the pain," Brittany told TODAY. "It was a good laugh, it made me feel calm."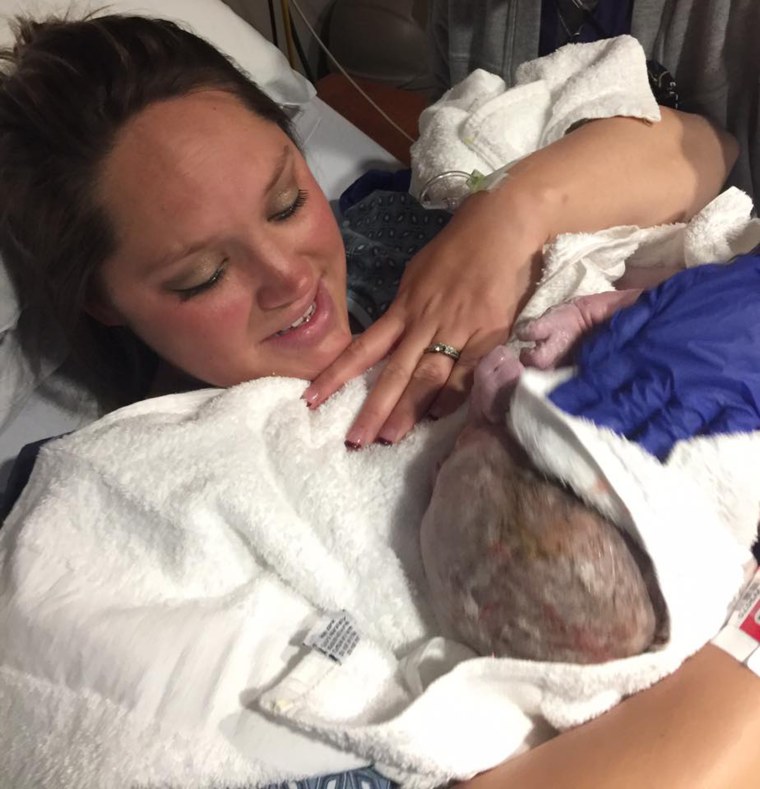 Proud dad, Justin, said the couple was "shocked" when Locus entered the room in full make-up and purple costume after they arrived at the hospital at noon after Brittany's water broke. "I got on Facebook Live right away and thought this is too good not to video," he said.
After checking up on the Selphs again in the afternoon, Dr. Locus had planned to return home to dole out candy and change into his medical clothes before the baby's arrival, but his patients convinced him to do something out of character and stay in character.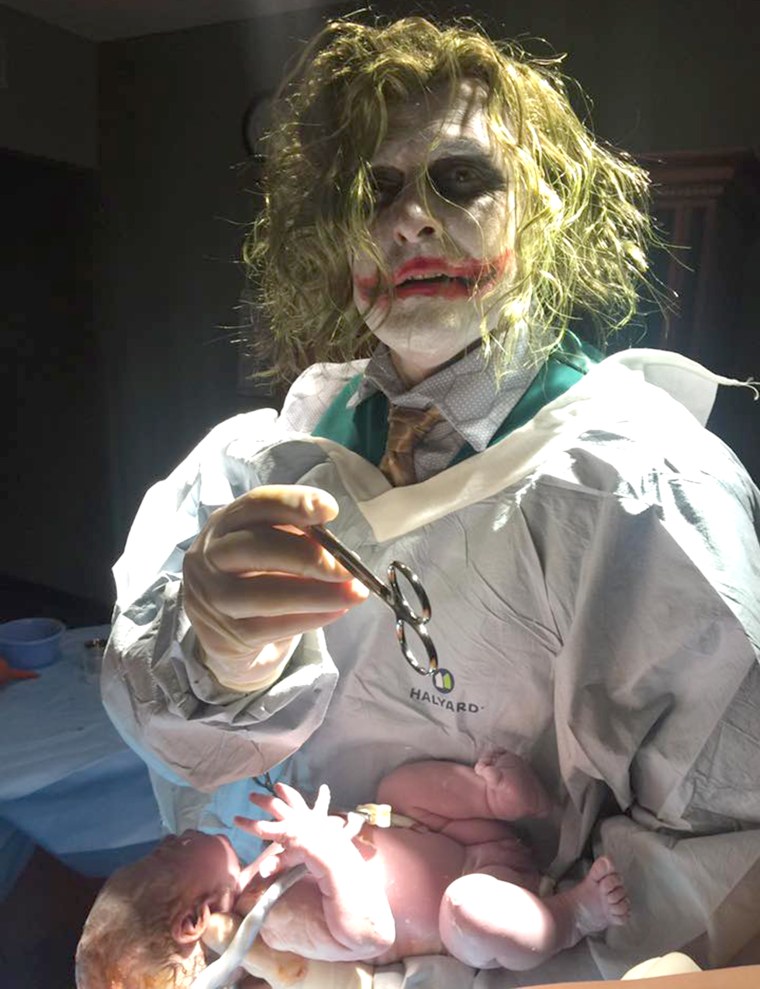 "We kind of thought if he would stay in the delivery room, it would be kind of cool," said Justin. "He is such a genuine guy and a good sport. He would even talk every once in a while in that Joker voice."
Nobody got a bigger kick out of the comic relief than their son, 10-year-old Brenden, who posed for pictures with the supervillain that delivered his new sister. Their 4-year-old daughter McKinley was less amused, due to a fear of clowns!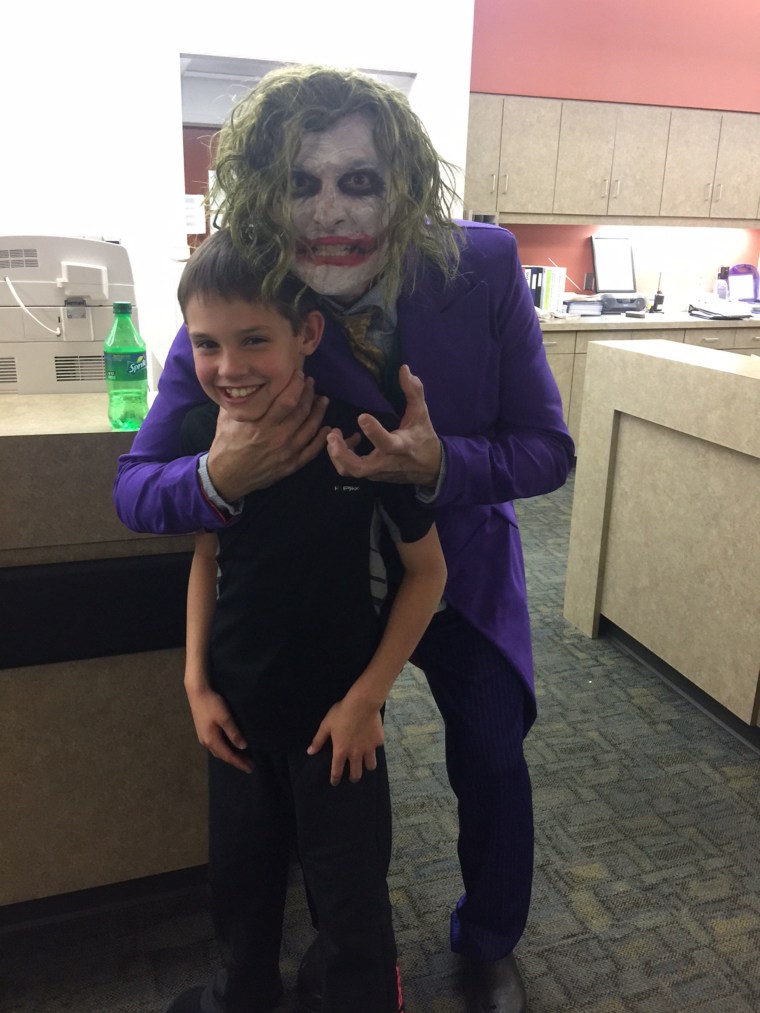 Locus later handed the family congratulations card after the birth of Oaklyn — signed by "Dr. Joker."
It's not the first time that the friendly doctor has had some fun with his patients. Henry County Medical Center director Rhonda Crossett revealed that Dr. Locus has been dressing up since the early days of his practice. "He loves going the extra mile to give them a unique and enjoyable delivery experience."
The whole experience has also given the Selph family a great idea for little Oaklyn's birthday next year: "We already have her first birthday planned out," said Brittany, 'It will have to be of course a pink Batman theme."