It's the paradox of parenting: do as I say, not as I do.
We all want the best for our kids...and I try my darndest to set a solid example for my three young children: I eat my vegetables. I say "please" and "thank you." And I generally try to be a good person.
But I do have what I feel is a vice: I drink soda.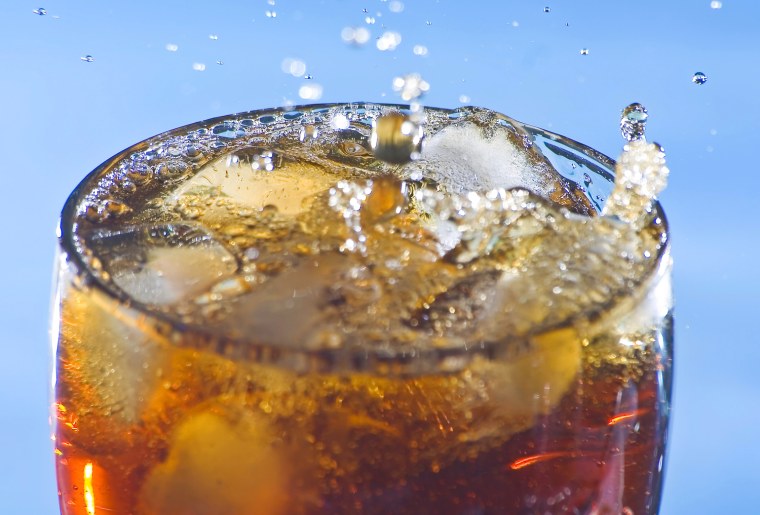 I've been drinking the stuff for years.  My college roommate can recall my fondness for building "diet soda" pyramids during marathon study sessions. As I got older, I decided to move onto the harder stuff. No more chemical-laden, low calorie stuff for me! I went for, if you will, "the real thing."  We're talking the full-on, high calorie, high-sugar, high-everything-else-that-probably-isn't-good-for-you drink.
Now that my twin boys are five, I expected some push back on things. But the other day, when I asked what they wanted to drink, the younger (by two minutes) of my twins surprised me by saying said "soda."
I laughed it off, and repeated his choices of "water, juice or milk." But like a laser pointed at my heart (and my common sense), he calmly repeated "soda."
I was in trouble.
One part of me wanted to take the two liter bottle out of our fridge, pour it out and say "You win! You're right. I want to stop drinking soda and now is the time!" But I didn't. It's that caffeine. That sugar. That little happy, buzzy feeling it gives my head in my otherwise sleep deprived state.
But I worry about the impact drinking sugary drinks will have on me and my children: tooth decay, possible weight issues (not to mention the dreaded post-consumption "sugar-highs").
It all reminds me of the time I tried to get my mom to quit smoking. I was about 8 or 9 years old. I attacked our magazine pile, cutting out dozens of the surgeon general warnings from cigarette ads and hiding them around the house: in her cigarette holder, near her lighter, underneath the cartons in our kitchen cabinet. Surely she would be touched by this grand gesture of love:  I wanted her to stop smoking.  On the contrary: I think she was annoyed.
Is my son doing the same thing? Is he goading me into quitting? Or does he really just want the soda? 
But if I make this a forbidden item, doesn't that make it all the more enticing for him?
My mom didn't need me to tell her she needed to quit smoking. She knew that already. And I'm happy to report that she eventually did stop.
About 25 years later.
So, should I stop drinking soda now? To be fair, I have an enormous loophole. I work outside the home. So really, I just need to start by quitting at home: mornings, evenings and weekends. I can do that, right?
And if I do stop, will my son become less interested in drinking it? Is it too late to set a better example? Or is the damage done?
Either way, I'm going to give it a shot.  Wish me luck.
Do you have any vices you need to kick before your kids start imitating you?
Meredith Phillips Reis is a producer at TODAY.  She has the show to thank for many wonderful professional opportunities...as well as her personal life.  She met her husband (a fellow producer) at the office and they now have three children together.