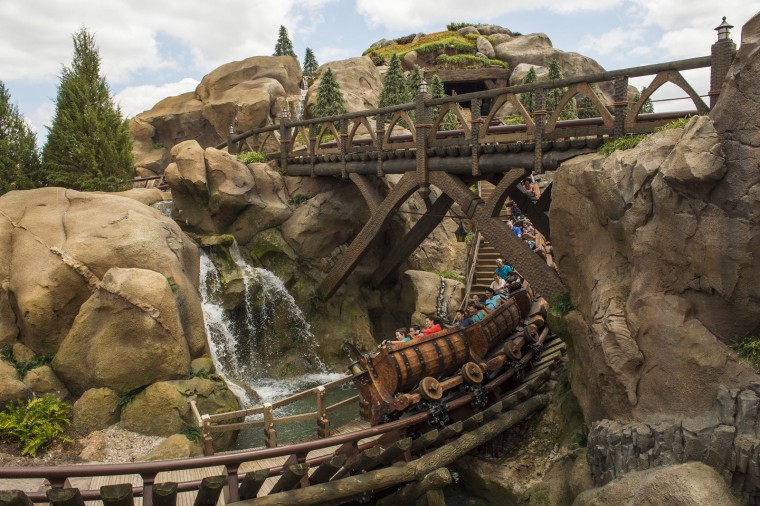 ORLANDO — When the Seven Dwarfs Mine Train opens May 28, Dopey and crew will belt out more than just "heigh-ho." This new family-style coaster will feature new music, a first-of-its-kind ride system and audio-animatronics that would make Walt Disney himself proud.

As the most anticipated part of New Fantasyland, the coaster five years in the making completes the largest expansion in Magic Kingdom history and becomes the first new roller coaster at Walt Disney World since 2006. 
"It's nothing like anything Disney has done before," says Claire Davis, 25, of Orlando, Florida, who plans on visiting the Magic Kingdom this summer to experience the coaster.
Disney's "imagineers" dreamed up a way to make the mine-train cars swing independently from side to side as they move along the track. The ride vehicles, which look just like the mine cars from the movie, are mounted in cradle-like pivots. As a result, the patented design provides a whole new type of ride sensation. 
But keep in mind, it's not built for thrill seekers. Since it has no upside-down turns and gentle 31-foot and 41-foot drops, it's tame enough for a 5-year-old and smooth enough for a baby boomer.
Any Disney fan, however, can appreciate the amped-up technology. Take the interactive queue, for example. While standing in line, guests will have access to large touch screens where they can virtually sort gems from the mine. Nearby, there's an interactive water flute with 12 spigots corresponding to the notes of the musical scale. And once you enter the "vault" there are seven barrels. Spin them and glance upward to spot images of the dwarfs.
On the coaster, the technological wonders continue with some of the most advanced audio-animatronics that Disney has ever concocted. To create the lifelike dwarfs, imagineers carefully studied the movements of the original animated characters from the 1937 film "Snow White and the Seven Dwarfs," right down to the eye blinks and arm movements.
"Part of Imagineering's role is to immerse guests in a story in a way that the technology used to get there is invisible," says Diego Parras of Walt Disney Imagineering.
Likewise, the theming is equally realistic. Guests begin by crossing a stone bridge, which transports them into the Enchanted Forest located on a lush mountainside complete with faux grasses in different shades and blade lengths to simulate the drier grasses typical found at higher elevations.  
"As you move down the hillside, it gets greener and greener," says Rebecca Bishop, a landscape architect with Walt Disney Imagineering. "It's got to look natural." 
Along with 22,000 square feet of living landscape, there is about 13,000 square feet of artificial grasses, 350 faux shrubs and another 55 synthetic trees blended in to complete the massive mountain peak.
"The rewarding part for us is to watch it all become a three-dimensional place that was envisioned on paper," says Bishop. The payoff, in her mind, is to be "part of something that will outlive ourselves; that has the ability to bring happiness to millions of all ages."