Forget all the pro football that was played on Thanksgiving: Last week's biggest win was earned a day earlier by Leah Still, the 5-year-old daughter of former NFL player Devon Still.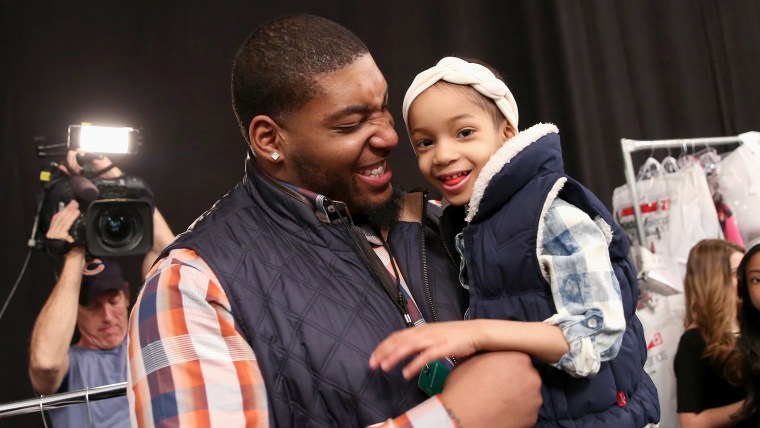 Almost a year and a half after Leah was diagnosed with cancer, the 26-year-old former Cincinnati Bengals defensive tackle announced Wednesday on Instagram that doctors found "no evidence of disease."
"Thanks for all the support and prayers!" reads the caption accompanying an image of the words "Thank you," in cursive. "Just got the phone call that her scans showed NED (no evidence of disease)!"
Since June 2014, when doctors diagnosed Leah with Stage-4 neuroblastoma and gave her a 50/50 chance to survive, it's been a roller-coaster of emotions for everyone involved.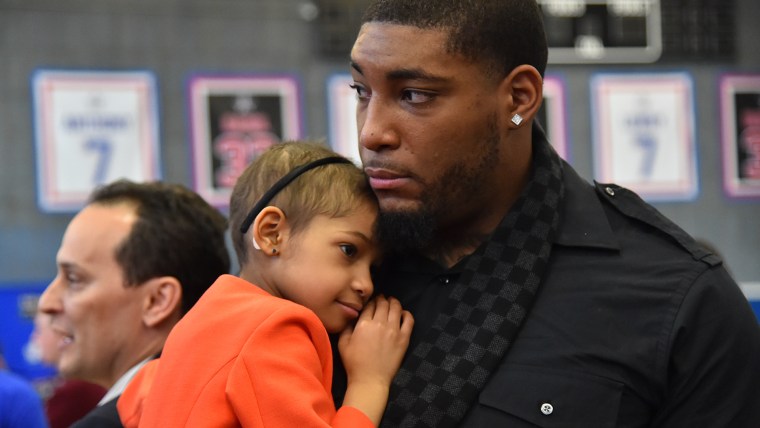 Months after Leah's devastating diagnosis, the situation got more complicated when Devon was cut from the Bengals and he announced intentions to suspend his career to care for his daughter. But they both received a reprieve when Bengals executives assigned him to the practice squad, then reinstated him to the team's 56-man roster for the remainder of that season to provide better medical coverage. The team even donated profits from the sale of his jersey to the Cincinnati Children's Hospital to fight pediatric cancers.
Devon and Leah made the most of the opportunity to raise awareness through events and social media (using the hashtags #LeahStrong and #StillStrong), raise funds for cancer-related causes, and serve as inspirations to everyone who's been affected by the deadly disease.
In September 2014, Leah starred in Sara Bareilles and Cyndi Lauper's music video, "Truly Brave," which TODAY's Hoda Kotb — a breast-cancer survivor — produced. The singer-songwriters combined Bareilles' hit "Brave" with Lauper's chart-topper "True Colors" to create the mashup "Truly Brave," an apt description for Leah and fellow cancer survivors. That video linked to Hoda's Crowdrise page, which raised more than $500,000 for the American Cancer Society's pediatric-cancer research.
The same day of that video's release, Leah underwent nearly six hours of surgery to remove a tumor and all of her lymph nodes, according to Devon. Because the cancer had spread to her bones, she faced more battles in the months that followed, though she also found new ways to spread her message of awareness and hope.
In January, Devon announced that he and his daughter teamed up to write the children's book "I Am Leah Strong" to both motivate kids who are fighting the disease and raise funds for pediatric cancer charities.
Leah attended New York Fashion Week in February to walk the runway at the Nike Levi's Kids Fashion Show — just five days after she finished an eight-day stint at a hospital for cancer treatments.
In March, Devon and Leah flexed upon hearing news that she appeared to be cancer-free — but the battle wasn't quite over. Two months later, Devon reported that Leah suffered a "pretty serious complication" related to a stem-cell transplant. "As you can imagine our minds are all over the place," he wrote, "but we're going to try and remain positive."
The father-daughter duo shared an ESPY Award for perseverance in July, when Devon accepted the award and Leah, while recovering from chemotherapy treatments, appeared in a prerecorded video message to ESPYs viewers. "Sorry I couldn't be here everybody," she said at the time, "but thank you for supporting me while I beat up cancer."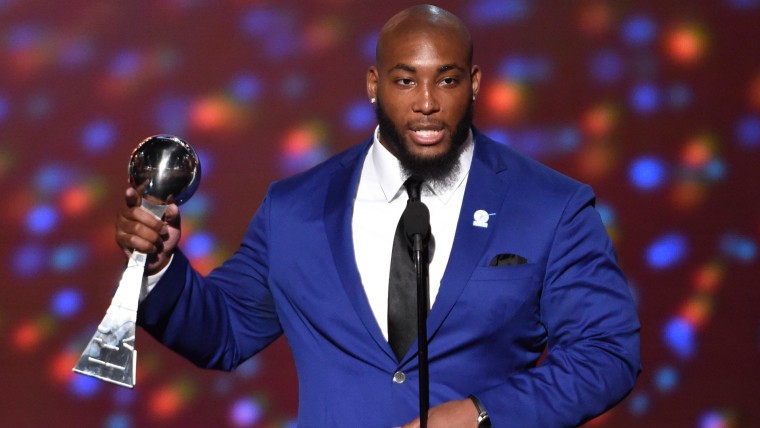 Leah's impact continued to grow in August, when her image graced the iconic fronts of Wheaties boxes.
In September, Hoda visited Leah in Philadelphia and helped her at a makeshift lemonade stand in the lobby of Leah's apartment building.
And for Halloween, no amount of sugar could have made Leah and Devon's Halloween's costumes any sweeter: She was Sleeping Beauty, and he was Prince Philip. "#SheWasStuckInTheHospitalLastHalloween," reads part of Devon's related Instagram caption. "#SoICouldntSayNo."
Follow TODAY.com writer Chris Serico on Twitter.