When Devon Still happily announced earlier this week that his daughter Leah was done with her final cancer treatment, it was a day he initially feared might never come.
"When we first started off, it seemed so far away,'' Still told TODAY.com. "When she received her first treatment and it didn't work, that was the scariest moment. I thought I would end up losing my daughter."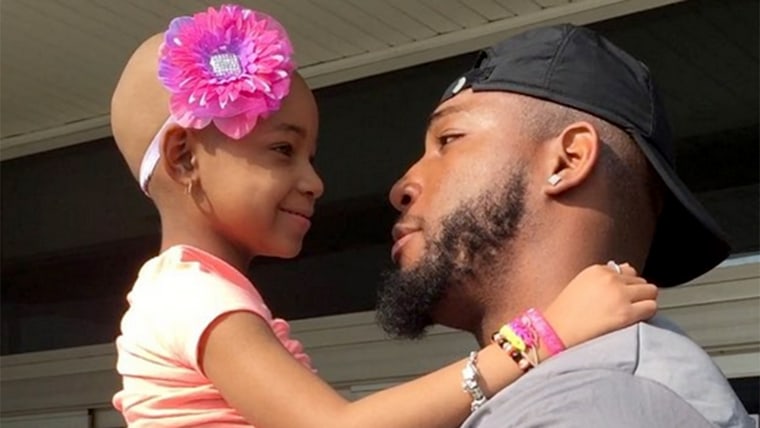 Leah, 5, has been an inspiration in the fight against pediatric cancer since she was diagnosed with stage 4 neuroblastoma in June 2014 and given a 50-50 chance to survive by doctors. Devon, a defensive lineman with the Houston Texans, documented her battle on Instagram, which gave him a chance to reflect this week on how far she has come since that scary time 18 months ago.
"I looked through all the different pictures from when we started until the end, and I feel very blessed that we were able to make it through this,'' he said. "Social media really helped a lot during the dark times because we would go on there and see some of the comments, and it would give us energy."
Whenever Devon felt particularly overwhelmed, he didn't have to look far to get his spirits back up.
"I really got all my strength from Leah because she always kept a positive attitude, no matter how hard treatments were on her physically,'' he said. "It rubbed off on me and my whole family."
Leah's precociousness was a primary reason Devon decided to go public with her fight in order to help raise funding for pediatric cancer research and awareness. When Leah was diagnosed, he was a member of the Cincinnati Bengals, who kept him on the practice squad at the time on purpose so that he would have health benefits to pay for Leah's treatment.
His No. 75 jersey became a symbol of Leah's fight, with the Bengals presenting a $1.3 million check to the Cincinnati Children's Hospital from sales of the item.
"She handled it extremely well for her age,'' Still said. "I took that in consideration to go public with her story with her as the poster child to try to raise awareness."
During her public fight, Leah helped raise more than a million dollars for cancer research, won an ESPY Award for her courage, walked the runway during Fashion Week, wrote a children's book with her father, got her own Wheaties box cover, and celebrated the end of her treatments by hanging out with Cleveland Cavaliers star LeBron James.
"She mainly watches the Disney Channel, so she doesn't understand the magnitude of things,'' he said. "(The public appearances) kept her in good spirits because it meant she was doing something good and could relate to the actors on Disney Channel because she was on TV like them."
Leah also formed a close bond with TODAY's Hoda Kotb after appearing in the "Truly Brave" video starring Cyndi Lauper and Sara Bareilles that was produced by Kotb.
"Hoda is her best friend,'' Still said. "My daughter was not able to go to school and socialize with other kids her age, and she developed a real close friendship with Hoda. That helped her through the battle. She would see Hoda wearing her bracelet on TV, and it meant so much. We really owe her a lot."
During Leah's cancer battle, Still also spoke with many other parents enduring the same situation.
RELATED: Leah Still gets her own Wheaties box cover: 'This is so awesome!'
"I realized that having a child with cancer, it's a close-knit community,'' he said. "We all do whatever we can to help one another out. I think that what I really wanted was to show parents how to stay strong through the battle.
"After her first treatment, we could've fallen apart at that point because that was the treatment that was going to cure her, and it didn't. You just have to stay positive."
After being waived by the Bengals in September, Devon did not play for a team during this current NFL season. However, the uncertainty of his career was the last thing on his mind. He still had health care through the NFL, so he focused his attention on Leah.
"I've been playing football since I was 13, so having a year off was hard, but when I was in Cincinnati, the reason I was so stressed out was that I couldn't be at her treatments,'' he said. "My main focus was to be there to support her. If I lost football momentarily, I could get it back, but if I lost my daughter to cancer, I couldn't get her back."
He signed a futures contract with the Texans on Jan. 6, the same day Leah got to meet LeBron James after a Cavaliers win in Washington D.C.
While Leah's fight has thankfully come to an end, that doesn't mean Devon's work is done in supporting the cause. He and Leah started the Still Strong Foundation in August to support childhood cancer research and help families in need who have children with cancer.
"I want Leah to go back to having a normal life,'' he said. "Now we want to push other kids and other stories into the spotlight so they can get the support everybody showed us."
Follow TODAY.com writer Scott Stump on Twitter.