Former NFL player Devon Still — proud papa of cancer-beating daughter Leah — chose Super Bowl Sunday to announce his own major event: the date of his wedding!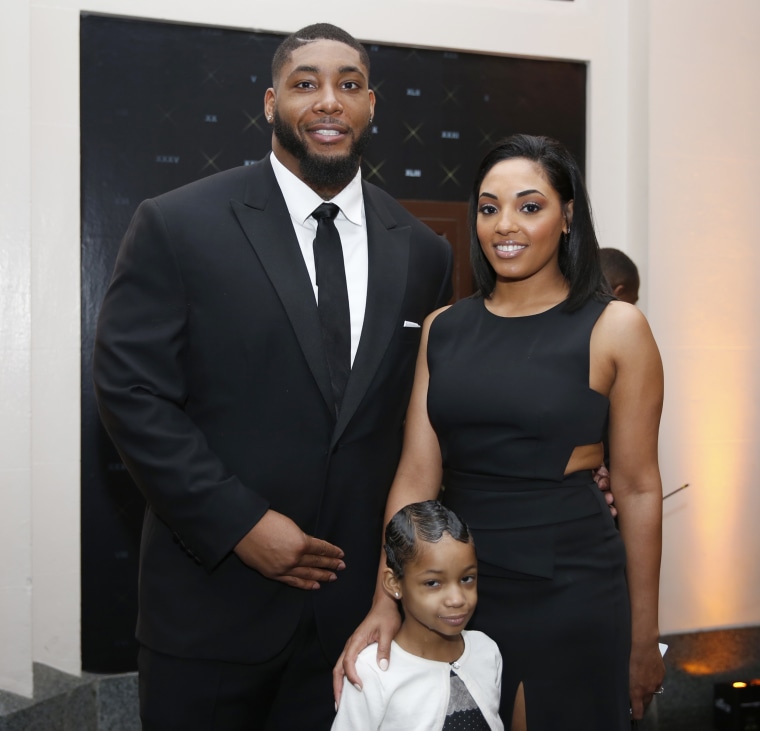 A day after attending the NFL Honors awards ceremony with Leah, 5, and fiancée Asha Joyce, Devon took to Twitter to reveal his wedding date in clever fashion.
"Happy to announce that @ashajoyce and I are having our dream wedding on May 13 in NYC!" reads the tweet, which includes a photo of a wedding invitation that looks like a football ticket.
In a clever touch, the ticket's "row" and "seat" are 5 and 13, respectively, matching the month and date of the event, slated to be held at the New York Public Library. In the center of the ticket, Asha and Devon are seen wearing jerseys numbered 5 and 13 as they hold hands and walk onto a football field.
It's the latest welcome news for Devon, who was relieved last month when his daughter's very public, 20-month cancer battle appeared to come to an end with a final treatment last month.
"When we first started off, it seemed so far away,'' Devon told TODAY.com at the time. "When she received her first treatment and it didn't work, that was the scariest moment. I thought I would end up losing my daughter … I really got all my strength from Leah because she always kept a positive attitude, no matter how hard treatments were on her physically. It rubbed off on me and my whole family."
On Saturday, the couple joined Leah in attending the NFL Honors ceremony, where Devon and Leah presented the Comeback Player of the Year award to another cancer survivor: NFL safety Eric Berry, who returned to the Kansas City Chiefs after beating the disease.
On the stage, Leah reminded the audience of the nationally televised event that cancer can take its toll: "Sometimes, it takes all your hair," she said.
Leading up to a video about Berry's accomplishments, Devon added, "If you can kick cancer, you can do anything. Ain't that right, Lee-Lee?"
Replied Leah in adorable fashion, "Yes, Daddy! Roll the tape!"
Devon, Leah and Asha also posed for photos at the event, attended by many of football's biggest stars (except the ones playing in the Super Bowl the following night) as well as Hollywood A-listers.
Among the most impressed was Houston Texans superstar J.J. Watt, who was happy to pose with the "one & only Leah" and welcome them both to the franchise, as Still signed a contract to join the team last month.
Watt knows a little something about rallying for a teammate who's faced adversity, as the Defensive Player of the Year also rallied for the Texans' David Quessenberry, who battled non-Hodgkin's lymphoma in 2014 and beat it. (Quessenberry's eyeing an NFL comeback, too.)
Leah and Asha shared smiles for a photo op with "Empire" star and recent Golden Globe winner Taraji P. Hanson at the same event, where Leah and her dad also posed with hip-hop star Kendrick Lamar.
Follow TODAY.com writer Chris Serico on Twitter.