Wednesday night's ESPY Awards ceremony marked yet another emotional moment for Cincinnati Bengals defensive tackle Devon Still and his cancer-fighting daughter Leah, as they were honored for perseverance.
"We had two options," Devon told the ESPYs audience. "We could have lost faith and just let this battle with cancer get the best of us, or I could give my daughter's battle with cancer a purpose, and use my platform to try to raise as much awareness as possible."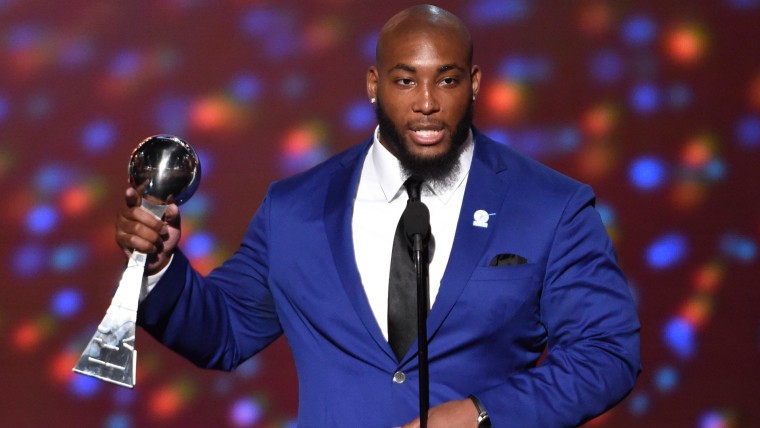 Leah, 5, did not attend the ceremony, as she continues to recover at home from chemotherapy treatments.
After Devon expressed his appreciation for Bengals executives, kids who are fighting cancer, his fiancée and his parents, he saved his final thanks for Leah.
"I know you wish you could be here, but I know you're watching," he said. "I just want to thank you. From the moment you [were] born, you molded me into the man I am today. I always used to dream about how I was going to be able to show you so much about life, but in the five years I've been with you, you've taught me more about life than I could ever do."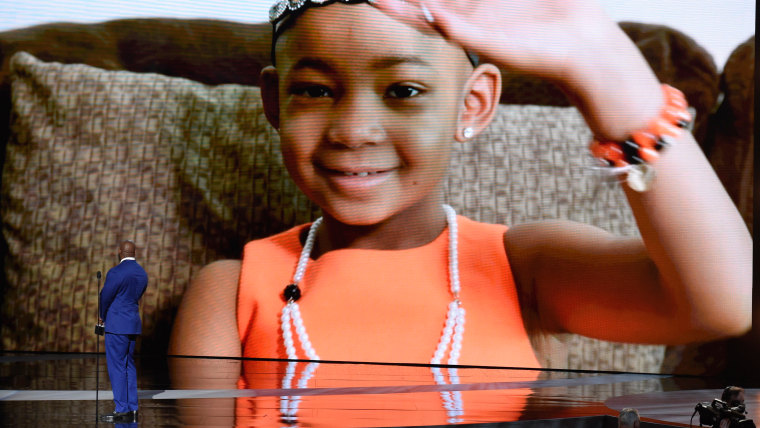 He then introduced a video that Leah likely taped prior to the broadcast. "Sorry I couldn't be here everybody, but thank you for supporting me while I beat up cancer," she said.
In an ESPN.com article posted Thursday, ESPYs co-executive producer Maura Mandt said the father and daughter were selected as Jimmy V Perseverance Award recipients because they serve as beacons of hope to other families facing similar battles.
"This award is a testament to the inspiration Devon and Leah are to all the families who are suffering from similar circumstances," Mandt said. "It is our hope that with this award we can send them more strength as they face this latest challenge."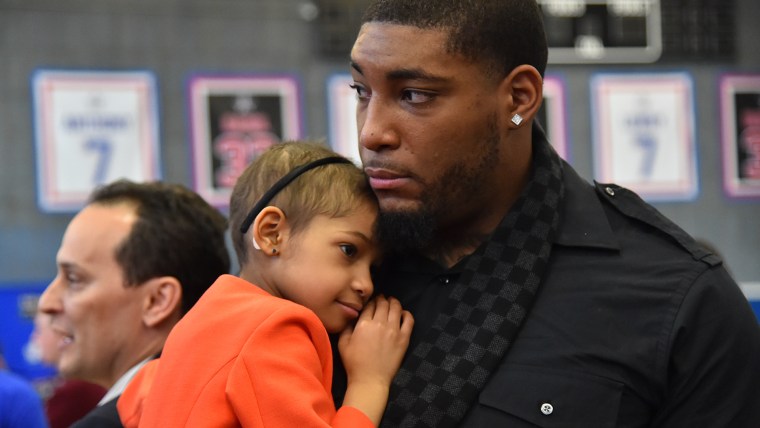 In June 2014, doctors found a tumor in Leah's stomach and diagnosed her with Stage IV neuroblastoma, a rare pediatric cancer that they said left her with a 50/50 chance of survival. The dire situation got even more complicated months later, when Devon was cut from the Bengals and announced intentions to put his career on hold to care for his daughter.
But they both received a reprieve when Bengals executives assigned him to the practice squad — meaning Leah was covered by the team's health insurance policy and Devon would receive $6,300 in weekly pay.
Devon said he was grateful for the gesture, adding, "They could have just washed their hands completely of it."
The following week, the Bengals reinstated Devon to the team's 56-man roster, and announced the team would donate profits from the sale of his jersey to the Cincinnati Children's Hospital to fight pediatric cancers.
Devon and Leah have been making the most of the opportunity to raise awareness through events and social media (using the hashtags #LeahStrong and #StillStrong), fundraise for cancer-related causes, and serve as inspirations to everyone who's been affected by the deadly disease.
And Leah, whose cancer battle has had highs and lows, often has been seen taking it all on with her contagious smile.
In late September, Leah starred in Sara Bareilles and Cyndi Lauper's music video, "Truly Brave," which TODAY's Hoda Kotb — a breast-cancer survivor — produced. The singer-songwriters combined Bareilles' hit "Brave" with Lauper's chart-topper "True Colors" to create the mashup "Truly Brave," an apt description for Leah and fellow cancer survivors. Released Sept. 25, the video linked to Hoda's Crowdrise page, which raised more than $500,000 for the American Cancer Society's pediatric-cancer research.
The same day of that video's release, Leah underwent nearly six hours of surgery to remove a tumor and all of her lymph nodes, according to Devon. Because the cancer had spread to her bones, she faced more battles in the months that followed, though she also found new ways to spread her message of awareness and hope.
In January, Devon announced that he and his daughter teamed up to write the children's book, "I Am Leah Strong," to both motivate kids who are fighting the disease and raise funds for pediatric cancer charities.
In February, Leah attended New York Fashion Week to walk the runway at the Nike Levi's Kids Fashion Show — just five days after she finished an eight-day stint at a hospital for cancer treatments.
In March, Devon and Leah flexed upon hearing news that she appeared to be cancer-free.
But in May, Devon said Leah suffered a "pretty serious complication" related to a stem-cell transplant. "As you can imagine our minds are all over the place," Devon wrote, "but we're going to try and remain positive."
Thankfully, in June, Hoda shared some good news with Kathie Lee Gifford. "She's getting better!" she reported.
The Jimmy V Perseverance Award is named after Jim Valvano, the college-basketball coach who improbably guided North Carolina State to a national title before his cancer diagnosis made him a vocal advocate for awareness, fundraising and hope. While receiving the ESPYs' Arthur Ashe Courage Award in 1993, he delivered a stirring acceptance speech, including his famous quote, "Don't give up; don't ever give up." Valvano died less than two months later.
Since the Jimmy V Perseverance Award was introduced at the ESPYs in 2007, several recipients, like Leah Still, have been hailed for the ways they've battled cancer, including NBA coach George Karl, college coaches Kay Yow and Don Meyer, and ESPN anchor Stuart Scott.
Follow TODAY.com writer Chris Serico on Twitter.