Looks like legendary Yankees shortstop Derek Jeter has hit a new kind of home run!
He and wife Hannah Jeter are going to become parents soon, to a little girl.
Hannah, a former Sports Illustrated Swimsuit cover model, revealed in an essay in The Player's Tribune on Monday that they are expecting their first child in May.
RELATED: A producer's tribute: That time Matt Lauer told me 'you can breathe now' after I met Derek Jeter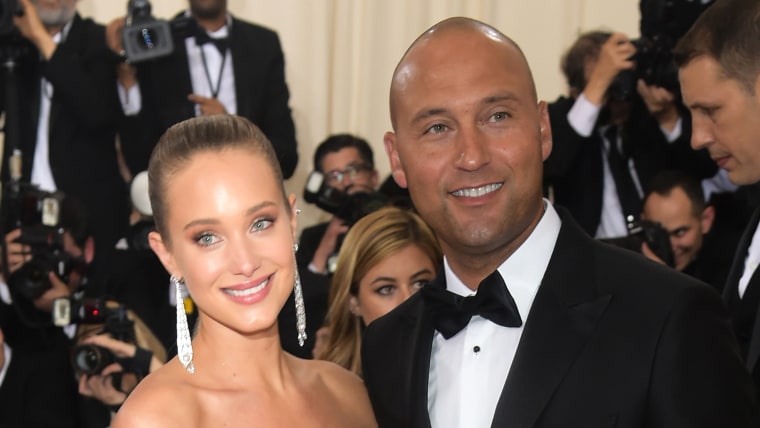 "Now, pregnant with our first child, Derek and I are looking to the future," she wrote in a post that also featured photos of the ballplayer, who retired in 2014, clutching a whole bunch of pink balloons.
"He already has a name in mind — he's set on it," she continued. "(We'll see.) He'll say when he calls me during the day: 'So, how are you and so-and-so doing?' 'That's not the name yet, sweetie.'
Jeter, 42, was known for playing the field both in Yankee Stadium and out of it; his well-publicized romances included relationships with Mariah Carey and Jessica Biel. He and Davis, 26, wed in July 2016 after dating for three years.
"Whatever her name is, I know she'll run circles around him," Hannah continued. "We want our kids' lives to be as 'normal' as possible. They're going to be born into such an extraordinary situation. ... We don't want them to be defined by their dad's name — for them, we want him to just be 'Dad.' That will be the piece of him they'll have that the rest of the world doesn't. It will be special, and it will be theirs."
Clearly the parents-to-be are looking far ahead into the future of all of their planned offspring.
"Derek and I will want our children to understand that the lives they've been given are so fortunate, in so many ways," she wrote. "We'll want them to learn to help others, and to care for others, and to give back to the world."
RELATED: Watch Derek Jeter's nephew give Yankee legend cutest hat tip ever
That said, she noted: "If they want to play baseball, well, we're gonna have a little talk first."
Congratulations!
Follow Randee Dawn on Twitter.