A Delaware elementary school is apologizing to parents for accidentally sending them a snarky "Hurt Feelings" report that mocks "whiners."
The sarcastic form was sent earlier this week as an attachment to a legitimate email providing details about an upcoming school event, "Exercise Your Brain Day."
Intended "to assist whiners in documenting their hurt feelings," the bogus report asked the submitter to identify the culprit "who hurt your pansy a--- feelings" and to specify using their "own sissy words."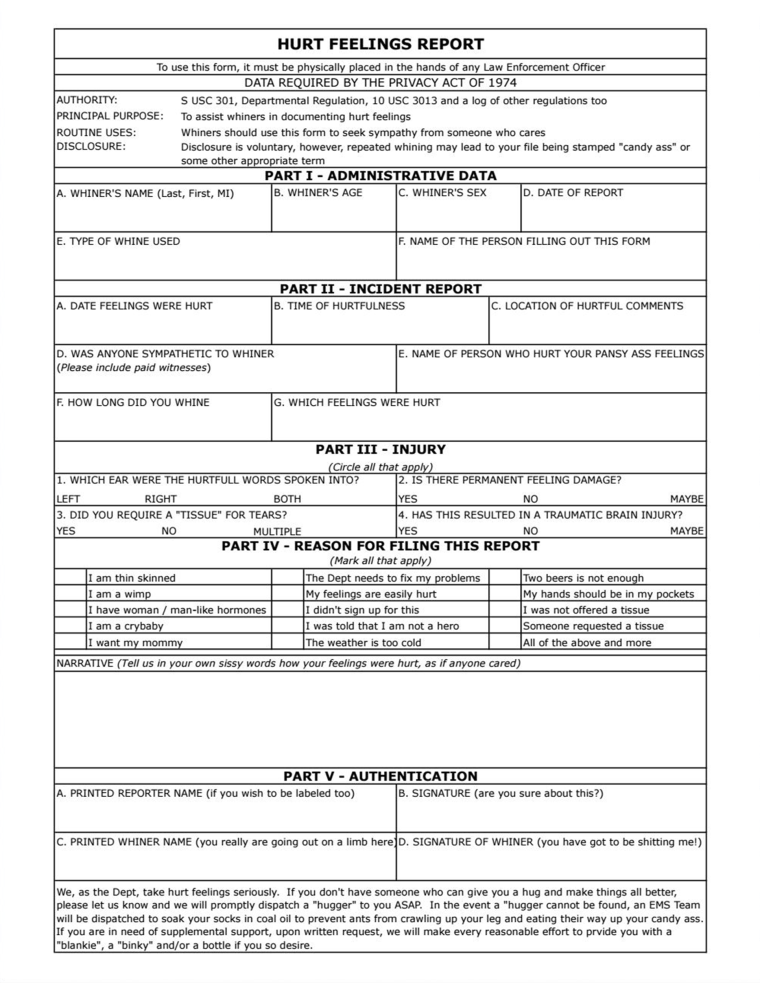 In another section, the document sent on Tuesday asked "did you require a 'tissue' for tears" and said a "hugger" would be dispatched to sooth hurt feelings.
"In the event a "hugger cannot be found, an EMS Team will be dispatched to soak your socks in coal oil to prevent ants from crawling up your leg and eating their way up your candy a---," the form said.
The Brandywine School District said the form was sent in error by an employee and not "related to children in any way."
Someone outside the school had sent the staff member the form as a gag.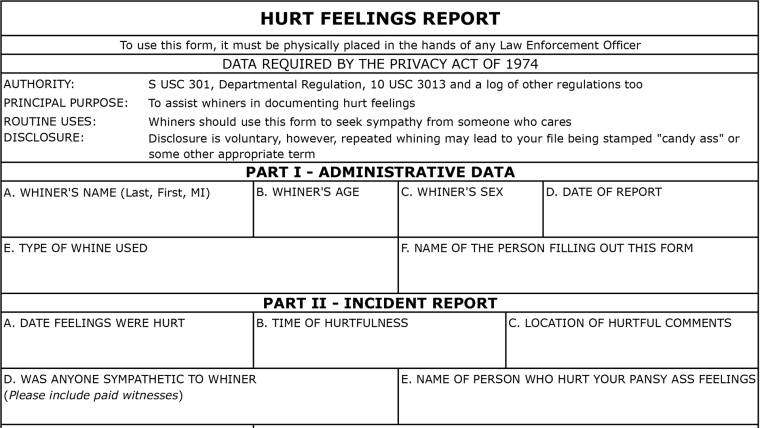 "The attachment was an embarrassing mistake, but it was just that — a mistake," district spokeswoman Alexis Andrianopoulos told TODAY by email on Thursday.
"Since it was sent, the principal has communicated several times with Lombardy families, faculty, and staff about the error. All of our attention is now focused where it needs to be: on educating children in safe and nurturing schools with caring staffs and quality programs."
The email was first reported by Wilmington's The News Journal, which posted it online, after it was forwarded to the newspaper by a parent who found the form "completely offensive and mocks children who are bullied in schools."
Another parent who received the email questioned how the school district handled the mistake after he made a call about it.
"They said it was sent in error and they are looking into it. They didn't even apologize for it being sent out," Douglas Bennett wrote on Facebook in a post that included the form.
"Glad to see my tax dollars are paying for well educated high class employees!"
Andrianopoulos said the Lombardy principal has reached out to parents to apologize via phone calls and email.
She also said "appropriate action" will be taken with the employee who sent out the errant email, but wouldn't offer specifics.
Messages sent to Bennett and another parent who complained about the letter on Facebook weren't returned.
The school's PTA did not respond to an email seeking comment.
Bennett noted on Facebook that "everyone makes mistakes."
But he also pointed out that the school district seems a bit insincere in its actions.
"They are the ones that take bullying 'seriously' when apparently the employees are making jokes about it," he wrote. "That attachment should never even been on that computer."
Follow TODAY.com writer Eun Kyung Kim on Twitter.