/ Source: TODAY Contributor
Lots of parents hate participation trophies, and Pittsburgh Steeler James Harrison is no exception. He recently took to Instagram to air his dislike, arguing that his sons, ages 6 and 8, need to learn that everything in life should be earned and that effort alone is not a cause for recognition.
These shiny bits of plastic have been blamed for creating an entitled generation who learned to expect adulation for the unexceptional on the playing field and later in life. There has been little or no research to prove the benefits or harm of participation trophies in sports. Yet, they have come to symbolize our fear that we are too easy on our kids and are failing to teach them the harsher realities of life.
When my kids were young and received trophies, I was at best ambivalent, and felt sharing an end-of-season pizza with their team was an adequate reward for practicing, playing in games and learning to be a teammate.
But as my sons grew older, the values these trophies might convey to young children became clearer.
As parents we would like to assume that when families and kids sign up for a team they honor that commitment and show up. We hope that we are teaching our youngest kids to love athletic endeavors of any sort, as we know this benefits mind and body. We would like to believe that most coaches and parents value effort and the process of learning a sport, with its rules, skills and protocols, not simply the game's outcome.
And we would be wrong.
Kids join teams but they don't always attend practices or show up for games. Allison Slater Tate, mother of four and editor of Club Mid at Scary Mommy, feels participation trophies teach a worthwhile lesson: "There is something to teaching kids that it is worth keeping a commitment, that we value this. Winning and losing is not a lesson that kids need to search out to find. It's everywhere. But they also need to learn how important it is that everyone shows up."
Participation trophies remind young kids that they are part of something, and may help build enthusiasm to return for another season, says Tom Farrey, executive director of The Sports and Society Program at the Aspen Institute and author of "Game On: The All-American Race to Make Champions of Our Children."
"From ages 0 to 12, the goal is to help kids to fall in love with sports, to want to come back the next year, to want to go into the backyard and improve their technique," Farrey said. He cautions against focusing on winning and losing in the pre-tween years. "There is a time and a place to sort the weak from the strong, but it is not before they grow into their bodies and their minds and their interests."
Another reason to defend trophies for everyone is that, at a time when parents complain of the escalating competition in youth sports, they remind kids that we value their effort, regardless of ability or results. Participation trophies tell them that what matters is showing up for practice, learning the rules and rituals of the game and working hard.
Finally, we offer these rewards to remind our youngest kids that being part of a team, and all that entails, is something we value. Being there for your teammates and those in your life, when it suits you or when Saturday morning cartoons look like a lot more fun, is a lifelong lesson that cannot be taught too young.
"The idea of giving trophies only to the winners doesn't emphasize enough of the other values that are important," says Kenneth Barish, Clinical Associate Professor of Psychology at Weill Medical College, Cornell University and author of "Pride and Joy: A Guide to Understanding Your Child's Emotions and Solving Family Problems." "We want kids to participate in sports, to learn to improve their skills, to help others, to work hard and make a contribution to the team."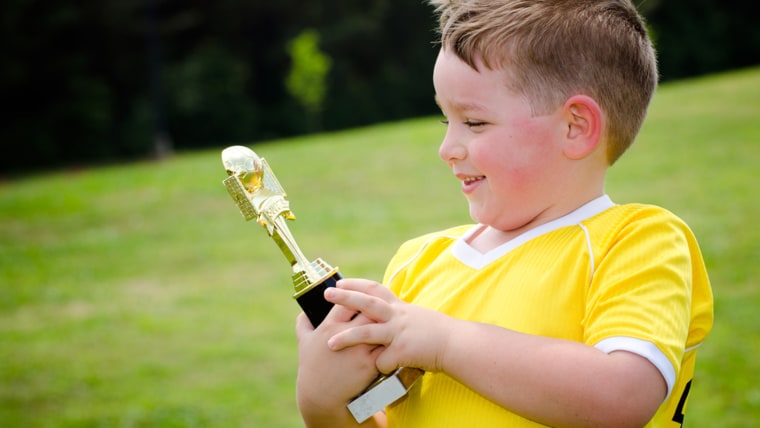 But what about the kid who doesn't work hard? The child who knows he's getting a trophy no matter what, so he does not need to apply effort? "There will always be kids who don't work hard. There will always be kids who did not work hard on any winning team too," Barish explains. "And I rarely encounter a kid who didn't work hard because they think they are getting a trophy anyway. When I do encounter this attitude, it is a symptom of a deeper problem that kid is having with putting forth effort."
When my son was around 8, at the end of one of his final seasons with participation trophies he scoffed at the fact that such an award was still on offer. He told me that everyone got a trophy so it did not matter. I realized that such recognition was probably ending at just the right moment for him. Hilary Levey Friedman, a sociologist and author of "Playing to Win: Raising Children in a Competitive Culture," thinks these trophies hold sway over only the youngest kids: "Think about the ages that kids still believe in Santa Claus or the Tooth Fairy, as a rule of thumb, that is the age when a gold [participation] trophy seems to be quite magical as well."
In her research among kids who were involved in highly competitive activities, Friedman found that "as kids get older [participation trophies] lose their meaning... But that first participation trophy, it does mean something, especially among the younger kids. The children see them more as symbols and remembrances of an experience."
Friedman points out that the context in which participation trophies are given conveys their meaning. Offering a trophy to a young child can be an empty gesture unless coaches and parents tell children why they are being awarded.
I never had to teach my son that he would need to win competitions in order to be rewarded. Life, many athletic defeats, and other setbacks taught him that lesson. Despite the fact that he would play on many teams and win other awards, he never discarded those early participation trophies. He's off to college now but they still sit on his shelf, as a fond memory of a team that showed up, played hard and — if I recall right — lost every game.
Lisa Heffernan is an author, mom of three sons and co-founder of the parenting blog Grown and Flown, where she ponders raising teens and young adults. She can be reached on Facebook and Twitter.