Any kid knows that waiting to find out about a surprise can be torture.
For Lily Bauer, 7, from Toledo, Ohio, it meant taking drastic means.
She decided to impersonate her father in a note to her mom to get to the bottom of a surprise her dad had in store for her.
Lily's plot was hatched on Sunday when Don Bauer, Lily's father, told her that he would have a surprise for her and her younger sister, Sparrow, 6, after lunch.
The only caveat was that the two girls and their younger sister, Scarlet, 2, had to let their mom, Krysta, take a nap because she works nights.
RELATED: Toddler's vomiting session leads to Breathalyzer for sympathetically puking Dad
Waiting until after lunch to find out about the surprise was way too long, so Lily went into action. She wrote a letter saying, "Dear wife: What did you get Lily for a surprise again. I forgot. Please reply here____."
Krysta found the note on the kitchen counter after she woke up and immediately cracked up laughing.
"Krysta called the girls downstairs to give them their surprise and to ask Lily about the letter,'' Don Bauer told TODAY. "Lily's exact response was 'I don't know what you're talking about' and a smirk.
"She did later confess to me that she thought the letter was actually going to fool mom, but she does find the whole thing funny."
RELATED: Little girl lets out laughably loud shriek when playdate goes in for goodbye hug
Don posted the note on his Facebook page. A friend saw it and posted it on Imgur, where it has more than 2 million views.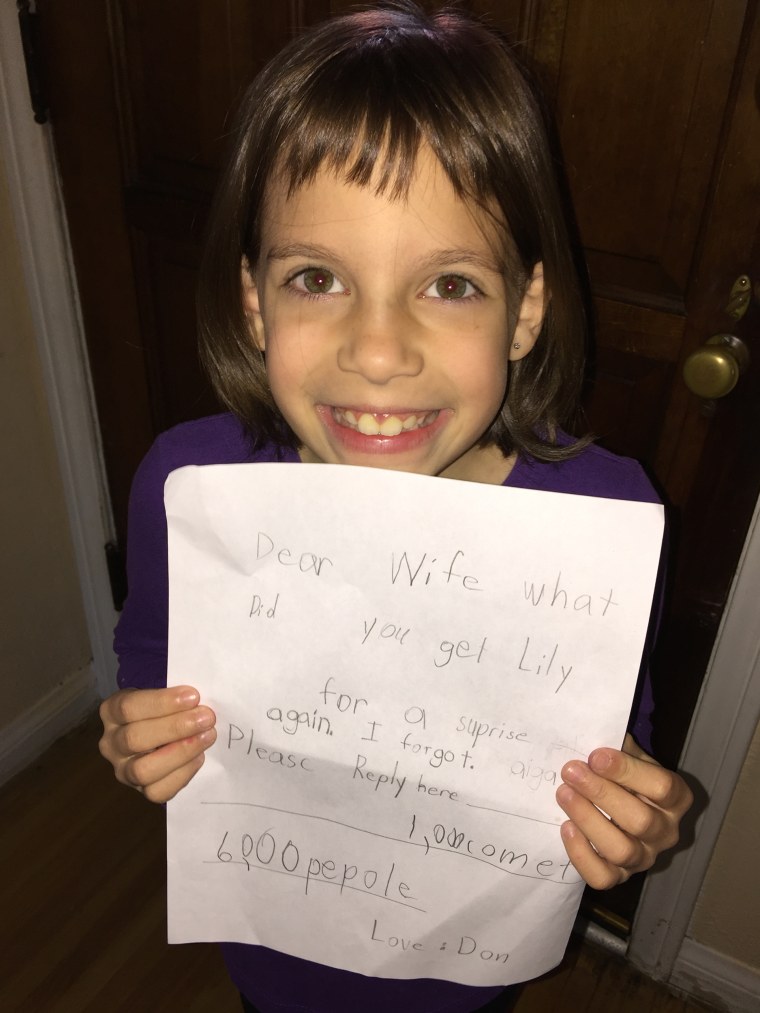 "Lily is a very sweet, very clever girl,'' Bauer said. "She is always doing witty things like this to make us laugh — and to try to pull a fast one on us!"
So what was the surprise after Lily's desperate effort to find out?
"The surprise may disappoint some people, but Lily and Sparrow were very happy with it,'' Bauer said. "A candy bar. Reese's Sticks, to be exact."
Follow TODAY.com writer Scott Stump on Twitter.