Giving birth via C-section isn't exactly fun, but Dax Shepard found a way to recount the ordeal of his wife — fellow actor Kristen Bell — in a way that cracked up Ellen DeGeneres and her studio audience.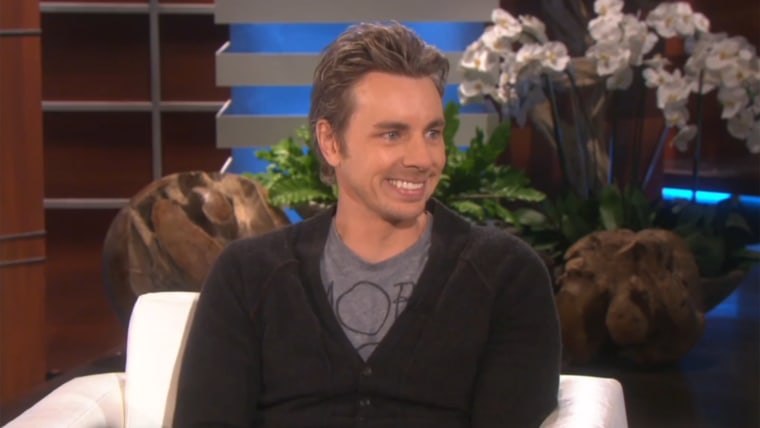 On Thursday's episode of "The Ellen Show," DeGeneres asked the "Parenthood" star about the December birth of the couple's second child, Delta.
"Was it easier the second time around?" she asked.
"It was not, Ellen," Shepard said. "It was more difficult. Kristen, God bless her, was in labor for 33 hours."
Shepard added that Bell — whose credits include "House of Lies," "Frozen" and "Veronica Mars" — received an epidural during her 14th hour of labor, but he wanted some relief of his own.
"I think dads need something [during labor]," he said, earning laughs from the audience. "I deserve something, because I was along for the ride. It's still a car crash, and I'm in the passenger seat. I'm playing Katy Perry, and I'm breathing, and I'm rubbing her back, and I have fatigue, and I think, 'I need something for this. Help me.'"
When it was decided Bell needed to deliver their second baby via cesarean, Shepard wasn't prepared for what he would see.
"There's a sheet, and then [doctors] go, 'The baby's here,' and then you peek around the sheet, and they're lifting out the baby — but then you notice your wife is completely disassembled," he said. "I can see inside of her. I was like, 'It's a girl! Your liver's out, I think! And those are definitely intestines. And she has your eyes. Oh, my God, put her back together correctly!' After seeing this autopsy, I would rather see a school bus drive out of her vagina."
Thankfully, Bell healed quickly, he said.
"She's like Wolverine: If you cut her, as the knife's going through, [the skin is] sealing," Shepard added. "If those kids came out of me, I don't know what they would like. I'd still be in the hospital, probably."
Added DeGeneres, "Well, it's a good thing they didn't, because it'd be weird."
Now 3 weeks old, Delta got her name, Shepard said, after a friend made a joke about the couple's first daughter, Lincoln.
"Our first daughter's name is Lincoln, which is very masculine," he recalled. "So, a friend of mine teasingly texted me, 'Oh, great, what's this [next name] going to be? Navy SEAL? Delta Force? Green Beret?' And I was reading this text out loud to Kristen. I'm like, 'This is so funny. Steve said, 'What if we named her Delta Force?' And [Bell] was like, 'Delta! Delta Bell Shepard! That's it!' And that's it."

Follow TODAY.com writer Chris Serico on Twitter.