David Beckham knows how to make us laugh, but when it comes to raising his kids, he's quite serious about keeping them on the straight and narrow. For example, as he revealed on "The Late Late Show," he insists that his 16-year-old son, Brooklyn, work in a café to earn pocket money.
Then there's how he handled Brooklyn's first date.
"He's going to hate me for this," chuckled Beckham, gesturing to his son in the audience while he told the tale to host James Corden earlier this week.
"I spoke to Victoria [Brooklyn's mom and David's wife] and she was like, 'Really? ... Make sure you take him and then make sure you sit in the restaurant.' So it's like, 'Really, you're going to make me do that?' and she said, 'Yeah, that's the only way I'm going to let him go.'"
And so it transpired: Brooklyn took his date to a sushi restaurant and while they sat at the sushi bar, David Beckham "sat like five tables back."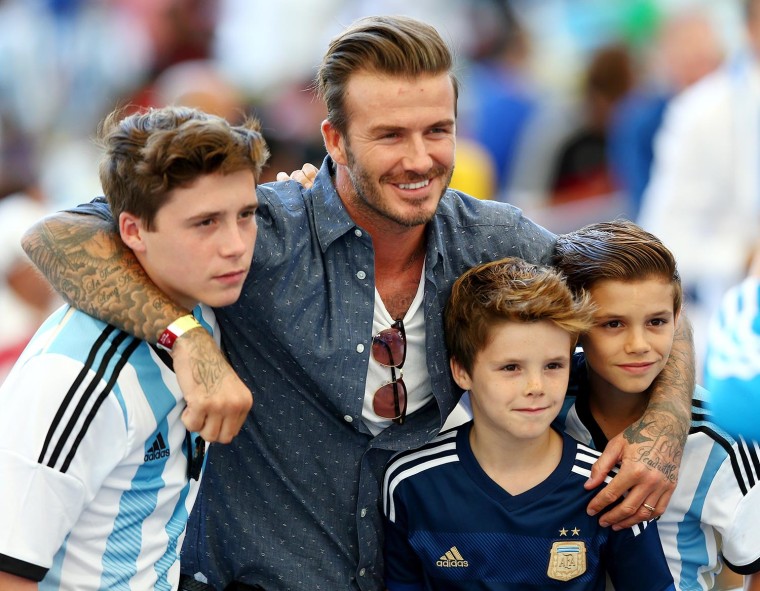 But this is not over yet. Brooklyn may now be able to take dates out unchaperoned (we assume), but David's got two other, younger sons plus daughter Harper (who is 4).
"When she gets to that age, I will be [sitting] closer than that!" said Beckham.