David Beckham's two tattoos honoring his daughter Harper prove that the model and former soccer star is a very proud dad. But after a photo of 4-year-old Harper using a pacifier was released on Friday, experts are questioning Beckham's judgment as a parent.
A former midwife quoted in The Daily Mail suggested the Beckhams are "putting Harper's wellbeing at risk" by allowing her to rely on a pacifier at such a late age.
"It really can damage her teeth, and it is very likely to hinder speech development," said Clare Byam-Cook, author of Top Tips for Breastfeeding.
Another parenting coach, Sue Atkins, said calming a child with a pacifier was like "giving them an iPad" and that overuse "delays their vocabulary."
However, it's not the first time the Beckhams have been panned for Harper's pacifier habit. In October 2014, the Daily Mail ran a nearly identical story, citing Byam-Cook's claim that binkies are "for very small babies only."
Nor are the Beckhams the only celebrities to have been shamed for their child's pacifier. In 2011, Tom Cruise and Katie Holmes were accused of "lazy parenting" after then-five year-old Suri Cruise was photographed with one.
Yet both sets of high-profile parents have had their defenders. After Suri Cruise's 'Binkygate,' Stir blogger Julie Ryan Evans wrote, "Step down pacifier police, they're our kids and our dental bills to pay. If you don't like it, don't look." And in 2014, Express columnist Vanessa Feltz admitted that she, too, had struggled to wean her child off a pacifier and wasn't "eager to pour scorn on Posh's parenting skills."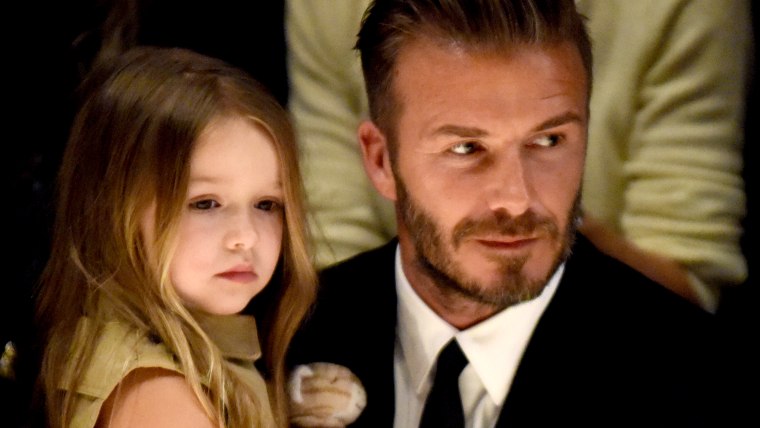 More recently, David Beckham himself took to Instagram to refute the allegations, and singled out the Daily Mail for its headline.
"Why do people feel they have the right to criticize a parent about their own children without having any facts ?? Everybody who has children knows that when they aren't feeling well or have a fever you do what comforts them best and most of the time it's a pacifier," wrote the disgruntled dad. "So those who criticize think twice about what you say about other people's children because actually you have no right to criticize me as a parent."
So is four too old for a pacifier? Or should critics, well, go "suck it"?