Taliya Thomas was only 8 months old when her father, a deputy sheriff, died, but the young girl recently celebrated his memory with a touching photo shoot for her third birthday.
In the photos, Taliya wears her dad Cruz Thomas' uniform and clutches his badge. In one particularly poignant image, she's kneeling on the ground, her hands clasped in prayer.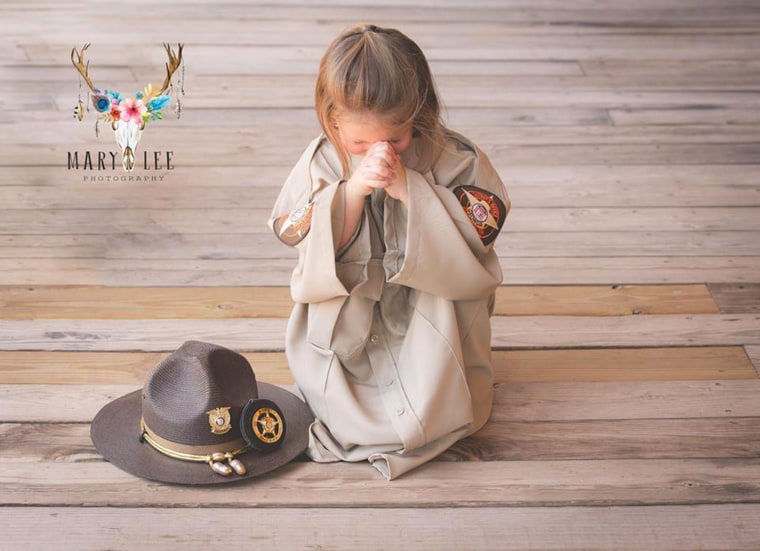 Photographer Mary Lee of Watkinsville, Georgia, told TODAY it was a candid moment, taken during a break in the photo shoot, which happened to take place Sept. 11.
RELATED: Photographer brings woman's late husband back in family portrait: 'It looks so real'
"Her grandmother said let's pray today for the victims of 9/11, for the police officers, for your daddy," Lee said. "Of course I always have my camera in hand so when she squatted down to pray, I took the picture. She was in real prayer at the time."
In other photos, Taliya, who turned 3 on Tuesday, wears her own mini sheriff's uniform, complete with a hat and walkie-talkie.
Cruz Thomas, who worked for both the Jackson County Sheriff's Office and the Franklin County Sheriff's Office in northeast Georgia, died while on duty in a car crash in May 2014. He was 26 years old. His father, Stevie Thomas, is the sheriff of Franklin County.
"(Taliya) is a very smart girl," said Lee, who's been the family's photographer for years. "She knows her daddy is in heaven."
The photos went viral after Lee posted them on her Facebook page.
RELATED: Mom's heartbreaking wedding photo honors late son who lost his life to leukemia
Taliya's grandparents, who share custody of the child with her mother, often try to incorporate something about their son in the photo shoots.
"We'll bring certain pieces (of his)," Tina Thomas, Taliya's grandmother, told TODAY.
Taliya also posed in front of her grandfather's police car, holding one of the last photos she'd taken with her dad.
Thomas added that her granddaughter still loves and misses her father.
"She talks to him," she said. "She says, 'I'm talking to daddy.' We just tell her that's good. 'Tell him hi.'"