/ Source: TODAY Contributor
When it came time to do research for her master's thesis in visual communication, Skye Gould turned to a personal trove of information: more than 100 hand-written notes that were packed in her school lunch over the course of her sixth grade school year a decade ago.
The notes, written by Gould's mom Stephanie Skylar, are filled with encouragement and advice on surviving middle school angst, from friend drama to self confidence. As part of her thesis project, Gould created the website Advice from my Mom, which showcases the notes and also asks readers to share advice they've received from their moms.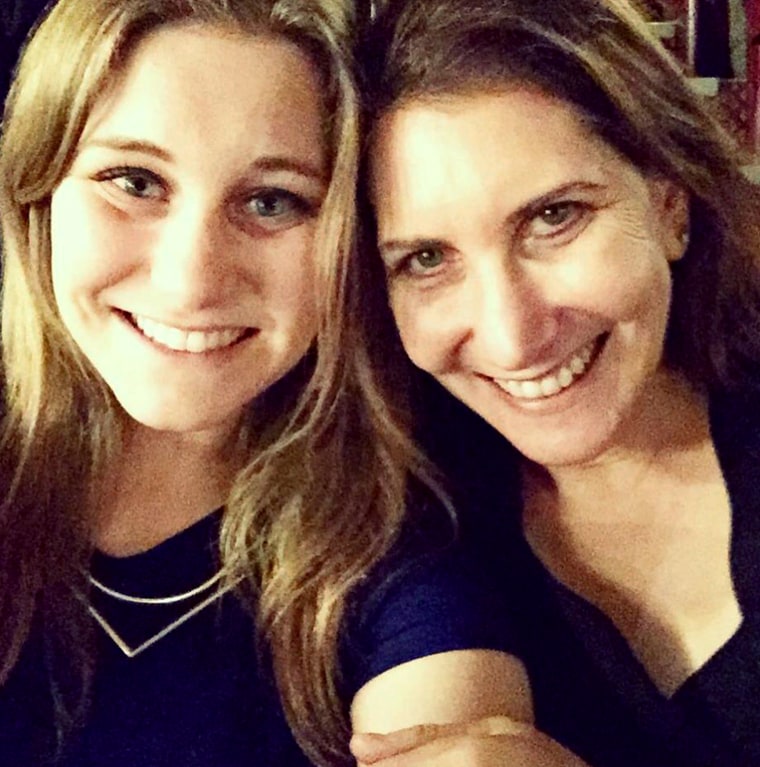 "My actual thesis question was, 'Can my story inspire others to share their own.' I've gotten a lot of amazing feedback since I posted…I've gotten so many emails from mothers telling me that they either do this for their child, or they are going to start doing it," said Gould, who lives in Brooklyn, New York.
Gould said her mom started the lunchbox notes as a way to connect with her when they lived in Lima, Ohio, and Skylar was working full-time.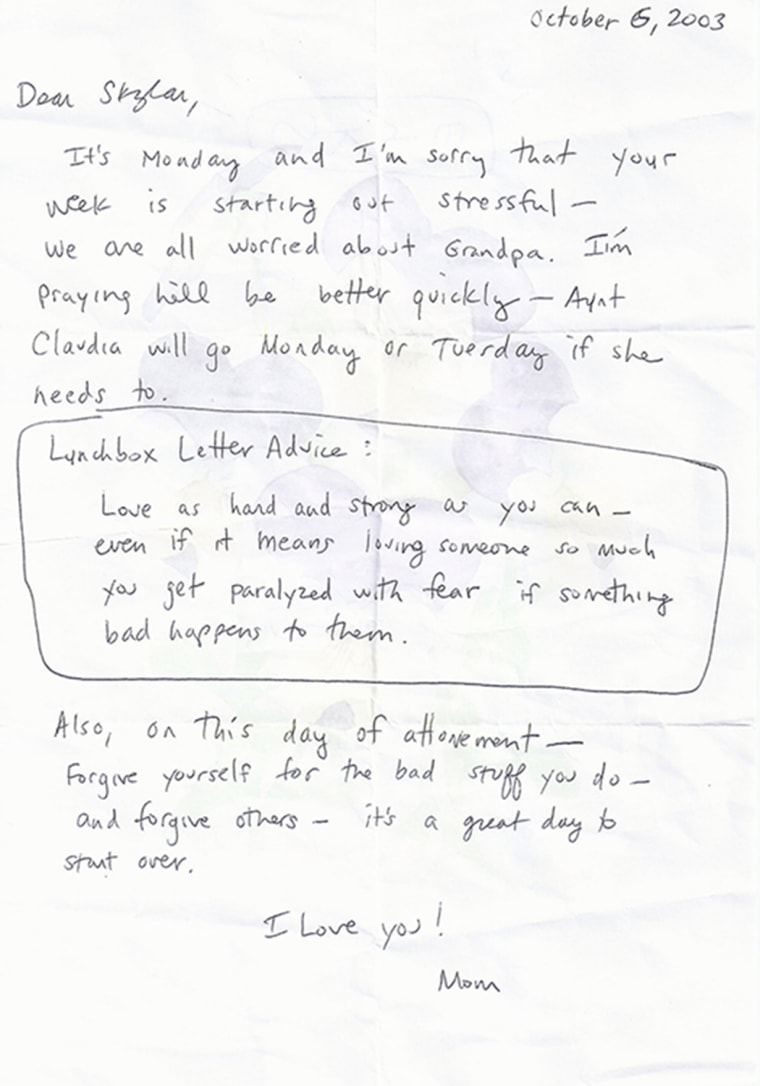 "Don't be quick to judge the girls at school – it's up to you to look for the good in each one," reads one note.
"Love as hard and strong as you can – even if it means loving someone so much you get paralyzed with fear if something bad happens to them," reads another.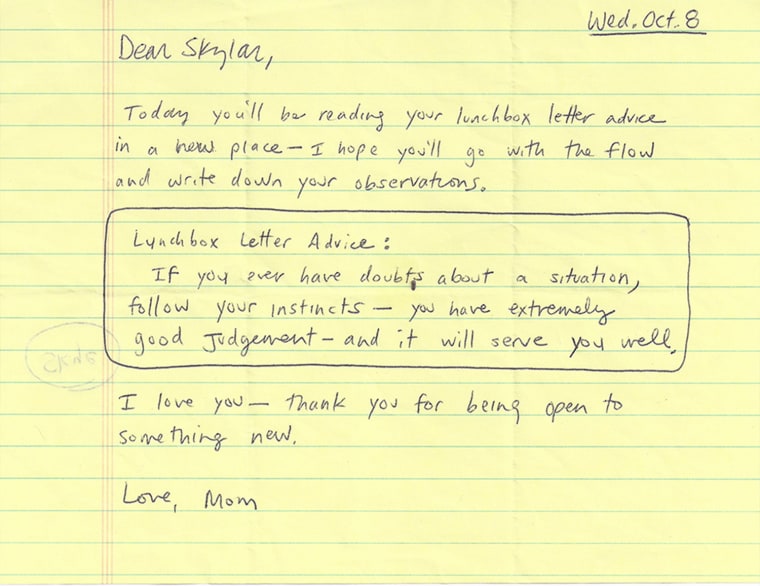 "It was an easy way to interject her voice into my every day life without being overbearing. I'm sure they helped me through those moments of self-doubt or bullying that every kid goes through. They were little reminders that what I was feeling was normal, but also that I would get through it," Gould told TODAY Parents.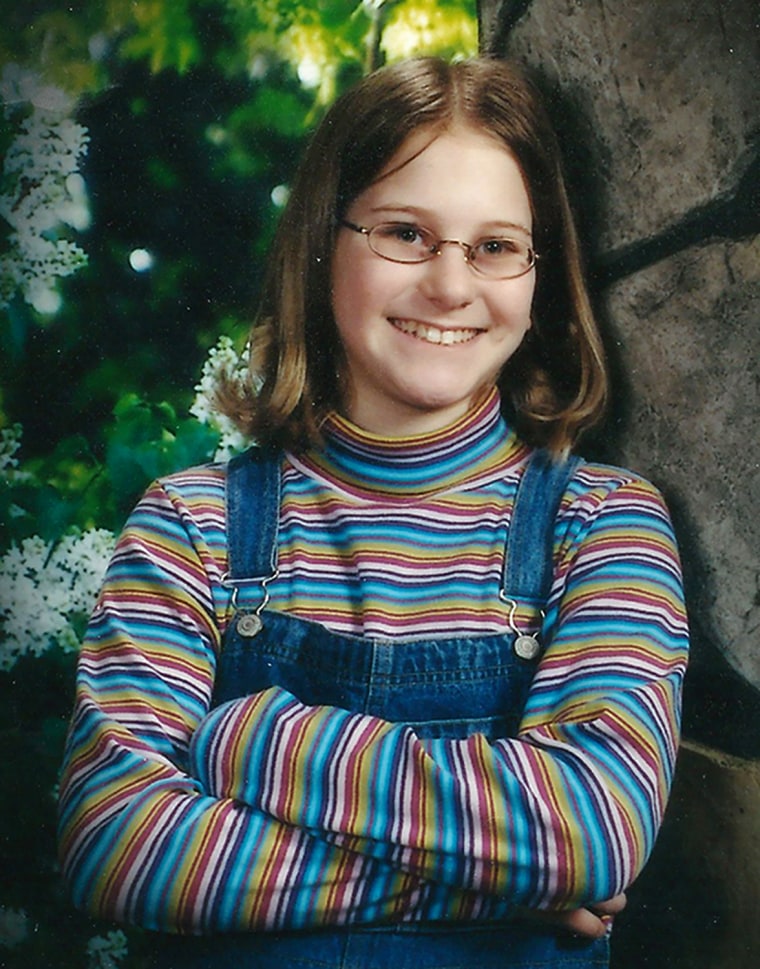 Skylar says that working full-time and wanting to be a proper influence on Skye took a lot of her energy in those years. And, bonding with the lunchbox letters helped her remember that she was with her daughter, even when she wasn't physically present.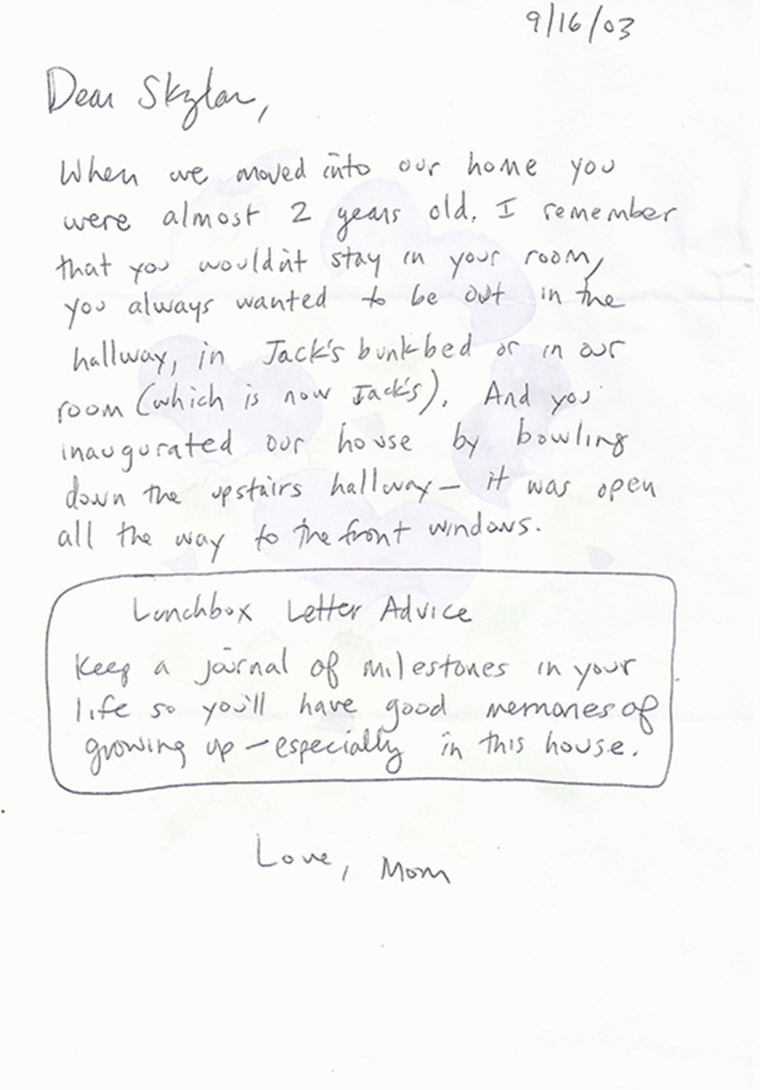 "When I wrote the lunchbox letters for Skye, she was at a transitional age from pre-teen to teenager. It's a vulnerable time in any girl's life. I wanted to implant positive messages in Skye's head without sounding like a nagging mom," said Skylar. "I didn't want her to fall into the pack with the others. I wanted her to be independent, strong and happy."
The duo made a pact when the note-writing project began to store the letters in a shoebox they decorated together. The box, adorned with photos and signatures and sealed with wax, remained tucked away in Skylar's basement until Gould got the idea to use them for her project.
Gould, who earned her masters degree earlier this month from Ohio University, says she hopes her project will encourage other parents to start their own lunchbox note traditions.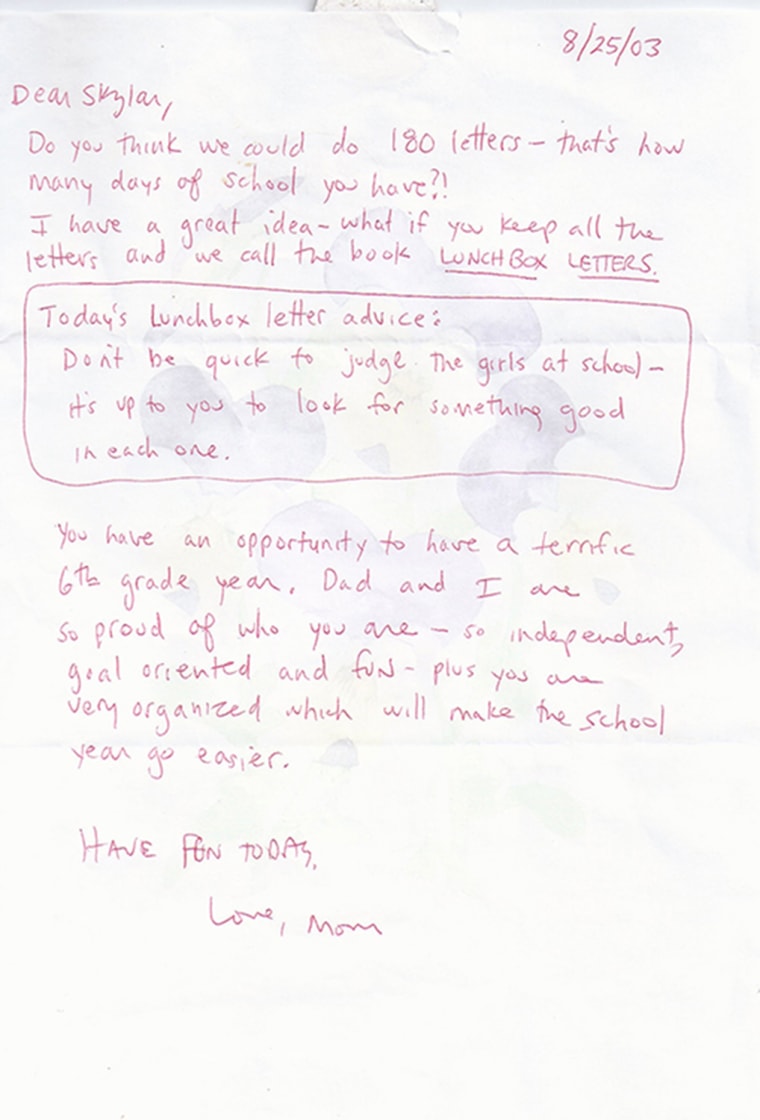 "At the time my mom wrote these, she didn't think she was doing anything heroic or life-changing for me – she was just trying to make some sort of small impact on my daily life," says Gould. "I believe in the power of the hand-written note no matter how old you are. We're so glued to screens all day that when someone takes the time to write you, it really means something and I think it sticks in our brains, whether we realize it or not."