/ Source: TODAY Contributor
When Daphne Oz was a first-time mom to Philomena, now 3, she wasn't sure when she should turn her car seat around. The talk show co-host and New York Times-bestselling author, 31, told TODAY Parents that although she finds a lot of parenting "instinctual," she also found herself "doing a lot of guesswork" that first time around.
"Philomena was really tall, and she was sort of bunching her feet up in the seat, so I just guessed," said Oz. "She was off the charts in terms of size, and if I went by the height requirement alone, she met it. I turned her around just because she looked uncomfortable. I didn't know how keeping her rear-facing would have helped keep her head and neck and brain safe."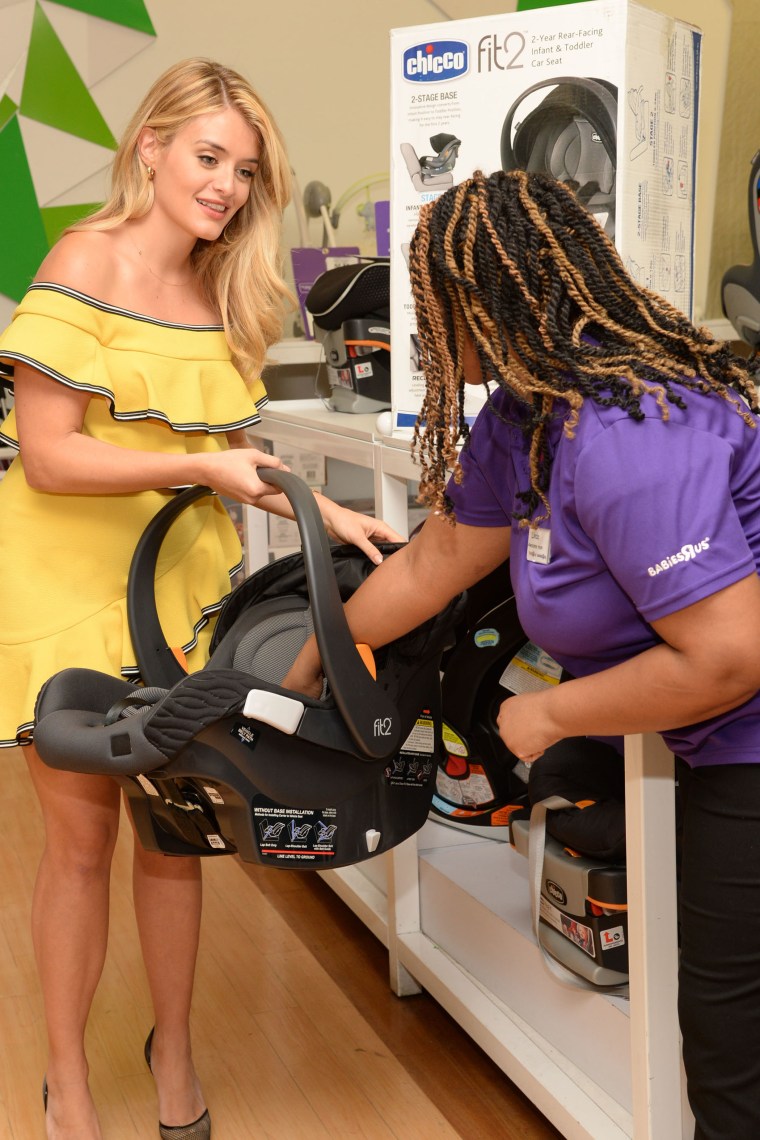 But now that Oz is a mother for the second time — to John Jr., 18 months — she knows better. She recently became an ambassador for car seat manufacturer Chicco's TurnAfter2 campaign, designed to encourage parents to follow the American Academy of Pediatrics' guideline to wait to turn children's car seats from rear-facing to forward facing until after they turn at least two years old.
Never miss a parenting story from TODAY.com! Sign up for our newsletter here.
"While rear-facing is always the safest option, it is especially important before age 2, as that is when a child's muscular and skeletal structure is still developing. When rear-facing, a child's back, neck and head are all supported by the car seat during an accident," Chicco explains on its website.
Dr. Benjamin Hoffman, a pediatrician and nationally recognized expert in child passenger safety, is quoted by the Chicco campaign saying, "The rule of thumb is simple — turn children forward-facing after they turn two-years old. The longer they can stay rear-facing, the safer they'll be."
Now, Oz is trying to spread the word about this aspect of car seat safety — but she recognizes that it's important for moms to be able to share information without shaming or criticizing other parents.
Oz said that with so much information thrown at parents on a daily basis, she knows that even questions like turning car seats around can get overwhelming and exhausting, but still, "We are each other's best resources," she said. "Everything I have bought for my own kids I have bought based upon word-of-mouth, the products my friends swear by."
So both Chicco and Oz are hoping moms will speak up and help each other without being aggressive or critical about it. "We've all been on the receiving end of unsolicited parenting advice, and I know how awkward and uncomfortable it can be, but it has also at times taught us something we didn't know," she said. "It really matters who the advice comes from and how the advice is delivered."
Oz pointed out that she once learned a huge safety lesson after posting a picture of her daughter wearing a jacket while strapped into her car seat on social media. "It was freezing cold out, and we weren't going very far," she said. The picture received hundreds of comments, some more gracious than others, from concerned fans who pointed out that wearing the jacket would keep the car seat from being able to protect Philomena in the case of a crash.
"I will never do that again," said Oz. She is grateful for the concern and for the education, but she also noted that she received the information better from those who were "generous rather than scolding" and presumed she only wanted to keep her child safe.
The TurnAfter2 campaign is encouraging parents to post pictures of their kids in their car seats rear-facing on social media with the #TurnAfter2 hashtag to start conversations and model car seat safety without telling other parents they're doing it wrong. "You can showcase the right choice and make an example of yourself," said Oz, "and share the knowledge in a non-aggressive way."
The bottom line is that we all want what is best for our kids, said Oz. "First-time parents are really nervous. Your child is the thing you care most about, but as my mother-in-law always says, babies don't come with user manuals."