Never heard of DanTDM? Your kids probably have.
The 25-year-old boasts a sold-out global tour, an original series, a bestselling graphic novel and merchandise so popular it's hard to keep in stock. He's a self-made millionaire with more subscribers on YouTube than Adele and more video views on YouTube than Beyoncé.
But unlike Adele or Beyoncé, this superstar can walk down the street and eat out at a restaurant like a normal person. For one thing, most of his fans are kids between the ages of 5 and 12. And even though the parents of those kids also adore him, they're fully capable of strolling right past him — unless, perhaps, they hear him speak.
Daniel Middleton — popularly known as DanTDM to his millions of online fans — is an ebullient video gamer with mad Minecraft skills, an infectious laugh and an unmistakable British accent. In a little more than five years, he has grown from a shy, low-profile YouTuber to the master of a creative empire. Between his two YouTube channels, DanTDM and MoreTDM, he has more than 19 million subscribers and 11 billion video views — numbers exceeding that of major entertainment and news outlets such as "The Tonight Show Starring Jimmy Fallon" and CNN.
To provide a bit more context: In recent years DanTDM's daily video views have rivaled or surpassed the number of viewers who tuned in for the season seven premiere of "Game of Thrones."
"I never imagined it would grow to this," Middleton told TODAY in an interview at one of his sold-out shows. "This is insane. It's crazy. Every day I pinch myself to see if it's real."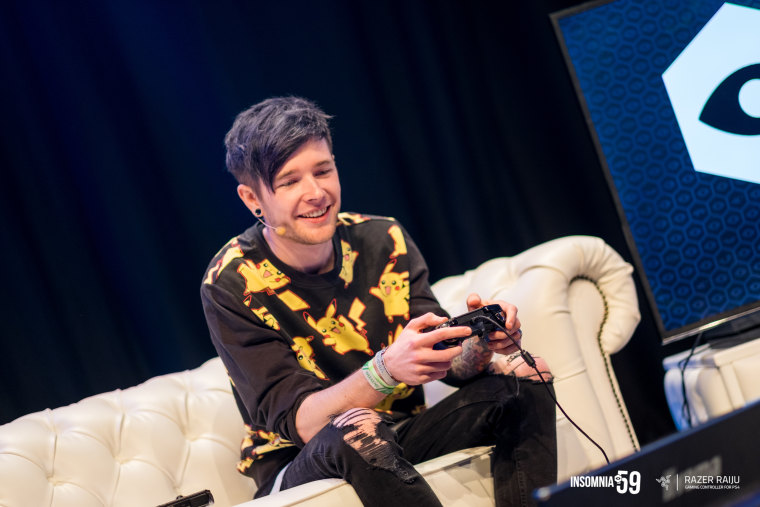 Kids love DanTDM because he's hilarious and he inspires them to unlock their creative and coding prowess through their favorite games. Parents love him because, unlike other online gamers, DanTDM makes sure his videos are refreshingly free of f-bombs and other unseemly language.
"Keeping it clean is important to me because I'm just aware of my audience," Middleton said. "My audience is a younger generation and, just in general, I wouldn't want to show my mom a video of me swearing like crazy. It's good clean fun."
Middleton's rise has coincided almost exactly with the explosive growth of the video game Minecraft. (The "TDM" in DanTDM stands for "The Diamond Minecart," a Minecraft reference.) He also caught the YouTube wave fueled by "Generation Z," kids and teens born roughly between 1996 and 2010. According to one recent survey, almost everyone in this age range said they use YouTube, and half said they couldn't live without it.
"Minecraft came along, and it's a perfect way to tell stories through video, and then YouTube came along too... and it just went crazy," Middleton said. "People just loved my videos, my characters.
"The best thing about YouTube is that anyone can do it, and that's exactly what I did."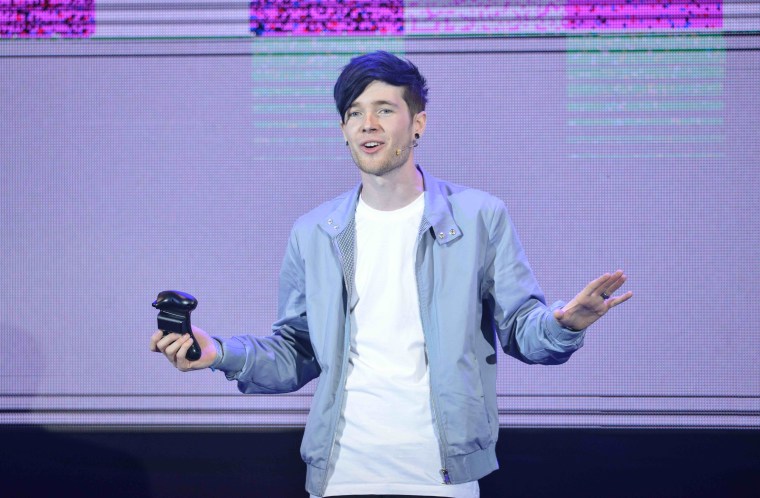 Middleton achieved his success because of his genuine connection with his viewers, his love of storytelling and his almost manic work ethic. Over about 1,800 days, he's uploaded nearly 2,800 videos from his home studio in Northamptonshire, England. Many of his videos show him playing Minecraft and other games while providing his signature high-energy running commentary, but others are elaborate mini films involving original characters he created, such Dr. Trayaurus, Grim the dog, Terrance the pig, Craig the mailman and Denton the bad guy. Middleton said he does all of his own recording and editing himself.
"Everything you see on my channel was made by me — no one else was involved," he told TODAY. "I just think it's so important to have fun because if you're having fun, then your viewers will have fun too. I think I really have, hopefully, this good energy where it's like hanging out with your best friend every day."
For millions of kids, that's exactly what it's like. They have such affection for him, in fact, that fans from all over the world recently joined forces to create a special thank-you video congratulating Middleton when his DanTDM YouTube channel reached the 15 million subscriber mark. (That channel has since surged past 16 million subscribers.)
The outpouring of gratitude from kids in the video was so heartfelt that it made Middleton cry when he watched it.
"Hi Dan. After a long day of school, I come home and I watch you," one boy said in the video. "No matter what has happened during that day, you always make me smile and I can't thank you enough for that. You mean the world to me."
Shortly after completing a book tour for his graphic novel, the number one New York Times bestseller "DanTDM: Trayaurus and the Enchanted Crystal," Middleton embarked on an ambitious global tour of live DanTDM shows. He recently completed 97 stops across the United States, Great Britain and Australia.
His live show celebrated of video games, social media, pets (Middleton loves pugs) and friendship. The ear-splitting screams of young fans were reminiscent of what might have been heard at a Beatles concert back in the day. The shows also offered special meet-and-greet opportunities that sold out quickly.
"When we do the meet-and-greets, there's a lot of parents who get their pictures with me too," Middleton said. "They say they appreciate that I keep it clean... and that they know their children are safe online when it can be very easy not to be."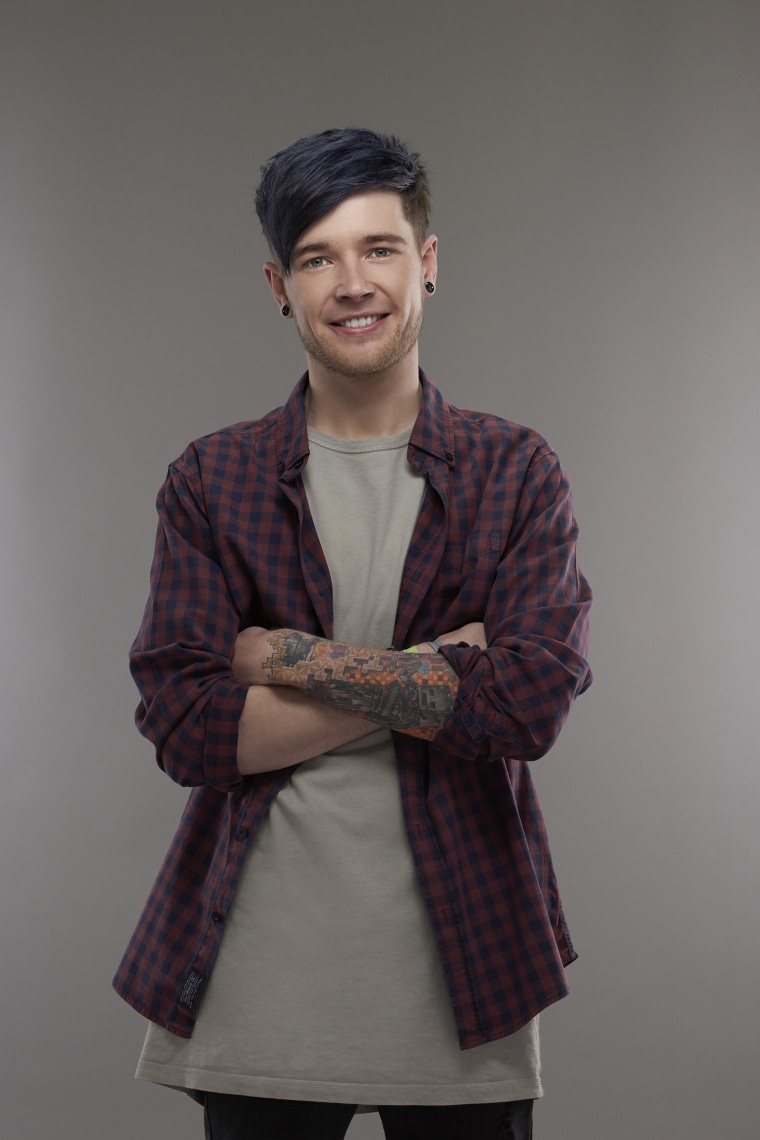 To clarify: It's not that DanTDM is squeaky clean in the manner of, say, Nina on Sprout. He has sleeve tattoos and large ear piercings and ever-changing hair color. His love for his wife — fellow gamer Jemma Middleton, who makes occasional appearances in his videos — is adorable. His love for his pugs, Ellie and Darcie, and his heartbreak over the recent death of his rescued pug, Peggy, are endearing. And even though his fans are young, Middleton never talks down to them.
"I've seen people who are 10, 11, 12 years old that code complete maps... in Minecraft," he said. "The creativity aspect, especially with Minecraft, is amazing.... There's creative mode, which is basically an unlimited box of Lego — which you can then explode afterwards!"
Danny Fratella, operations manager for the social media statistics website Social Blade, said it makes good business sense for YouTubers to show respect for their young viewers.
"Kids spend a ton of time watching videos on YouTube, but there aren't enough creators producing content specifically for them," Fratella told TODAY. "By maintaining a consistently kid-friendly brand, DanTDM is able to reach an audience of underserved viewers."
Connecting with that audience can be lucrative: At various points this year, Social Blade estimated that the DanTDM YouTube channel was earning as much as $1 million a month. Fratella noted that DanTDM is part of the Google Preferred program, a collection of YouTube channels that consistently produce high-quality, brand-safe content.
"Google allows advertisers to pay a premium for guaranteed placements on these 'preferred' channels, thus resulting in even higher earnings for the participating creators," Fratella said.
Dawn Browne, 47, a mom who recently took her 8- and 9-year-old kids to see DanTDM's live show in Seattle, said she's grateful for DanTDM's existence.
"YouTube is how my kids take in digital shows now and DanTDM has them thoroughly entertained," Browne said. "I watch with them and feel like I can trust his content. He's also taught me the language of Minecraft and other games — now I can understand what my kids are talking about!"
Follow TODAY writer Laura T. Coffey on Facebook, Twitter @ltcoff and Google+, and learn about her bestselling book "My Old Dog: Rescued Pets with Remarkable Second Acts" at MyOldDogBook.com.