/ Source: TODAY Contributor
What do you do about a school event for dads if you don't have a dad?
Every year, the Dr. Billy Earl Dade Middle School in Dallas, Texas, hosts a "Breakfast with Dads" event to encourage fathers and father figures to engage with their students, over 77 percent of whom have been identified as "at risk," according to the school profile.
Parent engagement is a key focus of the school, community member Kristina Dove, who helped coordinate the event, told TODAY Parents.
But this year, some kids weren't signing up for the breakfast.
School principal Tracie Washington was concerned that students were opting out because they didn't have a father or father figure of their own to invite.
For more great stories to make you smile, be sure to like The Upside on Facebook.
Dove, who works at education non-profit Big Thought, suggested putting a call out on Facebook to see if she could get 50 male friends to volunteer as "dads" for the day. They would fill the gap that would prevent students from participating in the breakfast. At first, Dove posted on her personal page, but after a friend suggested she make it public, the post was shared over 120 times in the two weeks leading up to the December 14 event.
"Our initial goal was to find 50 volunteers," said Dove. "We ended up with 600."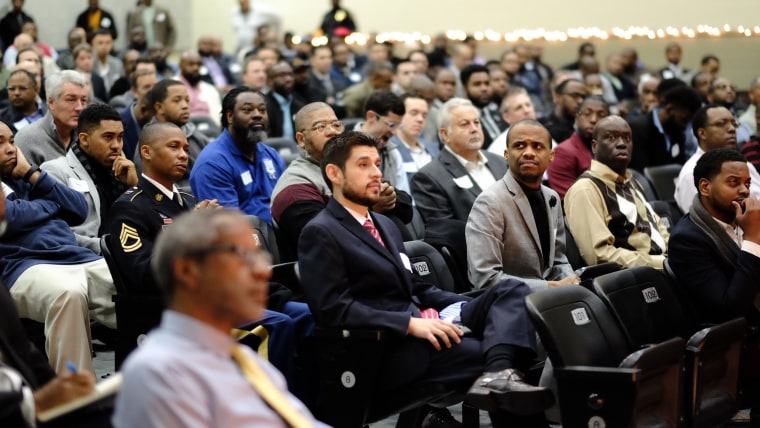 Motivational speaker and active Dallas community member Archie Nettles was one of the men who answered Dove's Facebook post. Though the he has no children of his own, the Army veteran and entrepreneur told TODAY Parents he "felt compelled to sign up and show up and support the young men who may not have a dad or mentor in their lives."
Never miss a parenting story with the TODAY Parents newsletter! Sign up here.
"The students were in complete shock when they entered into the auditorium and saw the 600 men there all waiting for them," said Dove. "They were excited to talk to the men and ask them questions."
After opening remarks from the principal and other event organizers, the breakfast included an icebreaker activity led by Jamil "Tie Man" Tucker in which the men taught the approximately 150 boys in attendance, ages 11-13, how to tie a necktie in a half Windsor knot. "This activity set the emotional tone for the entire event," said Dove.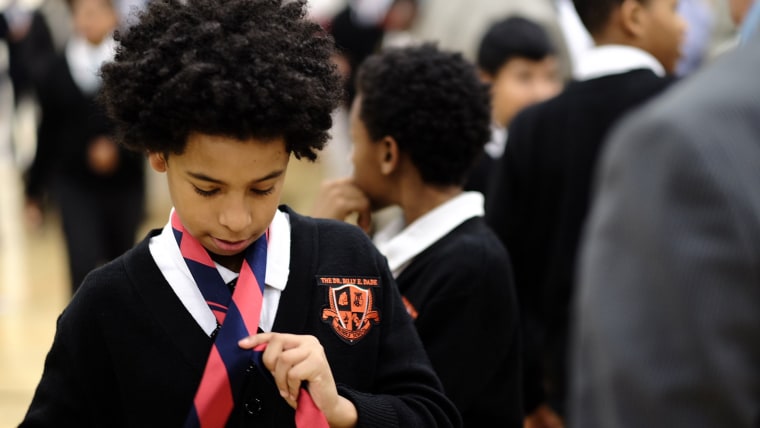 Dove said that after the breakfast one student told her, "I didn't even know that I was going to be able to do the breakfast, and I am leaving with a mentor!"
"He was excited to say he now had a caring adult on his team — someone who had a genuine interest in him and, most importantly, was also willing to make the investment," said Dove.
Now Dove and her co-worker, Stephanie Drenka, have set up a Facebook page to try to keep men in the Dallas community engaged on a more consistent basis through city-wide youth initiatives. "On a larger scale, we hope to help cities across the nation replicate these community engagement strategies and impact the lives of more children," said Dove.
"The students in South Dallas know that people care," she said. "They now understand that their zip code is not a limitation, because these 600 men who came and gave of themselves on December 14 showed them what is possible.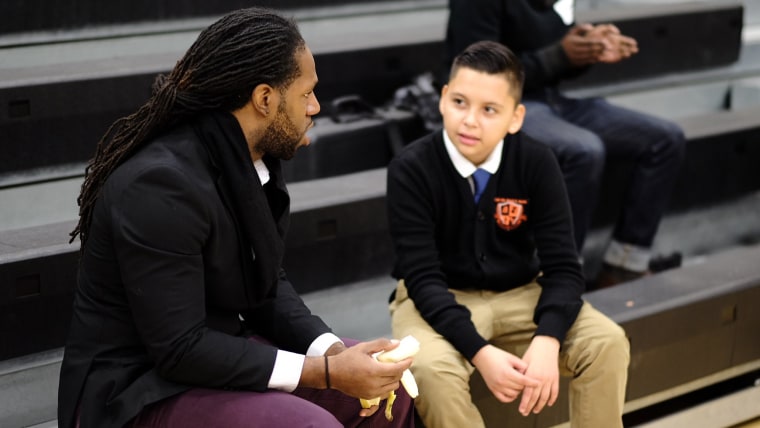 "Knowing someone cares can change a student's life. As adults, we are placed here to be change agents for kids. We now know we have at least 600 of those adults willing to answer the call, and the widespread attention of the story confirms there are thousands more waiting for the right opportunity," said Dove. "If we can provide opportunities for them with a clear call to action, it is my belief we will see many more stories like this one."
After his experience volunteering for the breakfast, Nettles agreed. "I pray that what happened at Dade Middle School is not just a moment, but a movement to inspire other men and woman to get involved in the lives of our youth," he said. "We are truly the change we seek."