As NASCAR legend Dale Earnhardt Jr. nears his final lap before retirement, he's looking ahead to the future, which means fatherhood.
He and wife Amy are expecting their first child in the spring, and during a Thursday night pit stop on "Jimmy Kimmel Live," the racer shared how he first got that happy news.
Earnhardt had just returned home from a Q&A with his favorite football team, the Washington Redskins, and he was already on top of the world.
"I come home and I'm telling Amy about it, I said 'Amy, this is the greatest day!'" he recalled.
Of course, he had no idea how much greater it was about to get, but he was encouraged when he found out there was a package waiting for him.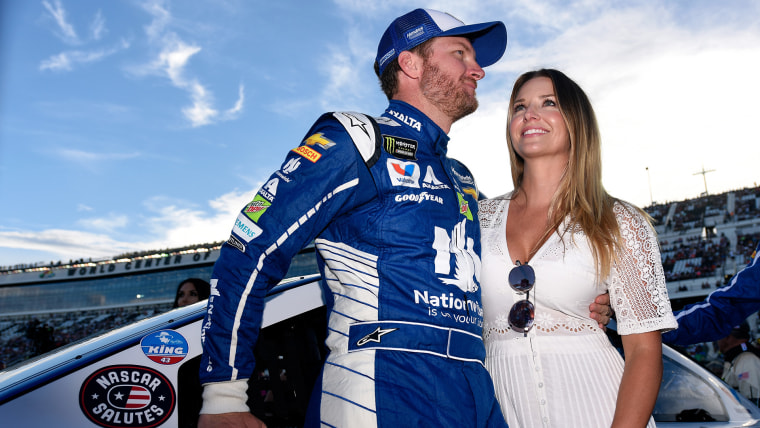 "Me and her, we're sort of addicted to Amazon," he explained. "There's a bit of competition when there's a box on the table at the house. We're flipping it over to see whose name is on it. There's one person who's usually disappointed and one very happy."
This one had his name on it, but something was amiss.
"I see this little package and it's open, and I'm like, 'You opened my package?!'" he said with mock rage. "That's kind of an unwritten rule. You get to open your own surprise."
And that's just what he told her as she started filming him.
"I reach into this little pouch and I pull out a onesie, and I know right away what that means," he recalled. "I'm like, you know, weird words are coming out of my mouth. I don't' even know what I said. I made zero sense."
There was also a pregnancy test in the bag, confirming what he already knew.
"She's crying; I'm crying; we're crying," he said.
That emotional reveal elevated his "best day ever" and prompted him to take swift — and surprising — action.
He grabbed the onesie and the test stick and locked them away in a safe. Sure, they didn't really have any monetary value, but the soon-to-be dad felt the "first tangible thing" for their child was priceless.