Tom Brady's kids showed their support for their dad when they attended a special ceremony announcing the former NFL star's induction into the New England Patriots' Hall of Fame next year.
The former Patriots and Tampa Bay Buccaneers quarterback, 46, wore his old Patriots jersey with the No. 12 on it when he was feted during halftime of the team's game against the Philadelphia Eagles at Gillette Stadium in Foxborough, Massachusetts, on Sept. 10.
Brady's kids — sons Jack, 16, and Benjamin, 13, and daughter Vivian, 10 — honored their dad by wearing matching Patriots jerseys with his old number.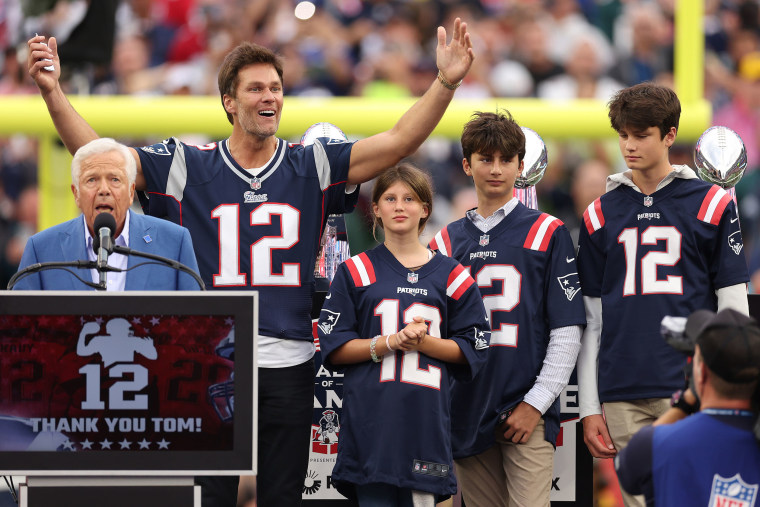 At the ceremony, Patriots Chairman and CEO Robert Kraft announced that he was waiving the usual four-year wait period to induct Brady into the Patriots Hall of Fame next spring, according to the Patriots' official website.
Kraft also told the crowd that for the first time in history, the team would host its Hall of Fame ceremony inside Gillette Stadium to accommodate as many fans as possible.
The Sept. 10 ceremony honoring Brady, who retired from the NFL earlier this year after 23 seasons and seven Super Bowl wins, came less than a week after the athlete opened up about his son Benjamin taking up an interest in the sport.
In a Sept. 4 episode of his "Let's Go!" podcast, Brady, who said he's "always going to love throwing" a football, revealed that he and Benjamin play in the backyard as Benjamin is gearing up to get out on the field himself.
But, it turns out, Ben doesn't want to be like his famous dad: His role model is Gronk.
Brady said that Benjamin has many talents, from being a musician to an artist, but this year for the first time he expressed an interest in playing football. Brady revealed that his son's football idol is his former teammate Rob Gronkowski.
"(Benjamin) told me this year, 'Dad, I'm playing football.' And I was like, 'What do you wanna play?' And he was like, 'Tight end. I wanna be like Gronk!'" Brady recalled.
After hearing the news, Brady shot Gronkowski a text, saying, "Yo, my boy wants to be like you," which the former quarterback said Gronkowski "loved."
"He wants to be a tight end like Gronk, and he's gonna be a little beast," Brady concluded.
Brady has long shared his passion for football with his older son, Jack.
In honor of Jack's 16th birthday, the former NFL quarterback dedicated a sweet post to the teenager on Instagram.
"16 years of joy with the (sweetest, kindest, most loving etc etc 🥰❤️) son, brother, friend and teammate any parent could ever hope for," Brady said. "You have changed our lives since the day you were born and everyday since has been such a blessing for everyone who knows you and is lucky to have you in their life."
Brady shares Jack with actor Bridget Moynahan, and shares Benjamin and Vivian with his ex-wife Gisele Bundchen.
In June 2023, Brady told TODAY.com that he wants the best for his children.
"What do I hope for as a parent?" he said. "That they find something they love to do and a great group of friends who love them for who they are."
"Fatherhood is a great responsibility — being available and present is the most important thing," added Brady. "Something that I continue to work on is making sure I have enough time to connect. It's always a work in progress."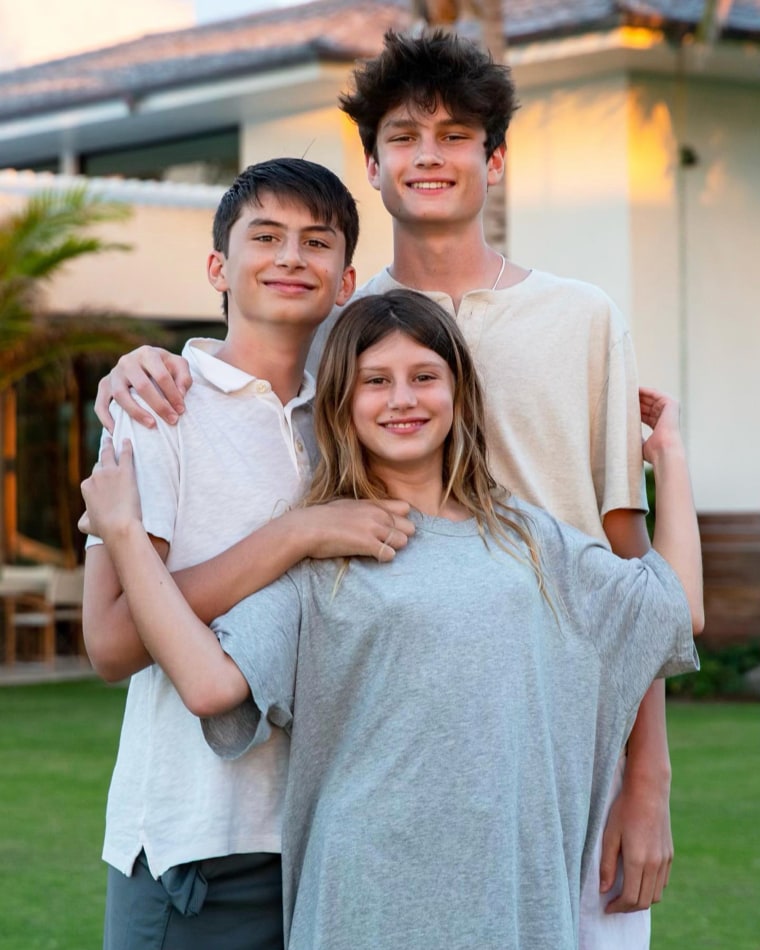 Here's what to know about Brady's three children.
Jack, 16
Born John Edward Thomas, Brady's oldest child goes by Jack. Brady and Moynahan welcomed him in August 2007.
While Brady revealed last year Jack was playing high school football, he said on ESPN's "NFL Live" in June he hopes his son doesn't play professional football.
"I wouldn't choose for him to (play football), because there's too many crazy expectations that people would put on him, most of them probably very unfair, actually," Brady said.
"I hope he finds the things in his life that allow him to get up every day to be internally motivated to work hard at something he loves to do," he added.
Benjamin, 13
Brady married Bundchen in February 2009, and the pair welcomed their first child, Benjamin Rein, in December 2009.
"When Benny came along, I thought he would be just like Jack," Brady told "Men's Health" in 2019. "So I was like, 'C'mon, let's do this.' And he was like, 'Nope.' And I was like, 'What? No, do this!' And Gisele kept saying to me, 'Would you effing understand that your son is different?' It was hard for me. I was like, 'What do you mean? He's a boy; he should just do all these things that I do.' The reality is that Benny just likes different things. And it's great because now I just have to go do what he wants to do. When we do that, we have the best time. He's like, 'OMG, Dad, you're so funny.' He loves joking, and I joke back."
Brady has a forever football fan in Benjamin. In December 2022, the athlete shared a text message from his middle child, sent before one of his games.
"I will be watching," wrote Benjamin in the message. "Say hi to me on camera." He added, "Go and do what you do best. Kick some butt."
Brady declared the text message "The best motivation any Dad can have!!" adding, "I love you, Benny."
Vivian, 10
Brady and Bundchen's second child, Vivian Lake, was born in December 2012.
Clearly her mother's lookalike, Vivian can even unlock the supermodel's phone with its Face ID function, according to a March 2023 "Vanity Fair" interview with Bunchen.
Vivian throws the football around with her dad, but she was quick to call him out when he gets impatient with former younger teammates.
"My daughter always says, 'Daddy, you did not have a happy face out there.' And I'm trying!" Brady said last year on his podcast "Let's Go! With Tom Brady, Larry Fitzgerald, and Jim Gray," as reported by "People."
He added, "I wish I would have more awareness of what the scowl looks like, but I'm doing my best to try to get to a better place and better peace of mind out there."
Brady also indulges his daughter's interests, recently at a Blackpink concert.
"This is the most 'dad takes his daughter and her friends to a concert' picture ever taken," Brady tweeted, sharing a photo of himself in the crowd.